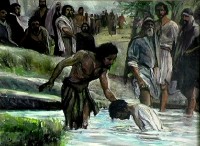 Throughout Israelite history there had always been a remnant that did not go the way of rebellion against God, but lived according to His Word and His will.
When John the Baptist came preaching and teaching about baptism, he was calling such a remnant to make a public declaration of their desire to follow God in righteousness and faithfulness. Those who came to be baptized by John publicly declared in front of the entire crowd that when they entered the water they were part of the corrupt Judaism, but when they came back up out of the water they no longer identified with the corrupt way of doing things, but were now part of the new order of God which would follow and obey Him in righteousness and justice.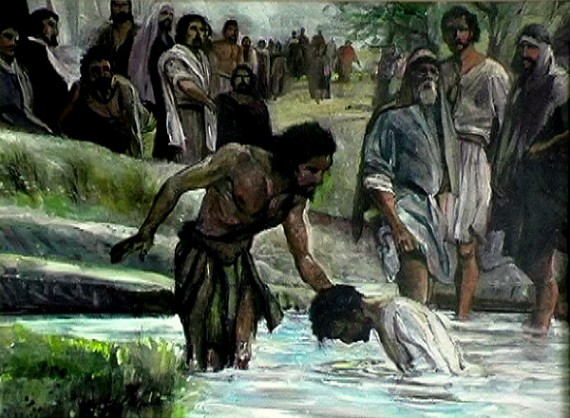 Was John an Essene?
It is because of John's message of baptism and separation from the corruption of Judaism that many scholars believe that John may have been part of a Jewish sect called the Essenes. The Essenes lived in the Judean desert wilderness, and they too believed that Judaism had become corrupt. To separate themselves from the corruption, they moved out into the wilderness to live, work, and worship in a holy community.
The writings of the Essenes sound similar to some of the things preached by John the Baptist, and their writings also contain instructions for the baptisms of people who join them. Archeologists have uncovered large baptismal pools where the Essenes would have undergone these ritual baptisms of separation.
Baptism in Judaism
But whether John was an Essene or not (I tend to think not), the point that in the days of John, Jesus, Peter, Paul, and the early church, people knew what baptism meant. Not only did every religion in the area practice some form of baptism for various reasons and purposes, but within Judaism, baptisms were a central practice. They indicated a death to the past and a rising to a new life. Following the definition of baptism, a water baptism indicated that a person would fully identify and immerse themselves in a new way of living for the future.
Why Did Jesus Get Baptized?
So when then did Jesus get baptized? When Jesus came to be baptized by John in the Jordan, He was making a public declaration about which type of Judaism He thought was best. The baptism of Jesus was not so He could get forgiveness of sin, for Jesus had not sinned. Nor was the baptism of Jesus for conversion, or to be saved, or to receive eternal life, or any such thing.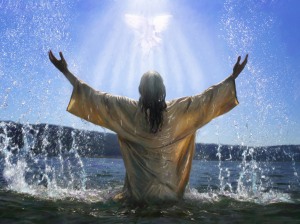 No, through baptism, Jesus was rejecting the corruption that had entered the religious and political spheres of Judaism, and was choosing to side with those who sought generosity, honesty, peace, and grace.
The baptism of Jesus by John in the Jordan has nothing to do with repenting of sin or getting saved, but everything to do with making a public declaration about which side Jesus is on and what He will live His life for.
John was calling the people to turn away from the corruption, and be restored to a new life of faithful obedience to God, and Jesus responded to that call by getting baptized by John in the Jordan River. Jesus wanted to be fully immersed and identified in the values of the Kingdom of God that John was preaching.
---