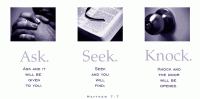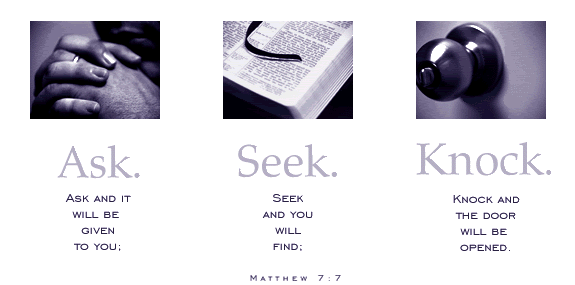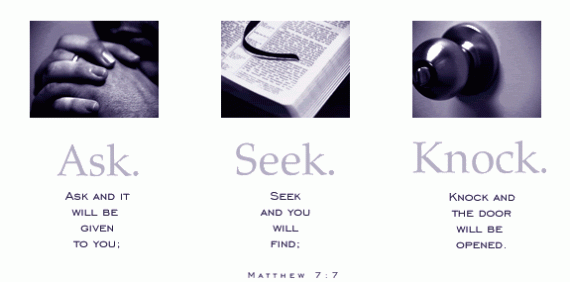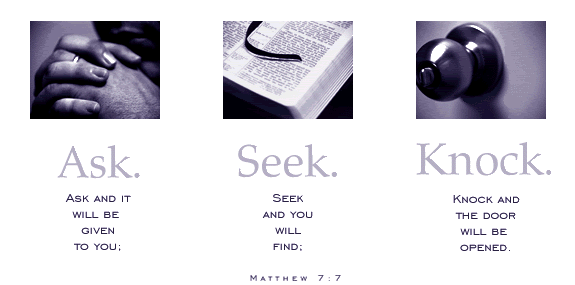 Jesus taught us to be answers to our own prayers when, in the Sermon on the Mount, He told His disciples, "Ask, and it will be given to you; seek, and you will find; knock, and the door will be opened to you. For everyone who asks receives, and he who seeks finds, and to him who knocks it will be opened" (Matthew 7:7-8).
When reading Matthew 7:7-8, most people think that Jesus was saying the same thing three different times: pray, and your prayer will get answered. In other words they read "Ask, seek, knock" as "Pray, pray, and pray again."
But there may be a better way of understanding the words of Jesus.
Jesus is not simply telling His disciples to pray, but is giving them instructions on how to see answers to their own prayers.
Ask
First, Jesus tells them to ask. This is the prayer part. It is taking our requests and needs to God, and presenting them before Him. It is not that He is unaware of our needs, for He knows what we need before we ask Him (Matthew 6:8).
Just as we talk over the issues of our day with our spouse or friends, so also God wants us to communicate with Him about the issues and needs which are heavy on our hearts and minds. So, we ask Him about these things. This is the first step to prayer.
Seek
But after we ask, we don't simply keep asking. We must begin to seek. This is the second step. Seeking is when we look around for how God might answer our prayers. After we ask God for something, the next thing we must do is start looking around with eyes of faith for how God might be providing answers to the issues we discussed with Him.
Knock
Seeking answers to our prayers leads to the third step in getting our prayers answer: knocking. After we ask God to help us with our needs, and as we seek for possible ways that God might answer our requests, we must then step out in faith and knock on the doors that present themselves. When we ask, we ask with faith.
When we seek, we seek possible answers with eyes of faith. And when we knock, we step out and take risks with faith by pursuing opportunities that were brought to our attention during the seeking phase.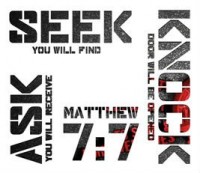 Sometimes the first door we knock on is the one that opens, but this is usually not the case. Sometimes we have to knock on ten, fifty, even hundreds of doors.
For this reason, the knocking phase is often the most difficult, but it is here that perseverance is vitally important if we are going to see answers to our prayers.
Want to see more answers to prayer?
Don't just ask God for things. Step out and seek ways that He might answer them, and then knock on the doors of opportunity that are presented.
In this way, praying is more than just asking God for things and then sitting around, waiting for Him to respond.
Do you want to pray like never before?
Do you what to talk to God like you talk to a friend? Do you want to see more answers to prayer?
If you have these (and other) questions about prayer, let me send you some teaching and instruction about prayer to your email inbox. You will receive one or two per week, absolutely free. Fill out the form below to get started.