Sorry for the song reference to Haddaway in the post title there … Although it was a really good song.
A reader recently sent me an email which I was unable to answer. (GASP! Yes … there are numerous such questions!) So, with his permission, I am putting it up here on the blog for you to weigh in on. His basic question is this:
We have all been told that true, biblical love (agape love) is not a feeling. But in 1 Corinthians 13 where Paul describes and defines agape love, he basically says that it is not actions either. Even if you do all the good and loving works described in 1 Cor 13:1-3, none of it matters if you don't have love. So love seems to be something more than just loving actions as well. Therefore, what is love?
Here is an example: Do you love the poor and homeless? Well, probably very few of us feel a whole lot of love for the homeless. But many of us are involved in loving actions toward the poor and homeless as we give them food and clothing and try to help them obtain a better life. But taking care of the poor is one of the specific actions that Paul mentions in 1 Corinthians 13:3 as not meaning anything without love.
So again, I ask, "What is love?"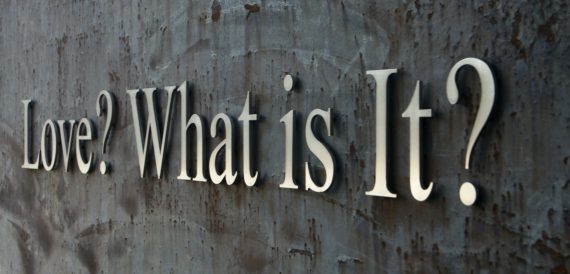 Here is the email I received from the blog reader (the email has been slightly edited for the purposes of this blog):
I was told countless times that love (Christian true love) is not a feeling but a decision.

And of course, we have 1 Cor 13, whatever you do without love is worth nothing. Even if you give your life to the poor, if you don't love, it won't do you any good.

Let us suppose someone has a chronically mentally ill spouse whom they have spent the last 30 years caring for, and will probably continue caring for them for another 30 years, unless death comes first.

The healthy spouse often feels like running away. They sometimes wish they had never gotten married. Sometimes they wish their spouse would just die. But the healthy spouse promised to be faithful in good and bad days, in sickness and in health. So far, the healthy spouse has stayed with the mentally ill spouse, but often does not feel any love, even though the constant care and companionship are loving actions. So is it love?

If the actions of love are present, but the feelings of love are not, is it love?

What should such a person do? Should they try to redeem their thoughts? Should they try to brainwash themselves into feeling love? Or is it enough to just keep the promises, stay faithful, and serve with ongoing love, support, and care, despite the absence of all feelings?

Maybe people don't face this exact situation, but maybe they care for the poor, look after refugees, help support persecuted Christians, or work to protect orphans. These are all loving actions, but if they do not actually feel any love, is it really love? Does it really matter? Love is not a feeling, we are all told, but it seems that without the feeling, the actions of love are also worthless.

So, if love is not a feeling, and if according to 1 Cor 13 deeds do not suffice to prove love … what is love?
What thinkest thou, O wise one? Let us know in the comment section below!