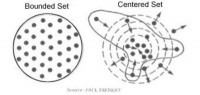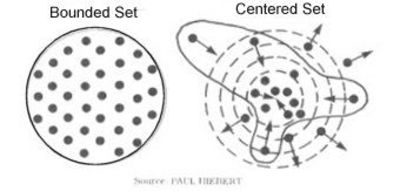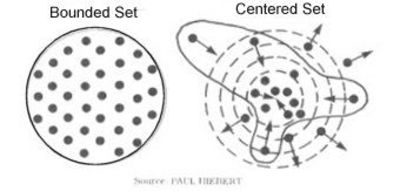 Yesterday I wrote a long article about Bounded Sets and Centered Sets. In an attempt to simplify and summarize that post, here is a brief chart which I pulled from page 50 of Shaping of Things to Come
 by Michael Frost and Alan Hirsch.
Underneath the chart is a brief video which you might also find helpful, and following that is a quote from C. S. Lewis which, although he doesn't speak of bounded sets or centered sets, seems to address the concept.  I have also written about this previously in my post, Belonging before Believing.
Bounded Set and Centered Set Approach
| | |
| --- | --- |
| Bounded-Set Approach | Centered-Set Approach |
| The evangelizer is the expert who has special knowledge regarding God that the lost person must take in to be saved. | Each person is the expert on his or her own life and has the God-given ability to seek for the truth. The evangelizer respects this. |
| The "lost" person is viewed as flawed in character and sinful. | Each person is viewed as created in the image of God–precious, valuable, and loved by God. |
| Seeing people as simply lost or saved, it tries to paternally "fix up" sinners and make them like us. | Seeing people as seekers, it tries to stimulate others to ask, seek, and knock, while understanding we don't know it all ourselves. |
| The goal is to get them to sign on, to profess belief, to become part of the team. | The goal is for the process of discovery of Christ and the search for truth to be furthered in the person. |
| A cataclysmic change occurs in people called "conversion." | Conversion is a process that does not begin and end with the profession of faith in Christ, but begins with the Holy Spirit's prevenient grace on the person's life and continues through repentance for a lifetime–the Kingdom comes. |
| We Christians know and have the whole truth. | We don't know everything about life or God–humility and wonder remain. |