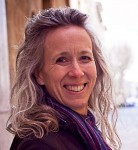 This Guest post is written by Cheryl Petersen. She is a freelance Christian writer, a correspondent for the Delaware County Times, and author of 21st Century Science and Health. She is a mother who gained humor while raising and fostering children. She blogs regularly on beliefnet Everyday Spirituality
If you would like to write a guest post for this blog, check out the guidelines here.
The newspaper showed Angelina Jolie and Brad Pitt taking a walk in their backyard. The headline read, "Walking the Isle to Wed." But it turns out the celebrity couple was only picking up dog poop. Just like the rest of us dog-owners.
Okay, you are right, they probably usually have a professional Poop Picker Upper for that job, but between their on-screen performances and real-life characters, anything is possible with the Brad and Angelina sensation.
But despite their fame as a couple, there is another legendary couple that outshines even "Brangelina."
It is Adam and Eve. Rumor and legends about this famous couple have survived millenniums. They have been interminably surrounded by stories and rumors of being the first parents, running around buck naked, being blessed, fooled, corrupted, or cursed by God.
And, like all of us, Adam and Eve reveal some questionable parenting skills.
Questionable Parenting Skills
When my husband and I first discovered we were expectant parents, common sense told me that if I followed good parenting skills our children would turn out useful, happy, and healthy. The problem was that information on good parenting skills was hard to obtain, and what did exist seemed contradictory. One family expert counselled one thing while a child psychologist said the exact opposite.