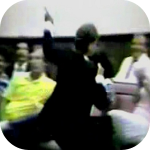 I have certain Bible teachers that I listen to all the time, some for the content, some for their style and delivery. Recently, I found one who has it all. His sermon is 27 minutes long, and is on YouTube for you to view.
After watching this video, you will see that Seminary was a complete waste of time. If you want to preach, all you need to remember is these seven things:
(Mis)read several Bible verses.
Say "Glory be to God Hallelujah" a lot.
Speak in tongues when you get tongue-tied.
Tell Satan to get behind you.
Wave your arms.
Tell people rock music will damn their souls to hell.
Tell people they're going to hell if they don't tithe.
If you ever wonder why many people think church is just a religious circus, it because of preachers like this.
I shouldn't be too hard on the guy though… It's his first time preaching after all…
My first sermon was terrible as well. It was awful. I was about 14 and I preached to a group of inmates at the Montana State Prison. I remember thinking afterwards, "Let me out of here before they kill me!" I don't remember what I said, but it was so bad, no one even tried to tell me "Good sermon" afterwards.