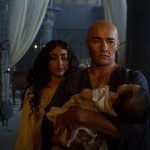 I finally watched "Exodus: Gods and Kings" last night. I watched it with my wife, Wendy.
Well, we watched part of it … we got too tired and went to bed after 90 minutes.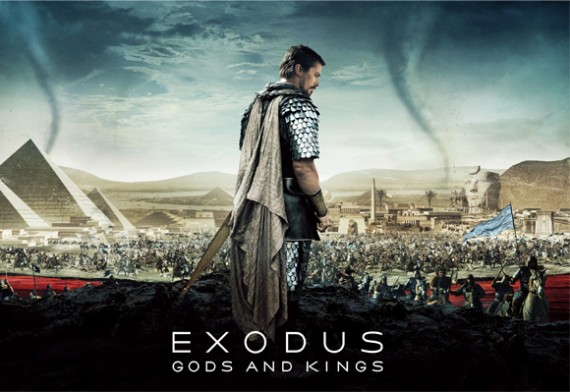 I wasn't too happy with many of the changes in the movie from the biblical account, but whatever. It's Hollywood. Frankly, I'm a little more upset at the travesty of the 3-part "The Hobbit" than I am at what Hollywood did to the Exodus story. But that's not the point here either.
What I found most fascinating was how Yahweh, the God of Israel, was portrayed in the movie. And I'm not talking about how he was a little boy. I don't care about that.
What I found most interesting about the movie is that God was portrayed as this violent, blood-thirty, thoughtless, bumbling, vengeful deity. There was a clear power struggle in the movie between God and Pharaoh (who thought he was a god). That probably explains the subtitle for this movie: "Gods and Kings."
And frankly, though there were many ways that the movie strayed from the biblical account of the Exodus, the way that the book of Exodus portrays God is not one of the ways the movie strayed. If we really read the book of Exodus without our Christian rose-colored glasses, the God of the book of Exodus is quite similar to the God portrayed in the movie "Exodus." Several things about the book of Exodus which have always bothered me about how God is portrayed in that book were brought into clear focus in the movie.
What I found most interesting was how the movie stayed true to the biblical text … specifically in regard to the violence of God in the book of Exodus.
I know nothing about the director, Ridley Scott, but he is either a fundamentalist Christian who believes the book of Exodus accurately portrays God as He really is, or he's an atheist who wants to point out how bloodthirsty the God of the Exodus is.
Isn't it interesting that both atheists and fundamentalist Christians have a similar view about the God of the Exodus?
Anyway, here is a short list of how God is portrayed in this movie:
1. 400 Years of … Absence
When Moses first encounters God on the mountain, he wants to know why God has waited 400 years to do anything about the slavery of his people. Good question! He gets no answer. But this theme comes up later …
2. Leave Your Wife and Child
When Moses heads off to Egypt, Moses' wife gets it right when she says, "What kind of a God asks a man to leave his wife and children?" I actually laughed at this part of the movie, because not three seconds earlier my wife asked the exact same question. Same exact words. Same tone. Everything.
Moses' basic answer was, "I don't ask questions. I just follow orders." Of course, later God denies that He ever told Moses to leave his wife and children. That was Moses' decision.
Hmmm… So is God saying that Moses could have brought his wife and young son into the hell-hole that became Egypt?
3. Freedom through Warfare
Moses begins his attempt to free the Israelites by engaging in guerilla warfare. After numerous cycles of vengeance and retaliation increase the bloodshed, pain, and suffering on all sides, God shows up again and tells Moses he's taking too long.
Moses says, "What? You wait 400 years and now you're in a hurry?"
God doesn't really answer him again, but simply says "Just step back and watch what I can do."
4. Any war you can do, God can do better
Crazily enough, this is when the pain, suffering, bloodshed, and slaughter really begins in earnest. First we get a scene of crocodiles tearing people limb from limb in the Nile river. Apparently, this is how the Nile turned to blood. All the fish die. Rice fields are ruined. People starve.
Plague follows upon plague, each one more bloody, brutal, and terrifying than the last. Worst of all, these plagues hit Egyptian and Hebrew alike. Moses brings this up to God. He basically says, "You know, if you want to be loved by the Hebrew people, you probably shouldn't inflict the same plagues on them that you inflict upon the Egyptians."
God responds by saying, "Oh! Good point!" and starts sending plagues just upon the Egyptians.
The scene where the poor, starving Egyptian farmer wails in misery over his last dead cow is especially touching.
5. God will have His bloody revenge!
At one point, Moses tells God that enough is enough. He grew up with these Egyptian people. He was one of them. It is difficult, he says, to see people you love suffer so greatly. Basically, Moses points out that these plagues from God don't seem to be doing anything more than the guerilla warfare was doing, and God was behaving a little too violently.
God gets angry at Moses at this point, and tells him, "Don't talk to me about violence! I have watched my people suffer under slavery for 400 years, and now you think that I am being too violent?! I will have my revenge!" …
So God waited through 400 years of violent oppression and slavery so that He could exact violent revenge upon the Egyptians?
6. When it comes to a killing contest … God wins!
By now, Pharaoh is pretty upset. So late one night, in a fit of (justifiable?) anger, he declares that Moses and Moses' God have gone too far, and if this is a contest about who can kill the most people, he will kill all of the young Hebrew children. He will prove that Pharaoh is better at killing that Moses or the God of Moses.
God hears this, and basically says, "Oh yeah? Watch this." And then he kills all the firstborn sons of Egypt. In other words, "You think you're good at killing? You know nothing. When it comes to a killing contest, I always win. Watch this …"
Then all the firstborn sons of Egypt die, including Pharaoh's own son.
As a result, Pharaoh finally tells Moses that he and the Israelites can leave Egypt, but in so doing, he asks the most poignant question of the movie. He says to Moses, "What kind of God kills little children? How can you worship such a God?"
We, as the movie viewers are supposed to see the irony. Pharaoh seems to have forgotten that he, as an Egyptian deity, was planning to kill children, and therefore, his question proves that he is not a god or, if he is, he is not worthy of worship.
But doesn't the same logic apply to the God of Israel? It seems so.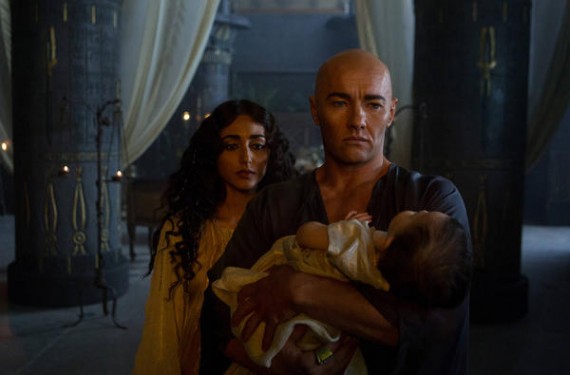 Closing Questions about the Exodus
That's where I stopped watching the movie. I will finish it tonight.
Look. I believe the Bible too. And yes, in case you are wondering, I believe in the inspiration and inerrancy of the Bible. Yes, every word.
So how can I write what I did above? Because I believe that the truth which the inspired and inerrant biblical text teaches us is not the truth that many Christians say it is.
I plan on writing a lot more about this in the months ahead, so stay tuned.
Until then, if you are troubled by what I have written above, or if you were troubled by the way God was portrayed in this movie, but you are not troubled by the way God is actually portrayed in the book of Exodus, you might want to ask yourself "Why?" How is it that you would get upset if Pharaoh killed children, but not upset when God does it?
Why are some Christians upset that the cast of Exodus was mostly "white" people, but not too upset about the violence of God in the movie?
Why are some Christians upset that God was portrayed as a child, but not upset that God was horribly violent?
Why are some Christians upset at the "naturalistic" explanation for the plagues, but not upset at how God was the primary source of this violence?
Why are Christians upset about everything in the Exodus movie, except for how God was involved with violence?
Well… maybe some people were upset about these things, and I just didn't hear about it.
How about you? Did you watch the movie "Exodus"? What were your thoughts? Share below!