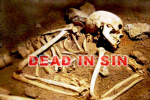 When talking about Total Depravity, total inability, and the bondage of the will, it is quite popular among Calvinists to talk about mankind being "dead in sin."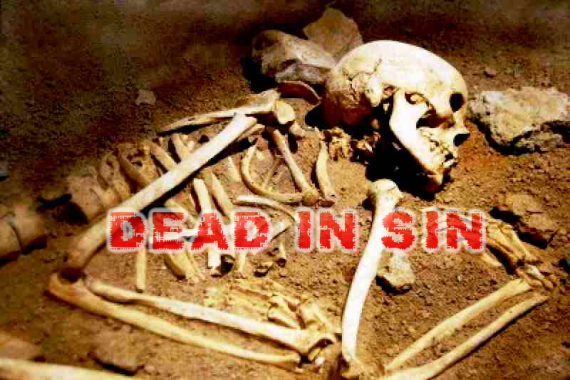 The Bible frequently makes mention of people being dead in sin, or being spiritually dead, and this terminology is often used to defend the Calvinistic concepts of total inability and the bondage of the will to sin.
Humans are "Dead in Sin"
Here are some quotes from Calvinists showing how they understand and explain the "dead in sin" imagery in Scripture.
A dead man cannot exercise faith in Jesus Christ (Gordon H. Clark, The Biblical Doctrine of Man, 102)

A dead man is utterly incapable of willing anything (Pink, Sovereignty of God, 141).

A dead man cannot cooperate with an offer of healing (John H. Gerstner, A Predestination Primer, 18).

The corpse does not restore life to itself, after life is restored it becomes a living agent (Robert Dabney, The Five Points of Calvinism, 35).

The Calvinist holds to the plain teaching of Scripture and says: "No; he is dead. He cannot even open his mouth. Nor does he have any desire to call a doctor to help him. He is dead" … The Calvinist … would compare man to one who jumps off the top of the Empire State Building and is spattered over the sidewalk. Even if there were anything left of him when he landed, he could not know that he needed help, let alone cry out for it. That man is dead—lifeless—and cannot even desire to be made whole … And that is the picture of the sinner. He is dead in his sins and trespasses (Eph. 2:1, 5). He does not want to be made whole, let alone even know that he should be made whole. He is dead. When Christ called to Lazarus to come out of the grave, Lazarus had no life in him so that he could hear, sit up, and emerge. There was not a flicker of life in him. If he was to be able to hear Jesus calling him and to go to Him, then Jesus would have to make him alive. Jesus did resurrect him and then Lazarus could respond (Palmer, The Five Points of Calvinism, 17-18).

Could the Word of God show more plainly than it does that the depravity is total? And that our inability to desire or procure salvation is also total? The picture is one of death—spiritual death. We are like Lazarus in his tomb; we are bound hand and foot; corruption has taken hold upon us. Just as there was no glimmer of life in the dead body of Lazarus, so there is no "inner receptive spark" in our hearts. But the Lord performs the miracle—both with the physically dead, and the spiritually dead; for "you hath he quickened—made alive—who were dead in trespasses and sins." Salvation, by its very nature, must be "of the Lord" (WJ Seaton, Five Points of Calvinism).

[A sinner] has all the passive properties belonging to a corpse… (Boice & Ryken, Doctrines of Grace, 74).

The natural man is enslaved to sin; he is a child of Satan, rebellious toward God, blind to truth, corrupt, unable to save himself or to prepare himself for salvation. In short, the unregenerate man is dead in sin, and his will is enslaved to his evil nature (Steele & Thomas, Five Points of Calvinism, 19).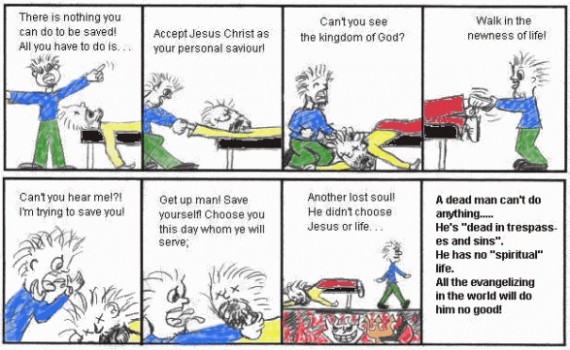 In later posts we will look at some of the biblical texts used to support and defend this Calvinistic interpretation of people being dead in sin. For now, have you encountered this before? Do you think that when the Bible talks about being dead in sin, it refers to the total inability of humankind?
If you want to read more about Calvinism, check out other posts in this blog series:
Words of Calvinism and the Word of God
.