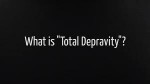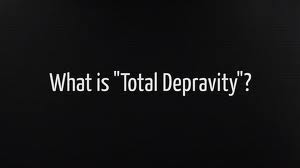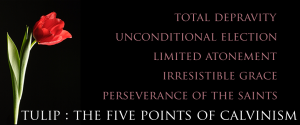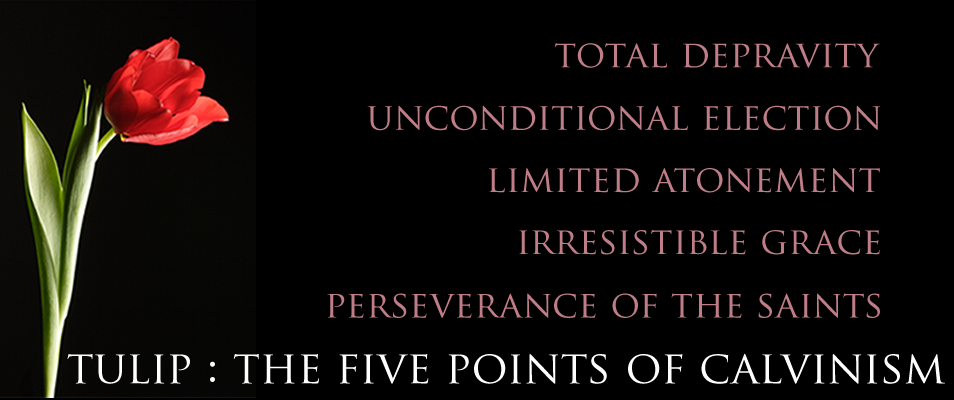 The first point of Calvinism's TULIP is Total Depravity.
Total Depravity forms the logical and theological foundation for the rest of the Calvinistic system, and as such, we will spend additional space laying out what Calvinism teaches about Total Depravity, and how it forms the foundation for everything that follows. If we can grasp all the intricacies and implications of Total Depravity, and see how it does not fit with Scripture, the rest of the Calvinistic system will fall like a set of dominoes.
It is not an overstatement to say, as does R. C. Sproul, that all five points of Calvinism stand or fall on the basis of Total Depravity.
If one embraces this aspect [inability] of the T in TULIP the rest of the acrostic follows by a resistless logic. Once cannot embrace the T and reject any of the other four letters with any degree of consistency (Sproul, Grace Unknown, 128)
Though my journey away from Calvinism ended by dropping Total Depravity, Sproul is correct: Total Depravity is foundational to TULIP Calvinism. As a result, I will be spending many posts discussing Total Depravity and related concepts.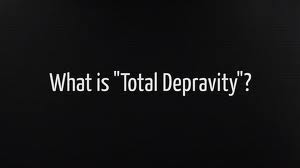 What is Total Depravity?
On the surface, the doctrine of Total Depravity seems acceptable. In fact, it is because of the surface level explanation of Total Depravity that I believed it for so long.
Just as many evangelists today begin their gospel presentation with the "bad news" about our sinfulness before God, so the five points of Calvinism also begin with the sinful condition that mankind finds itself in. The term "Total Depravity" refers to the sinfulness of humanity in relation to God's righteous standards, and especially to our inability to do anything that helps us earn or merit eternal life from God.
I agree with this.
The reason I finally rejected Total Depravity, however, is not because I believe that people can "save themselves" or earn their way into heaven, or do anything good to merit eternal life. I believe nothing of the sort. Instead, I eventually rejected Total Depravity because I understood what most Calvinists meant when they talked about Total Depravity.
For Calvinists, Total Depravity means way more than just sinfulness.
But let us allow Calvinists to define and explain Total Depravity in their own words.
Total Depravity According to Calvinists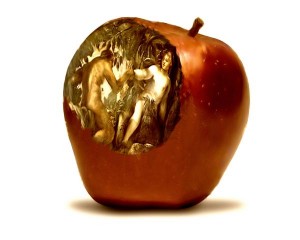 Many people, including many Calvinists, object to the term "Total Depravity" because it gives the impression that human beings are totally and completely sinful. When some people hear about "Total Depravity" they think of someone who always and only does the most evil thing possible.
This clearly does not happen. No person in history always does the most evil thing they can do in every situation.
Thankfully, Calvinists recognize this as well and so are careful to clarify that the teaching on Total Depravity is not the same thing as "absolute depravity," and that in general, humanity is not without some good. They say instead that Total Depravity means that mankind is as bad off as man can be (Spencer, TULIP, 32).
Here are some other quotes on Total Depravity from Calvinists:
Total depravity does not mean that each man is the epitome of the devil. For, as a matter of fact, man does not commit all the sins possible; and those he does commit are not always as bad as possible. Furthermore, we see that he can even perform a certain amount of relative good. … Total depravity means that natural man is never able to do any good that is fundamentally pleasing to God, and, in fact, does evil all the time (Palmer, The Five Points of Calvinism, 12-13).

Human nature has been and is utterly corrupted by sin so that man is totally incapable of doing anything to accomplish his salvation (Rose, TULIP, 2).

When Calvinists speak of man as begin totally depraved, they mean that man's nature is corrupt, perverse, and sinful throughout (Steele & Thomas, Five Points of Calvinism, 18).

Total Depravity means that unregenerate man is hopelessly enmeshed in sin, bound by Satan with the chords of spiritual death, and wholly disinterested in the things of the Creator (Spencer, TULIP, 36).

To be totally depraved, however, does not mean that a person is as intensively evil as possible, but as extensively evil as possible. It is not that he cannot commit a worse crime; rather, it is that nothing that he does is good. Evil pervades every faculty of his soul and every sphere of his life. He is unable to do a single thing that is good (Palmer, The Five Points of Calvinism, 9).

What total depravity is meant to convey is the idea that sin has affected the whole person down to the very core or root of his or her being (Boice & Ryken, Doctrines of Grace, 71).

By nature we are slaves to sin. This does not mean that the fall has destroyed or eradicated the human will. Fallen man still has all the faculties to make choices. WE still have a mind and a will. The problem is not that we cannot make choices. Natural men make choices all the time. The problem is that, in our fallen condition, we make sinful choices. We make these choices freely. We sin precisely because we want to sin, and we are capable of choosing exactly what we want to choose (Sproul, Grace Unknown, 130).
For the most part, though I would not state it in exactly the same way, I am not that opposed toward the teaching on Total Depravity as expressed in the quotes above.
I firmly believe that in and of ourselves, there is nothing we can do to earn or merit eternal life before God, or even to place ourselves in good standing with God. We cannot become righteous on our own. Even all of our righteous works are like filthy rags (Isaiah 64:6). On this, I am in agreement with Calvinism.
Future posts will show, however, that Calvinists have numerous teachings that come from Total Depravity which I am not too excited about. We will look at the first of these tomorrow. Until then, what do you think about the doctrine of Total Depravity as expressed above? Is it biblical or not? Is it wise to base our theology on a foundational idea of sin?
If you want to read more about Calvinism, check out other posts in this blog series:
Words of Calvinism and the Word of God
.