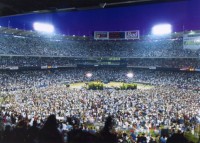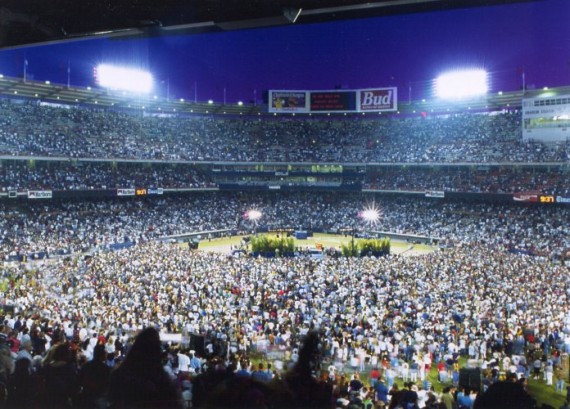 There are lots of people who become Christians at Evangelism Crusades. There is no denying it. I believe that the number of conversions reaches into the millions. I have argued in previous posts that despite such numbers, personal relationships might be a better and more effective way of reaching even more people.
But there are additional problems with Crusade evangelism. The first concerns what we are teaching these new converts. When a person becomes a Christian at an Evangelistic Crusade, what is the first thing we teach them about Christianity and following Jesus? What theological ideas about God and church are we affirming?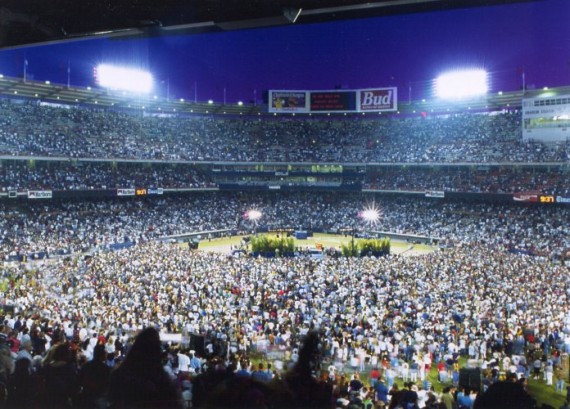 The Gospel of Crusade Evangelism
The typical message at an Evangelistic Crusade follows this structure:
God loves you, but you are a sinner. As a sinner, you are alienated from God, and can do nothing to correct that alienation. If you continue in that state, you will suffer eternal alienation from God in everlasting hell. But God, out of His great love for us, created a way of escape from eternal punishment—you must be born again.
There is little agreement among evangelists about the method of being born again. The requirements often include raising a hand, coming forward, saying a prayer, signing a card, confessing Christ, repenting of sins, believing in Jesus, and getting baptized, which is altogether a separate issue…
Holes in the Crusade Evangelism Gospel
The message itself is not exactly wrong, it just leaves out a huge portion of the Gospel. The message is too otherworldly. It is a message about the afterlife only, about heaven and hell and what happens to us after we die. The message rarely has much application or relevance for life here on earth, unless it is some vague notion that God wants to help us with our needs if we will just pray, obey, and go to church.  I understand that the evangelist can only say so much, and that the message of eternal life is the most vital, and that the ministries encourage local churches to do the follow-up discipleship.
But this is exactly the problem. When a Crusade Evangelist gets all the glamor, glitz, and glory of presenting the "Gospel" to millions of people, and the people hear a message about being born again, and then those who respond attend a church without all the glamor, glitz, and glory, and they hear a message about discipleship, following Jesus, danger, famine, persecution, and suffering, they rightfully feel that somebody is not being honest. The requirements of discipleship are not what they signed up for. And so they abandon church in droves.
The only way the church can combat this, of course, is to maintain the glamor, glitz, and glory of the crusade evangelists while at the same time, dumbing down the Gospel message and the requirements of discipleship. Many churches in recent decades have successfully accomplished this, which accounts for much of the rise of the modern megachurch movement.
Relationship Evangelism Naturally Leads to Discipleship
Again, most of this is not an issue through relationship evangelism. When you develop a long-term friendship with someone, they see the struggles and challenges you face. They watch you deal with lost jobs, broken marriages, and moral failures. But through it all, they also observe your faith and commitment to following Jesus and serving others.
It's not perfect. It's not glorious. But it's real. There are no jumbotrons and spotlights, but there are small acts of love. There are no news headlines, but there are daily commitments to faith and hope in God, even when God doesn't act like we think He should.
God brings people into His family in all sorts of ways, and Crusade Evangelism is one of them. But it is not the only way of evangelism, nor (in my opinion) is it even the best.
---