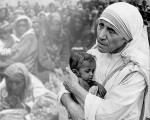 Of the following two pictures, which one would you say looks more like Jesus?
Yesterday I proposed that for the church to move forward in what God desires for the church, we must seek to look ever more like Jesus.
The problem with looking like Jesus is that nobody really knows what it means. Every church in existence thinks they are representing Jesus.
So while it is easy to say "The church should look like Jesus," the real question before us is, "What does that mean?"
What does it mean to look like Jesus?
What will the church look like when it looks like Jesus? What will the church do? Where will it meet? Who will belong to it? Who, if anyone, will lead it? How will it learn? How does it serve? Whom will it serve? What will it teach?
And on and on the questions go.
The truth is that thankfully, Jesus gives great flexibility to His Body. The grace of God gives us vast freedom in our attempts to express and exhibit Christ to the world. Will this mean that sometimes a particular local church will own a building and have paid clergy who preach and perform religious rituals like baptism and the Lord's Supper. Yes, probably so.
If a particular group of believers feel that the best way for them to accomplish the mission of Jesus within their cultural context is to own buildings, hire pastors, preach sermons, and perform rites, then that group of believers must follow their conscience and the leading of the Holy Spirit to share the love of Jesus with others as they feel led.
The Glorious Church
The problem is that this sort of expression of the Body of Christ—the one with the buildings and professionally trained clergy—gets all the glory and recognition from men, and so over the centuries, this expression of the Body of Christ has become dominant, so that now, people don't even question how they can best accomplish the mission of Jesus in their particular context. It is just assumed that the best way—the only way!—to be the church in the community is to buy a building, hire a pastor, and perform religious services.
The goal of this book has been to get you to ask whether such things are needed to best accomplish the mission of Jesus in your town, and to think creatively about how you can best look like Jesus to your neighbors and your community. As the worldwide church tries to look ever more like Jesus, I firmly believe that local expressions of the church that have no buildings or paid clergy will become standard, and gatherings with buildings and paid clergy will become less frequent and more rare.
If you have a part in the decision-making process in your church, don't just buy a building because that's what everyone does. Don't just hire a pastor because that's the way it is done. Don't just start a Sunday morning service because it has been done that way for 2000 years.
Instead, ask the hard questions.
Pray. Read Scripture. Focus on Jesus. Study culture and your community. Then ask, "How can we best look like Jesus to this town and to our neighbors? If Jesus was here today—as He is in us—what would He do? Where would He go? Whom would He love?
Then follow Jesus to those places and do those things.
[This post is part of a series called "Fixing Our Eyes on Jesus" which will form a chapter in my forthcoming book, Close Your Church for Good. To get a free copy when it comes out, subscribe now.]
---