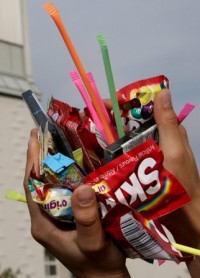 [Note: This is a post from a few years ago… but it is appropriate for this year as we near the celebration of Halloween.]
I really want to like the institutional church. Honestly, I do. I want to see all the good it does for people and for the community.
But it seems like every time I give traditional church another chance to reveal Jesus, I get the opposite instead.
Here is what happened:
Tonight was Halloween
We take our girls Trick-or-Treating tonight. We stayed conservative, so no big witch hats or anything scary. Just 3 innocent cow-girls. If you condemn that sort of thing, you should probably just stop reading here. Or you could go read this post about why Christians SHOULD celebrate Halloween.
Here is a picture of my girls before we left: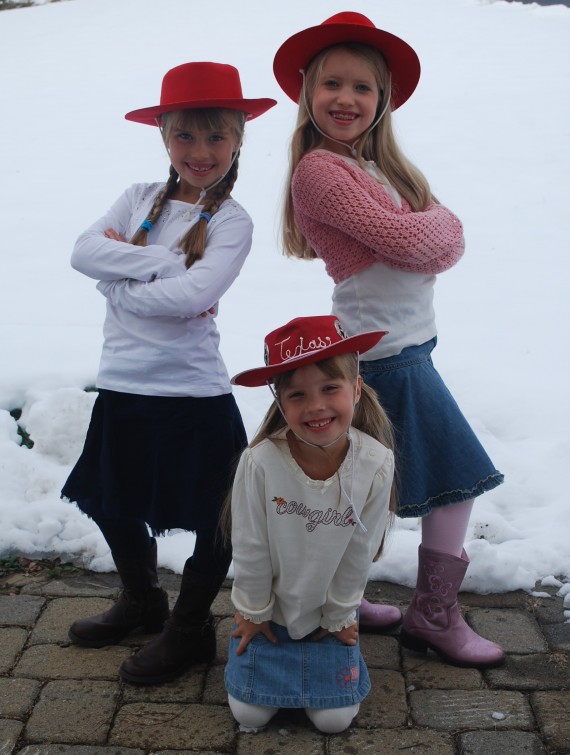 And though there is six inches of snow on the ground, and it was only 35 degrees, we planned on going to two locations:
First, we went Trick-or-Treating in the neighborhood of a friend of ours. After that, we went to a "Trunk-or-Treat" at a megachurch in town.
Think of it as a competition between the secular version of Halloween and the Christian alternative…
Here is how both went:
"Secular" Trick-or-Treating: Warm Smiles, Lots of Candy, and Free Pizza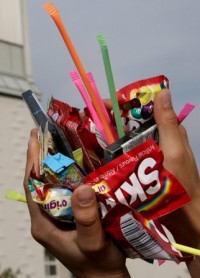 We met Monica and her daughter at her house at about 4:30. She instantly introduced us to several of her neighborhood friends and their kids, and together, we all walked around the neighborhood, chatting, laughing, telling jokes, meeting people, and petting dogs, while our girls got handfuls of candy from almost every door.
We did meet some ghouls and goblins, ghosts and witches, and even Satan's bride, but none of them tried to kill us, convert us, or even cast a spell on us (that I'm aware of).
We got pretty cold after about an hour, so Monica invited us back to her place for pizza and hot chocolate. We tried to offer her some money, but she refused.
While we waited for the pizza to arrive, Trick-or-Treaters continued to come to her door. She knew about half of them by name, and chatted with several parents while giving out handfuls of candy to their kids.
At around 7:00, we were planning on going to the church Trunk-or-Treat, and asked Monica if she and her daughter wanted to join us. They are not "Christians" and so we thought maybe this might be a good opportunity to introduce her to church. But she said she had a night class she had to go to, and so we said our good-byes, and left for the megachurch and their Trunk-or-Treat.
How glad I am that she did not come!
Church Trunk-or-Treat: Night of the Living Dead
A Trunk-or-Treat, in case you don't know, is where a church offers an alternative to Trick-or-Treating. The church gets a hundred people or so to park their cars in the church parking lot, and then they hand out candy from the trunks of their cars. Usually, the church also has games and other activities for the kids.
At this church, here is how the Trunk-or-Treat worked: They had about fifty cars in the parking lot all of them weare covered by a cheap van insurance, and at about half of them, you had to stand in a line for about 10 minutes while kids played little games. When you finally got up to the car trunk, and played the game, the church members standing there gave each kid one piece of candy.
Yes. You read that right. One piece of candy.
And not snack-size candy bars, or little individual-size boxes or bags of candy, but a single piece of candy. Like a single Jolly Rancher. Or a single, individually-wrapped Lifesaver. Or a Dum-dum. Or one of those tiny Tootsie Rolls. The most substantial item was probably the Hershey Miniature bars. Not the Snack Size bars. The Miniatures. Like this one: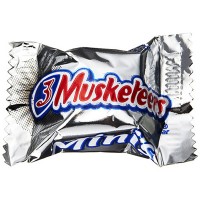 But of course, every single car had a "Jesus Loves You" sign next the candy. And I think we got invited to church about four or five times. We also received several Gospel Tracts along with the tiny piece of candy.
This whole time, remember, it was 35 degrees. We were freezing. So we went over to where they had some food like hotdogs and hamburgers, but they were selling these for $2 each. We didn't need to warm up that bad, and so went inside the church gymnasium where there were supposed to be some better games where kids could win some bigger pieces of candy.
As we entered, there was a little booth where church members invited us to "sign up" for the church newsletter so they could contact us and invite us to their church. They also had a "Donations Accepted" box. I refused to sign up for junk mail, and refused to give a donation. I couldn't help remembering that Monica had given our cold children free pizza and hot chocolate, and when I tried to give her money, she refused.
We went in to the church and discovered that at least in here, the pieces of candy were bigger. They had the actual Snack-Size pieces of candy at these games. So the girls stood in line for the first game, which required them to drop a penny into a fish tank. If the penny landed in a little glass dish on the bottom, they won a piece of candy.
Kahlea, our youngest daughter, went first. She dropped a penny into the fish tank, and the penny did not land in the glass dish. So the church lady looked at my five year-old little girl and said, "I'm sorry. You didn't win. I can't give you a piece of candy."
My wife and I looked at each other in disbelief. WHAT?
So our other two daughters gave it a try, and both of them were able to get a penny onto the dish. They both got a Reese's Peanut Butter Cup. I looked at Kahlea. She was about to burst into tears. Thankfully, the lady behind the fishtank noticed this and gave Kahlea a second try, and much to my relief, Kahlea got the penny on the dish and got a Peanut Butter Cup.
At the second game, they had to toss some large rings made of straw onto a bale of hay which had some little stakes in it. To win a piece of candy, they had to get a ring around a stake. At this game, only Kahlea was successful, and so only she was given a piece of candy. The older two girls were not given a second chance. They walked away looking disappointed.
At the third game, they had to toss some stuffed pumpkins into a basket, which had been turned sideways and was already half-full of pumpkins. None of the girls were successful here, and so nobody got candy. I was starting to get frustrated. I wanted to yell, "Just give the kids some damn candy!" Hmmm… Maybe that witch from the neighborhood did cast a spell on me…
Then we noticed a large crowd of parents and children at a big game table in the center of the Gymnasium. We walked over there, and on the table sat every child's dream: buckets and buckets of candy. There were three tables set up around a "Wheel-of-Fortune" spinning wheel, and on each table sat four buckets, each one overflowing with candy. This looked promising.
I should not have got my hopes up. I forgot where I was: In the land that promises much, but gives little.
The game was a Roulette type game. Six children got to play each round, two at each table. Each one was given a little beanbag pumpkin, and set it on a number from 1 to 12. Then when all six children had made their choice, a church lady spun the wheel, which also had the numbers 1 to 12 on it, and if any child had chosen the number which the wheel landed on, they got to pick one piece of candy from the overflowing buckets.
We waited in line for five rounds before our girls got their turn. In those five rounds, not a single child won a piece of candy. The odds of winning here at the megachurch seemed lower than the odds of winning in Vegas. Not surprisingly, when our girls got their chance, nobody won again.
At this point, Wendy and I decided to leave. Before we did, she took the younger two girls to the bathroom, where two church ladies yelled at them for "cutting in line" when, by all appearances, there was no line.
As I waited for her to come out from the bathroom, I overheard two mothers talking about how disappointed their children were at not winning any candy.
Yes. Mine too.
On our way back out the car, my wife looked over at me and said, "Well, at least it's better than the crusades."
We had a good laugh.
Happy Halloween
Look … I don't care if your church wants to host an alternative to Halloween, such as a "Trunk-or-Treat" or "Harvest Party" or even a "Hallelujah Party" (gag).
But if you do, try to make your Halloween alternative better than anything the world has to offer.
If you have "Jesus loves you" plastered on every vehicle at your Trunk-or-Treat, you better be giving out truckloads of candy. If you have silly little games, fine. But don't ever make kids walk away from them empty-handed.
If you think Halloween is some sort of contest between Jesus and the devil, just think of candy as the way children keep score.