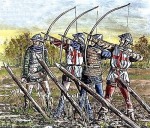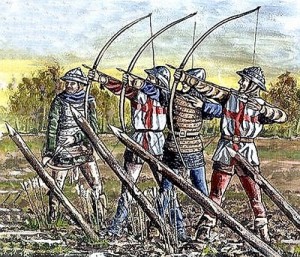 The "Just War" theory was originally developed by Augustine to defend the Empire's actions of arresting and killing the Donatists, with whom Augustine was having a theological disagreement. He argued that in certain situations, a war is not wrong if it furthers the cause of Christ and advances the Kingdom of God on earth.
He taught that inflicting temporal pain on someone to help them avoid eternal pain was justified. Also, Augustine believed that since God sometimes uses terror for the good of humans (a questionable premise), the church may also use terror for the sake of the gospel (The Myth of a Christian Nation
p. 78).
Thanks to Augustine, Christians have been endorsing wars against "Christian enemies" ever since.
But does not the life of Jesus and the truth of the Gospel cry out against this? "Declaring a war just is simply a ruse to rid ourselves of guilt" (Engaging the Powers,
p. 225). Such attempts to absolve ourselves from guilt in the murder of others have been around since the very beginning.
The killing of others began in the very first family, when Cain killed Abel.
Why did Cain commit the first murder?
The Bible is rather vague about Cain's motives, but the root causes appear to be a mixture of jealousy, anger, and the desire for self-advancement. We rightfully condemn Cain for his actions, but when we look at the situation from Cain's perspective, his murder of Abel was the very first "Just War" in history. Miroslav Volf points out that Cain's murder of Abel was governed by faultless logic:
Premise 1: "If Abel is who God declared him to be, then I am not who I understand myself to be." Premise 2: "I am who I understand myself to be." Premise 3: "I cannot change God's declaration about Abel." Conclusion: "Therefore, Abel cannot continue to be" (Exclusion & Embrace, p. 95).
From Cain's perspective, he had the duty and obligation to protect himself by murdering Abel. If he had admitted that God's preference for Abel's sacrifice was correct, then Cain would have had to face his own faults. This he could not do, and so, in self-defense against the moral challenge from his brother, Cain engaged in "Just War" against Abel, and murdered him.
It has been argued that nearly all "Just Wars" in history are of this type. We engage others in a righteous battle, defending our freedoms and liberties, not because the others are necessarily evil and wrong (thought we paint them in this light), but because the only alternative to "Just War" is to admit our own wrongdoing and faults.
And since this is what we will not do, the others must die.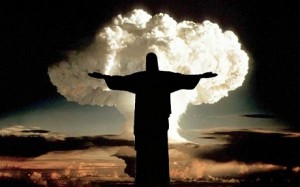 So ultimately, Just War theory is about one thing:
It is either us or them.
There has never been a war in history in which the warriors from both sides did not think their cause was just. In every battle, both sides cry out to their god for victory.
Can we really believe as Christians that since we serve the one true God, our cause is more just than the causes of those we are trying to kill?
Does it not rather seem that if we truly serve the one true God as revealed in Jesus Christ that there would be no cause whatsoever for killing?
When we seek the blood of our enemies, are we not abandoning and forsaking the truth of the shed blood of Jesus, who died for His enemies?
[This post is part of a series called "Give Up Your Rights" which will form a chapter in my forthcoming book, Close Your Church for Good. To get a free copy when it comes out, subscribe now.]
---