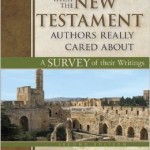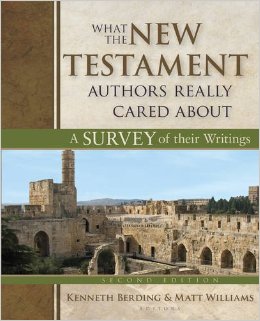 In exchanged for a review, Kregel sent me a review copy of What the New Testament Authors Really Cared About. I read and reviewed the companion volume on the Old Testament last year.
Overall, this volume was much better. It provides a decent survey of the New Testament. Each chapter focuses on a particular book of the New Testament and provides a basic overview of the book with some of the prominent themes within it.
However, as with the Old Testament companion, this volume shared some of the same oddities. For example, both volumes consider the books out of order as they are found in the Bible. They explain why they do this, but I think most readers will find it confusing.
Most seriously of all, however, this volume on the New Testament, like its Old Testament companion, emphasizes Calvinistic themes and ideas. This is especially the concepts that good works must follow and accompany faith in order for the faith to be considered genuine, the understanding of repentance as turning away from sin and as necessary for assurance and "final salvation," of the Kingdom of God referring to God's final salvation for the redeemed and punitive judgment for the wicked, and God's punishment of Jesus for the sins of the whole world to satisfy His wrath.
While most of the contributors to this volume were somewhat neutral regarding Calvinistic interpretations, the chapters on The Letters of John and The Letter of James were the most blatant.
So my primary criticism of the Old Testament volume was that according to the book contributors, what the Old Testament authors really cared about was apparently Calvinism, I have the same criticism about this book.
If you are a Calvinist, you will find yourself agreeing wholeheartedly with the Calvinistic bent of each chapter. If you are not a Calvinist, you can still benefit from the other elements of this book, even though you will have to filter out much of the Calvinistic interpretations and themes.
If, however, you do not know what Calvinism is, and do not know if you are a Calvinist or not, do yourself a big favor and do not read this book. The impression you will get from the book is that the authors are simply teaching what Jesus, Paul, and John really thought and cared about, when in reality, what you will be getting is a strong Calvinistic interpretation of the New Testament.