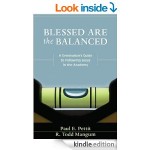 Before I went to seminary, my greatest fear of seminary was that I would freeze to death. Not literally, but spiritually. I tried my hardest in seminary to ward off the frostbite, but to this day, over six years after graduation, I am not sure whether or not I succeeded.
I Was Afraid of Freezing in Seminary
I certainly know a lot more about the Bible and theology than I did before entering seminary, but looking back over my life, the times I felt the closest to God were all before entering seminary. Of course, I tell myself that feelings aren't everything, but of course, feelings aren't nothing either. And so there is a part of me that is afraid that despite my best efforts to ward it off, I froze to death in seminary.
I wrote about entering seminary several years ago, and also about my post-seminary experience.  Yet I am still struggling with much of the aftermath of seminary and whether it was a help or a hindrance to my life as a follower of Jesus.
A Book about Surviving Seminary that might have helped
So it was with great interest that I recently read Blessed are the Balanced by Paul E. Petit and R. Todd Mangum, which purports to be a book about how seminarians can maintain their passion for Jesus while in seminary and after graduation. Interestingly, they frequently used the "freezing" and "frostbite" analogy in the book for what happens to many students while in seminary. I was also interested to see that both authors attended the same seminary I did…
Anyway, having read Blessed are the Balanced, I am not sure what to make of it.
On the one hand, I think the information it contained was good. If a person is in seminary, or is thinking about attending seminary, I recommend they read this book for helpful insights and suggestions on how to maintain a passion for Jesus while in seminary.
I also found the discussion in the book about the purpose of seminary to be extremely helpful (pp. 52-55) The authors equated seminary with boot camp where soldiers train for war. It is not the war itself, and in fact, many of the skills and behaviors learned at boot camp (or seminary) will never be used in war (and in fact, may be a hindrance). Nevertheless, it is helpful to learn these skills, not for their information, but for the way they teach discipline and commitment.
I think this is exactly true. I would not say that seminary taught me much that was helpful for life outside of seminary, but I would say that seminary taught me study habits and disciplined thinking patterns that have served me every day since graduation.
So in that sense the book was good. It really helped show what the seminarian should and should not expect to receive from seminary.
But while I was reading the book, it struck me as odd that I was reading a book about maintaining a relationship with Jesus which basically says that reading books can get in the way of maintaining our relationship with Jesus! It made me feel a little bit like an alcoholic who tries to beat his addiction to whiskey by turning to wine.
Nevertheless, what other way is there to learn information quickly than by reading? So I read the book.
If you are in Seminary…
Ultimately, I recommend this book, especially for people who are about to enter seminary, for those who are in seminary, or for those who have graduated from seminary. While many of us are acutely aware of the dangers of freezing in seminary, this book not only provides a good reminder of that danger and how to avoid it, but it also provides good insights for what seminary is (and is not) for.
If you are headed for seminary (or there right now), consider getting a copy of Blessed are the Balanced from Amazon and letting me know what you think!