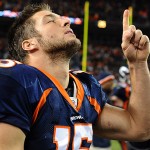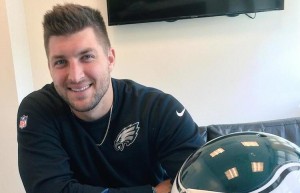 Do you want to know why the Eagles cut Tim Tebow? Or why the Patriots and Jets didn't keep him on their roster? Or why the Broncos traded him?
It's not because of his quarterback skills (or lack thereof, depending on who you ask). From a purely statistical perspective, Tim Tebow is better than most 3rd string quarterbacks and many 2nd string quarterbacks in the NFL.
It is also not the media frenzy that follow Tim Tebow wherever he goes, though this is part of it.
The real reason that the Eagles cut Tim Tebow is because Tim Tebow believes that his purpose on a football team is to evangelize his teammates and the coaching staff. Every time he gets a camera in his face, he starts talking about Jesus and giving glory to God for letting him play football.
But NFL Coaches don't put people on their team to give them a platform to share their religious ideas. Nor do they put people on their team to share their political ideas. Or to sell their branded merchandise.
Imagine what would happen if an NFL football player, every time he got a camera in his face, said, "I'm just glad I get to play this game because it gives me the opportunity to tell you about my line of t-shirts and hats. Go to my store today to buy one!" No NFL coach in the league wants someone like that on their team.
NFL Coaches put players on their teams to win football games.
In the locker room, in team meetings, in coaching meetings, on the field, and in front of the cameras, Tim Tebow was always talking about Jesus and inviting people to believe in Jesus, and on and on and on.
It's not about Tim Tebow getting more reps in the CFL. If Chip Kelly really believed that all Tim Tebow needed to become an NFL-quality QB was more reps, Kelly could have given that to Tebow in practices. No, that excuse is a smoke-screen. Kelly can't come out and say he cut Tebow because Tebow spent half his time practicing and the other half proselyting, because the religious right in this country would scream and yell about religious discrimination.
But it's not religious discrimination. It's about not doing your job because of your religion. (Like the clerk in Kentucky who won't issue marriage licenses … If she can't do her job for religious reasons, that's fine, but then she needs to quit her job.)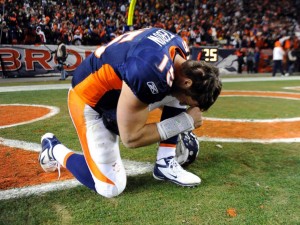 If Tim Tebow wants to play in the NFL as a quarterback, here is my recommendation to him: "Tim, stop praying after you score a touchdown. Stop putting "John 3:16" in your eye black. Stop giving thanks to Jesus whenever you win a game."
I agree with Jake Plummer, who, in 2011, gave Tebow the best advice, but which Tebow never heeded. Jake Plummer said this:
"I wish he'd just shut up after a game and go hug his teammates," Plummer said, via SportsRadioInterviews.com. "I think that when he accepts the fact that we know that he loves Jesus Christ then I think I'll like him a little better. I don't hate him because of that, I just would rather not have to hear that every time he takes a good snap or makes a good handoff."
I can hear the Christian outrage already.
What? You want Tim Tebow to stop witnessing? You want him to stop thanking God for his successes? We're not supposed to be ashamed of the Gospel! With all the murders and wife-beaters in the NFL, it's nice to have a good Christian role model for a change, and you want him to just shut up about his faith in Jesus?! What kind of heathen heretic are you, anyway?
Yes, well, hear me out.
I am thrilled that Tim Tebow is outspoken about his faith. Notice that I never said anything about him hiding the fact that he's an evangelical Christian.
But Tim Tebow is making a basic mistake about witnessing, which is the same mistake a lot of Christians make.
Lots of Christians think that if they gain some sort of prominence in the public sphere, this means that they are responsible for using their position or their prominence as a platform to witness to other people.
Nothing could be further from the truth.
If a Christian becomes the CEO of a large corporation, God has not put him or her in that position so that they can witness to all the employees of the corporation, shout "Praise Jesus!" whenever they land a big account, or open up all their board meetings with prayer. God does not raise up Christians to places of prominence so they can cram Christianity down other people's throats.
No, the person in a position of power or prominence is there so they can be the best CEO possible. They may include (but is not limited to) providing good wages and fair treatment to employees, and operating the business with honesty, transparency, and generosity. It means running the business in an ethical way, with creativity and imagination.
I hate it when well-meaning Christians tell powerful, prominent, rich Christians that "God raised you up for such a time as this." Then they are told that God raised them up so they can hand out gospel tracts to their employees, or take a stand for "biblical marriage," or some such nonsense.
I hear such things, I just want to barf.
If God raised someone up to be a CEO (which is debatable), then it was not to hand out gospel tracts or take a stand for "biblical marriage," but is for the purpose of being the best CEO they can possibly be. If God really raised a person up to be a CEO of a company, it would be for the purpose of showing the world how a business can successfully be run according to the principles and values of the Kingdom of God rather than the principles of the rulers of this world. Same goes for politics, music, art, and sports.
This brings us back to Tim Tebow.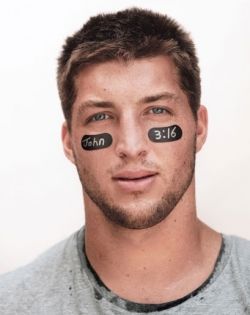 If God truly raised up Tim Tebow to be an NFL quarterback (which is debatable), then it was not so that Tim could announce his Christian faith by praying in the End Zone and praising Jesus at press conferences. No, God raised up Tim Tebow to be a quarterback so that he can be the best quarterback Tim Tebow can be. Period.
If Tim Tebow wants to be a quarterback in the NFL, he needs to be an NFL quarterback; not a missionary quarterback. Not a prophet quarterback. Not a "God's spokesman" quarterback. Just a quarterback. He needs to work hard, throw the ball, and run the ball. And he must do it all with honesty, integrity, and a good work ethic both on and off the field.
Someone needs to tell Tim Tebow that the NFL stage is not for proclaiming the Gospel but for playing football.
If you still disagree with me, let me make one more point.
When Tim Tebow played for the Denver Broncos and knelt to give thanks to God every time he scored, what exactly was the message he was proclaiming to all who watched him? I think Tim Tebow thought he was showing everybody that he was thankful to God.
But thankful for what?
For letting Tim play football in the NFL?
If that is the case, what about all the other Christian quarterbacks who also wanted to play in the NFL but never had the chance? Does God love Tim Tebow more? Does God hear his prayers more? Is Tim Tebow more faithful than those other quarterbacks?
Or maybe the prayers of Tim Tebow were his way of giving thanks to God for scoring a touchdown?
But again, if this is the case, what does this tell the Christian players on the opposing team's defense? Does Tim think that God heard his own prayers and ignored those of the Christians on the defense? If Tim threw an interception, would he like it if the opposing team knelt down to thank God for Tim's bad pass?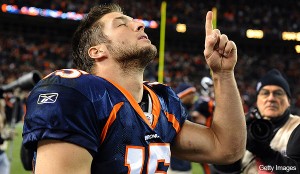 Here's the point: Whatever Tim Tebow's motives might be (and I think they are pure), his prayers on the field tell the world that God hears and answers the prayers of some people more than those of others. This further implies that everybody who doesn't seem to have the success, money, or fame that Tim Tebow has, must have less faith than Tim, or maybe God just doesn't love them as much as He apparently loves Tim.
I really, really doubt that this is the message Tim wants to send when he kneels to pray in the end zone.
Which is why I encourage Tim to stop praying on the football field.
And the "John 3:16" on his eye lids needs to go as well, for the same reasons. If he wants to invite people to believe in Jesus for eternal life, let him do it in one of his numerous speaking engagements, or in personal conversations with friends off the field. But when he's on the field, this is not the time to share the gospel, but to live the gospel by being the most hard-working, honest, ethical, cheerful, and dependable quarterback he can possibly be.
And this will be a good example to the rest of us about how to be a Christian in this world. I am not a good Christian if I refuse to do my work because I have to pray for 15 minutes out of every hour "in order to show my coworkers how good of a Christian I am." I am not a good Christian if I refuse to work with certain coworkers because they have a lifestyle I disapprove of. I am not a good Christian if I show up late for work because "my morning devotions went too long."
Look, we Christians are not good Christian witnesses when we stop doing the things we should be doing because we want to "be a witness." No, we are good Christian witnesses when we work hard at being the best we can be in whatever job or position we find ourselves.
Christian witnessing is not accomplished by trying to be a witness.
Christian witnessing is accomplished by living life the best we can and loving others in the process as much as we are able. When we do this, we naturally become a witness to how a life looks that is transformed by God.
So if Tim Tebow truly want to follow his lifelong dream of being an NFL quarterback, I suggest he lose the Christian circus. This begins with letting his passing, not his praying, do the talking.