There are two famous men in the Bible named Joshua.
One, of course, is the Joshua with a book named after him. This is Joshua, the son of Nun, the successor to Moses. This is the Joshua who led the people of Israel to embark upon the military campaign of defeating the Canaanites so that Israel might enter into the Promised Land.
The other Joshua is actually more well known, but we call Him something different. We call Him Jesus. The Hebrew pronunciation of His name, however, is Yeshua, which in English, is pronounced "Joshua."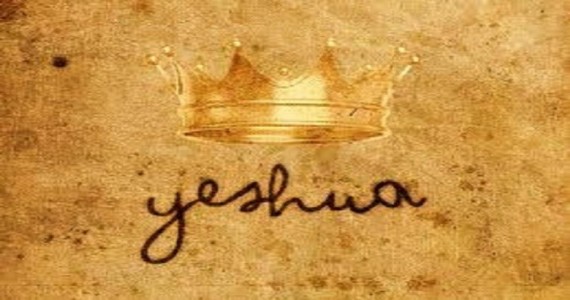 Nevertheless, despite their name similarities, these two Joshuas could not be more different. Yet far too often, Christians who claim to follow the second Joshua, often end up following the first.
Check out a few of the differences between Joshua of the Canaanite Conquest and Yeshua of the Gospel of Grace:
Joshua and Jericho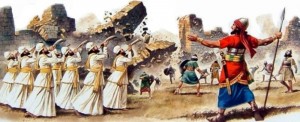 In Joshua 6, Joshua leads the people of Israel in their first campaign against the Canaanites. This is the battle of Jericho. After the walls of Jericho fell down, Joshua instructs the people to go into the city and kill everything, including the women, children, and animals, and then burn everything (Joshua 6:17-24). The only people who were spared were those who accepted and helped the Israelite people, which in this case, consisted of a prostitute named Rahab and her family.
The second Joshua, however, handled the rejection of cities quite differently. In Luke 9:51-56, as Jesus and His disciples headed toward Jerusalem, Jesus sent messengers before Him to invite the people of a Samaritan city to prepare for His coming. This is very similar to Joshua sending the spies into Jericho to prepare that city for his coming. But the people of this Samaritan city did not want to have anything to do with Jesus. So when Jesus arrived at the city, James and John asked if they could call down fire from heaven to burn the city and all its inhabitants.
Clearly, James and John were taking a play out of Joshua's playbook.
But Jesus is not using the same playbook. Rather than follow in the footsteps of the first Joshua, Jesus rebukes His disciples for wanting to kill, destroy, and burn those cities that reject Him, and tells James and John that they do not know what manner of spirit they are of (Luke 9:55). Apparently, the first Joshua did not know either…
Joshua and Achan
After the battle of Jericho, Joshua leads the people of Israel to attack the city of Ai. But Israel is defeated (Joshua 7:1-10). So Israel looks for a scapegoat to explain why they were defeated. To find this scapegoat, they draw lots, and eventually, a man by the name of Achan is chosen (Joshua 7:14-18).
I would not be at all surprised to learn that there were thousands upon thousands of "guilty" men in Israel that day. Knowing what we know of the rules of war and the behavior of men, does it seem likely that of all Israelite warriors that took part in the destruction of Jericho, only one man took a bit of plunder for himself? I find it beyond belief.
So as the lots are cast to choose the guilty tribe, clan, and family, you can imagine thousands of nervous men breathing a sigh of relief as they get passed over by the casting of the lots. In this case, Achan ends up being the unlucky one. After he confesses his crime, Joshua takes Achan, along with his gold, silver, clothes, sons, daughters, oxen, donkeys, sheep, and tent, and stones everything and then burns everything (Joshua 7:24-25). It is especially touching how the sons and daughters of Achan get mentioned right alongside the clothes and the tent.
Anyway, if anyone who is reading this can ever imagine the second Joshua, Jesus, doing anything like this to "sinners" who are brought before Him for judgment, let me suggest that you know nothing about Jesus.
When the women caught in adultery is brought before Jesus, He forgives her and lets her go her way (John 8:1-11). If Jesus was like the first Joshua, Jesus would have not only agreed to have this woman stoned, but would have rounded up all her possessions, including Fido the dog, Fluffy the cat, and Mr. Ed the horse, along with the woman's sons and daughters, as well as her little makeshift house, and would have had them all stoned, and then when they were lying there crumpled and broken and bleeding on the ground, would have ordered oil to be poured on them all so they could be set on fire.
No, Jesus doesn't do anything of the sort, and never would. Jesus, as the Joshua of the Gospels, always forgives. And He not only forgives, but instructs others to do the same. And when asked how often we should forgive, He instructs to forgive without limit (Matthew 18:22).
There is no way Jesus ever would have stoned Achan, his children, or his animals. Furthermore, there is no way Jesus ever would have blamed Achan for the failure of Israel to defeat Ai. Jesus never played the blame game (John 9:2-3). Of course, there is no way Jesus would have gone to war with Ai in the first place…
Joshua and Ai
When it comes to the second battle against Ai, it is easy to see that what caused the people of Israel to win was not God's blessing now that Achan and his children had been killed, but that the Israelites had better tactics this second time around. The Israelites set up an ambush and the people of Ai fall into it (Joshua 8:12-23). The Israelites split into two forces, and one force went and attacked the city, and then ran away, acting like they were losing. When the people of Ai saw the Israelites running away, they came out of the city into the fields around Ai to pursue the Israelites and kill them. This is when the second Israelite force descended upon the city, entered through the open gates, and killed everybody inside.
After the military men are defeated in the battle, Joshua returns to the city and kills all the women and children who were there (Joshua 8:24-26). This time, Joshua allows his men to take plunder from the city (Joshua 8:27).
Interestingly, Jesus also set numerous traps for people during His ministry, but they were always traps of love. He fed people, healed people, and taught people. And when people flocked out of the cities to come out into the fields to meet Him, He did not tell His disciples to enter the city behind the people and put all those who were left to the sword.
No, Jesus does the exact opposite. He lures people into His presence, and then He loves them, blesses them, and helps them. And when the disciples start to get annoyed at all the people coming to Jesus, and especially the noisy, rowdy children, they try to protect Jesus and limit His accessibility.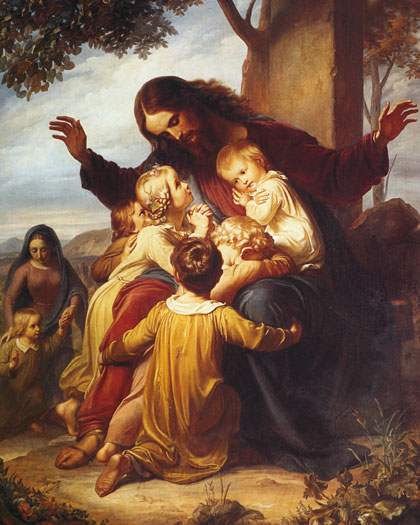 But Jesus says, "Let the children come unto me; do not forbid them" (Matthew 19:14; Mark 10:14; Luke 18:16). Jesus did get annoyed, but He was annoyed at His disciples for trying to keep people away from Him (Mark 10:14).
Jesus never set a trap for people, unless it was a trap of love.
And the only time Jesus gets annoyed is when people restrict others from accessing His love.
Joshua and the Gibeonites
There was one time that Joshua showed a little … restraint. I will not call it love.
As the Israelites started slaughtering Canaanites, one group of people, the Gibeonites, got a little nervous, and so they sent an envoy to Joshua to make a peace treaty. Yet they tricked Joshua into thinking that they were from a far away land. Joshua made a treaty with them because Joshua only wanted to kill and annihilate the people who were nearby (Joshua 9:1-15).
Later, when Joshua finds out that he has been tricked, he decides to remain true to his part of the peace treaty, but determines that the Gibeonites will become eternal slaves to the Israelites. Joshua curses the Gibeonites, and says that they and all their descendants forever will be slaves to the people of Israel (Joshua 9:21-27).
Does the second Joshua, Jesus, ever do such a thing? No.
Jesus did not come to enslave anyone or put any person in chains. Quite to the contrary, when Jesus embarked on His public ministry, He stated that His purpose and mission was to give liberty to the captives and set free those who were oppressed (Luke 4:18-19). As Paul writes later, there is freedom in Christ; not slavery and bondage (Galatians 5:1).
When people try to trick Jesus, as they often do, He does not consign them to everlasting slavery, but instead tries to liberate and free them from the fear, the shame, the guilt, and the thinking which causes them to behave this way (cf. Matthew 22:23-46).
Jesus does not enslave. He liberates. He frees. He breaks all chains and bonds.
Joshua Slaughters; Jesus Saves
The contrasts between Joshua and Jesus are best seen by comparing Joshua 10 with John 10.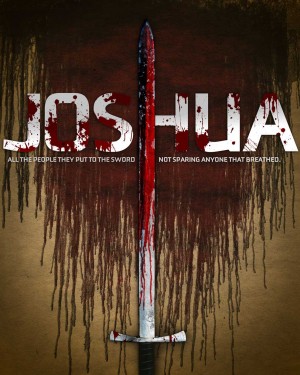 In Joshua 10, we have a long listing of all the groups of people that Joshua slaughtered. This list is so long, it carries over into Joshua 11.
In John 10, the contrast could not be more clear. Whereas Joshua killed people so that he could supposedly create a "safe place" for the Israelites to live (How'd that work out for you, Joshua?), Jesus, as the Good Shepherd, did not put anyone or anything to death, but instead laid down His life for the sheep (John 10:11).
Whereas only a thief comes to steal, kill, and destroy (like Joshua?), Jesus came that people might have life, and might have it to the full (John 10:10).
Then in John 11, Jesus shows that He is completely opposed to death by raising Lazarus from death. Through this, Jesus shows that Jesus did not come to bring death, but came to reverse death. Death is the true enemy of God.
Tragically, the only people in John 10-11 who want to kill are the religious people who feel threatened by what Jesus is teaching about God: that God is not a God of death and war, but is a God of life and peace. By this, they showed that in rejecting Yeshua into life and love, they were following Joshua into death and hate.
Which Joshua do you follow?
The First and Second Joshua
Like the religious people in Jesus' day, many in Christianity seem to prefer to follow the first Joshua, though the differences between him and the second Joshua, whose name we bear, could not be more stark.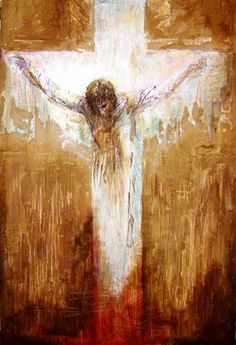 The first Joshua sought to kill others in the name of God, while the second Joshua allowed Himself to be killed so that He might reveal God.
The first Joshua called for genocide and fratricide; the second Joshua called for grace and forgiveness.
The first Joshua was threatened by those who were different and killed them where they ate and drank; the second Joshua welcomed those who were different and ate and drank with them.
The first Joshua killed men, women, and children because he saw them as a threat to moral purity; the second Joshua welcomed all men, women, and children, no matter how "impure," because He knew that any "impurity" in others could only be overcome by the ocean of God's love, grace, and forgiveness.
Which Joshua do you follow?
When you call yourself a Christian, are you following the deliverer of Israel who provided the Promised Land through the slaughter of others, or are you following the deliverer of the world who provided eternal life through the sacrifice of Himself?