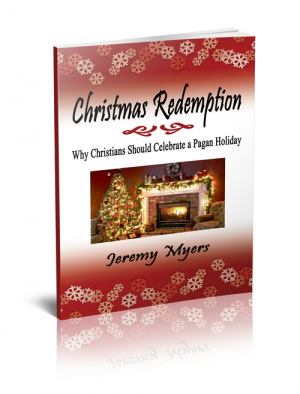 In Christmas Redemption, I admit that Christmas is a pagan holiday, and go into some of the history and origins of Christmas.
Christmas Redemption then looks at the date of Jesus' birth and how Jesus fulfilled many of the biblical Jewish holidays in His birth, life, and ministry.
Following this, the book takes a brief look at one of the non-biblical Jewish holidays that Jesus also fulfilled, and ask the question that if Jesus could fulfill a non-biblical Jewish holiday, why can He not also fulfill any other non-biblical holiday?
I believe He can… and He does.
Christmas Redemption ends with looking at some of the symbolism and traditions of Christmas, including gifts, the Christmas tree, and even Santa Claus and showing how all of these can be celebrated and enjoyed by Christians as a true and accurate reflection of the Gospel.
Jesus is in the business of redemption, and just as Jesus has redeemed you and I, He redeems the cultural elements and traditions that surround us, including pagan holidays.
Jesus has redeemed Christmas.
To see how, get Christmas Redemption today.
"Hope" and "Love" Members of RedeemingGod.com will get this book for free a few weeks after signing up. Join now.