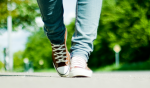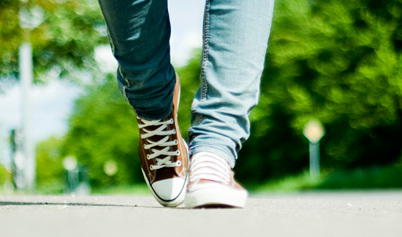 As I mentioned in the a previous post, most of us do not know many of our neighbors. We assume they're unfriendly. Otherwise, they would have introduced themselves.
Or could it be that we have neglected to introduce ourselves? Perhaps most of our neighbors know each other, and somehow we've been left out. Hmmmm! Shouldn't we at least check this out?
But how should we go about it?
How do we actually get to meet some neighbors and find out what is going on in our neighborhood?
Getting to know your neighbors begins with taking walks in the neighborhood.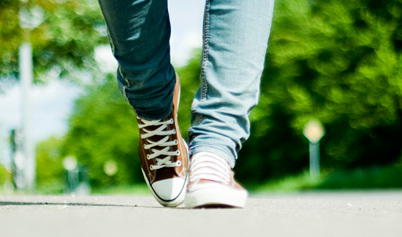 Even though many neighborhoods often appear to have no people, the people are there.
But when do they come out of their houses and into the street? We have discovered that many people like to take a short walk, clean out their car or do something in their front yard at the end of a nice day. Just about anytime Saturday, Sunday afternoons and early evenings are usually the best times to find people in front of their houses or in the street.
If we're going to meet them, we have to be out there also. Our solution? We walk around the neighborhood (and the two adjoining neighborhoods) at the times when we know we'll find people out of their houses.
As you walk the neighborhood, there are numerous things you can do to break the ice in getting to know your neighbors. Here are five:
1. Give Compliments
As you walk, maybe you see someone standing in their yard, looking at their new landscape job, paint job, car, or whatever. What should you say? People love sincere compliments… so give them a compliment!
Say "We love your new landscape job" (or whatever it is). "It looks so nice." Then ask "Did you design it?" (or paint it or do the work). Most people smile, say thank you, then introduce themselves and ask us who we are.
If you have been going on walks for a while, they may say, "I see you walking all the time," and then proceed to tell you all about whatever it was you complimented them on. Sometimes they may invite you into their garage, backyard, or house to show you what they've done.
2. Take a Friendly Dog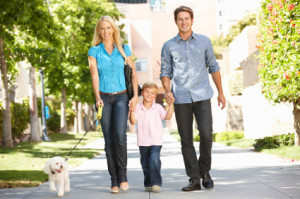 Another great icebreaker is to take a friendly dog along as you walk the neighborhood.
Our dog died a few years ago, but we have discovered that several neighbors have dogs that rarely get walked. The neighbors and especially the dogs are delighted when we offer to take the dog along on one of our walks. In addition to doing something nice for one neighbor, it gives us an opportunity to meet more neighbors.
Lots of people like dogs, and if you take yours (or a neighbor's), they may stop you to ask questions about the dog you're walking. We have even had people see us out of their window, come out of their front door and ask us how many dogs we own, which always ends up in all of us getting to know each other.
3. Garage sales
Some people who never seem to come outside their doors will occasionally decide to clean out their garage and have a garage sale. When they put their stuff on their driveway and sidewalk for sale, this is a great time for you to go talk with them.
Where we live, garage sales are usually done on a Saturday morning on the driveway. Since we're not really looking for things to buy, we wait until the serious garage sale crowd has thinned out, and walk to the sale. We make a comment, such as "What a nice day for a garage sale!" then add that we live nearby. The homeowners or renters then usually comment that they frequently see us walking and ask us questions. (What happened to your dog? How many dogs do you have? How many miles do you walk every day?) With few exceptions, they introduce themselves and we introduce ourselves.
4. Trash Pickup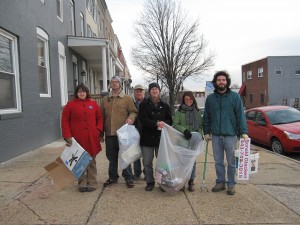 Some neighborhoods have trash that builds up in various empty lots or along the sides of the streets. As you walk, carry a garbage bag to collect any stray garbage lying around. This not only helps improve the appearance of your neighborhood and cleans up the environment, but is another way to break the ice with your neighbors.
Two or three times throughout the year my wife and I take some garbage bags and "trash pickers" (long-handled "grabbers" that can be purchased for ten to twenty dollars at swap meets or Wal-Mart) and pick up trash in the street and on the sidewalks in the neighborhood. We do it on Saturdays or Sundays. Some people thank us, and some offer us a drink. Some ask us where we buy the pickers. We have met several people when picking up trash that we had never seen previously.
5. Handing out Flyers
When something of community interest is happening, we volunteer to hand out flyers in our neighborhood. If you want to maintain good relationships with your neighbors, you probably should not hand out political or religious flyers. These are almost never welcome.
Also, do not hand out flyers for sales events. 
But invitations to community events and parties are often good ways to meet neighbors. People like to be invited to parties.
This could be the city festival, art walk, community fair, and so on. As you do this, try to be very respectful of other people's property. Never cut across the lawn, jump over a fence, post a flyer on their car, or place it in their mailbox. It is generally best to hand out flyers only on weekend afternoons, when many people are home. As we walk up their front sidewalk, it is common for people to meet us at the door, and often they initiate a conversation with us.
This is by no means an exhaustive list of icebreakers. There are many others. In the next post, we will look at some ideas for taking our relationships with neighbors we have met a step further.
Do you want to share Jesus with your neighbors?
There's more to it than inviting them to church...
Fill out the form below to receive several emails about how to get to know your neighbors and love them like Jesus.