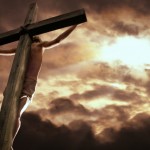 Do you want to spend six months focusing your mind on Jesus Christ and Him crucified? If so, let me send you one email per week for the next six months about the crucifixion and resurrection of Jesus. There is no charge.
What Jesus accomplished on the cross and through His resurrection is central to everything else. The death and resurrection of Jesus are not only central to Scripture and the Gospel, but are also central to learning (maybe for the first time) what God is like, and how we are supposed to live our lives as followers of Jesus.
So start receiving these emails today and let your life and theology begin a cross-focused transformation.