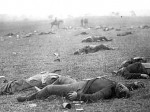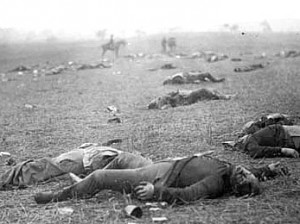 If running headlong into hell sounds dangerous, that's because it is.
But Jesus never promised that following Him would be safe. Jesus never promised peace and security, but troubles, persecution, famine, nakedness, danger, and sword.
Following Jesus to the gates of hell does not include glitz and glamor, but sweat, pain, hardship, blood, and toil.
So why does the church spend so much time, money, and energy making sure all our buildings and services are "safe"?
When a church is properly following Jesus, church is anything but safe. Jesus sent the church into the middle of a warzone, and right to the front lines. But when we plan a church service, we want people to enjoy their time and go home with smiles on their faces. This sounds more like a weekend holiday cruise than a desperate rescue mission.
It is high time the church recognize that we are in a battle. We are at war and the earth is our battleground. War is messy, grimy, scary, and bloody. People get shot and wounded.
Put these sorts of things on your church website for what people can expect, and then see how many people show up. In Attack Upon Christendom,
Søren Kierkegaard described church this way:
We all know what it is to play warfare in mock battle, that it means to imitate everything just as it is in war. The troops are drawn up, they march into the field, seriousness is evident in every eye, but also courage and enthusiasm, the orderlies rush back and forth intrepidly, the commander's voice is heard, the signals, the battle cry, the volley of musketry, the thunder of cannon—everything exactly as in war, lacking only one thing…the danger.

So it is with playing Christianity, that is, imitating Christian preaching in such a way that everything, absolutely everything is included in as deceptive a form as possible—only one things is lacking…the danger.
If we are going to follow Jesus, we must embrace the danger. We must run headlong into the battle where the arrows fall thickest, where the smoke blinds our eyes, and where the threat of death lies at every step. For it is here where people die every day, without light, without hope, and without love. They are trapped in a system that seeks one thing: their continued captivity and death.
The world…is the realm of Satan which leads it toward separation from God, and consequently toward death. That is all that it is able to do. Thus it is not for us to construct the City of God, to build up an "order of God" within this world, without taking any notice of its suicidal tendencies. Our concern should be to place ourselves at the very point where the suicidal desire is most active, in the actual form it adopts, and to see how God's will of preservation can act in this given situation (The Presence of the Kingdom).
The screams of people dying are all around, and the church must open its eyes to the fact that nicer buildings, better sermons, longer prayer meetings, and more detailed doctrinal statements will not rescue anybody from the grip of sin and death. We must give up such things to better accomplish the mission of the church.
[This post is part of a series called "To Hell with the Church" which will form a chapter in my forthcoming book, Close Your Church for Good. To get a free copy when it comes out, subscribe now.]
---