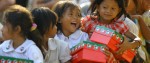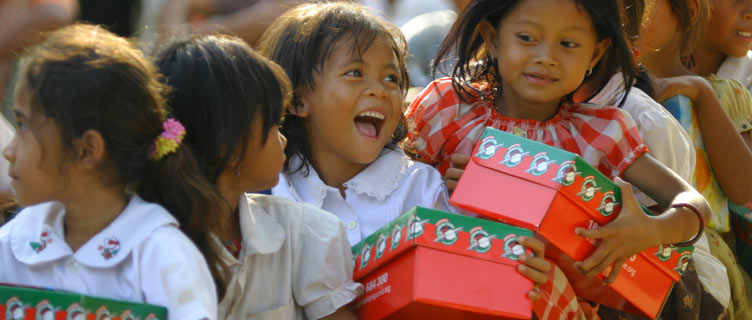 If you are looking for a way to share the love of Jesus with people around the world who are less fortunate than ourselves, I highly recommend participating in Operation Christmas Child.
Operation Christmas Child is run by Samaritan's Purse, and provides a way for you to give gifts to children all over the world. Following the directions on their site, you pack a shoe box with gifts, take it to a drop-off center, and then let Samaritan's Purse do the rest.
Here is a short video about a boy whose life was changed by a shoe box:
We participate in Operation Christmas Child every year, and it is one of the highlights of our Christmas season. Below are some of the things my wife and daughters wrote about packing shoe boxes for children around the world:
The Importance of Giving Gifts to Others
These simple gifts that come is shoe boxes have the potential to open a child's heart to the love of Jesus Christ. We see so many times in the gospel how Jesus offers a tangible gift of healing before he offers His gift of love, life, forgiveness. I believe these shoe boxes do the same thing.
Children all over the world are hurting and broken through no fault of their own. Many have lost all they had in a hurricane, earthquake, or tsunami. Others have gone through a war that ransacked their village and took the lives of their family, often leaving them orphans. Still other children have endured torture at the hands of slave owners, or have witnessed torture at the hands of enemies.
Children around the world are asking, "Is there anyone that loves me?" , "Am I worthwhile to anyone?", "Where is a God that loves me?", "What did I do wrong?", " Why is this happening to me?", and "Does anyone care?" These are the cries of so many children's hearts, and by sending a shoe box to them, we can help provide some answers to these questions.
How can a simple shoe box answer any of these hard questions from children?
First, these shoe boxes bring HOPE! When we first started making these shoe boxes several years ago, my girls would ask why we couldn't send them more, like a trunk load of stuff to each kid. "This toothbrush won't last forever, mommy," they would say. "And what happens if they loose this necklace, or if this bear gets too dirty? Mommy, this is not enough. If this is all they get for Christmas, we need to send them more. Much more!"
With tears in my eyes I answered that although I so badly wanted to adopt all the children of the world and give them all warm homes, food for their tummy, and loving arms to wrap around them, I cannot. As much as I would love to be able to send billions of dollars to heal their war torn lands and fix their water problems, I can't.
But there is one thing I could do, I told my girls, I could send them HOPE, and hope is a powerful gift. Hope in ones heart allows you to persevere when you otherwise would not, it allows you to find joy in the most troubling of times, and HOPE in a loving God allows you to believe that someone loves you, cares for you, wants the best for you, and will be there for you forever. This is hope that moves mountains.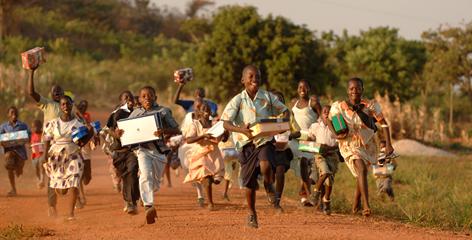 No, a shoe box won't feed the hungry child who receives it. The shoe box won't educate them, it won't get them parents. Although there are actually many stories where children do find parents through these shoe boxes. Check out the video below.
But one thing a shoe box does bring is hope, and as my girls now know, hope–especially in a living and loving God–is the most powerful thing we can offer someone.
So this year as you start the process of getting gifts for your family, please also begin a tradition of giving shoe boxes to children around the world that are longing to feel that powerful, tangible touch from the God that loves them. Please give the gift of a shoe box that will lead to the gift of everlasting life.
How Our Family Packs Shoe Boxes
Our family has packed shoe boxes for 15 years, and every year our girls say it is their favorite part of Christmas. Really! They plan and prepare for packing shoe boxes all year long. They save their money to buy small gifts. They look for the biggest shoe boxes in the stores. They look for toys and gifts on sale or on clearance that would fit well into their shoe boxes.
There are many ways to pack a shoe box, but the best way is straight from your heart. At the time of this post, there is only ONE MONTH until the collection time for shoe boxes. The National Collection Week is November 18-25, so you might want to get started today by clicking on the links below that will take you to the Operation Christmas Child site for all the information you will need to get started. If you have any questions about shoe boxes, what to put in them, or how the process works, I would be happy to answer them in the comments section below.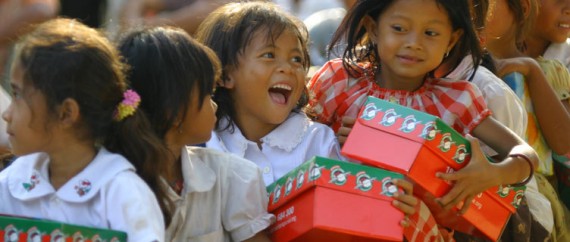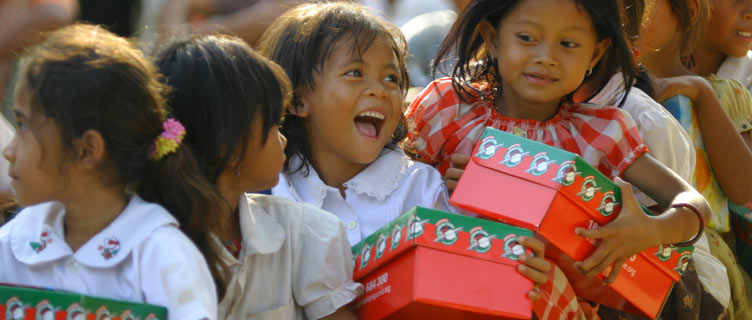 I will leave you with the words of my daughters. When asked to write why they believe shoe boxes are important this is what they wrote.
Kahlea (age 7)
I think it is good to give kids shoe boxes because it is very important to them. It means a lot to them. It makes them happy and gives them the hope that Jesus and others love them.
Selah (age 9)
I think it is important to pack shoe boxes because little things make kids happy and gives them hope. It is also fun to pack shoe boxes!
Taylor (age 11)
I think it is important to send shoe boxes because it gives the kids joy when they have so much sadness. the shoe boxes also teach them that Jesus loves them and that they are important. And it gives them hope, which is a powerful thing when everything is going wrong around you.
From the mouth of babes comes the simple truth that a small gesture of love reaps the large harvest of hope in a loving God.
Please take some time to visit the links below on how to pack a shoe box, and to learn about how you can help children around the world find hope in a God that loves them. The first link has a video about how to pack a shoe box.
Shoe Box Links