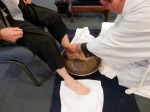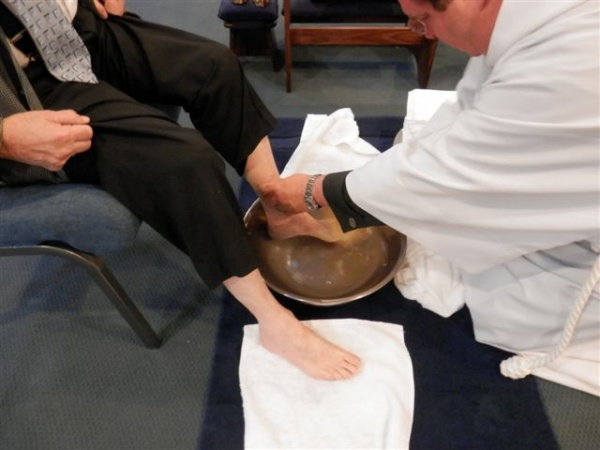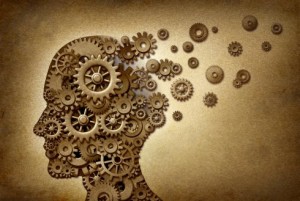 I deal with men who are mentally ill on a weekly basis at my job. Recently, a young man named Daniel came into my office and said he had a message for me from God. He handed me a note, which said this:
John, as an honor, asked him how might it be that I should wash your feet. He asked, I am. Would you have your brother too, be he, whom would be left to the way? No, say I! Not thy will, but albeit, your will be done, Lord. Amen.
I thanked Daniel for the message from God. He smiled and left.
You might recognize bits of that message as coming from John 13, where Jesus sought to wash the disciples' feet and Peter objected.
When people say that they are giving me a message from God, very rarely do I think that it is actually a message from God. But with this message from Daniel, I tend to think it was.
"What!?" You might say. "It's gibberish. It doesn't make any sense! God wouldn't do that!"
Wouldn't He? Have you read the book of Revelation recently? … But this post isn't about bibliology, so let's move on…
Thinking about Foot Washing Services
I think it truly was a message from God because that very week I had been thinking about these "foot washing ceremonies" which we sometimes have in church. Can I be frank? I think they're stupid. I think that foot washing ceremonies completely miss the point of why Jesus washed the disciples' feet.
Jesus performed that task because it was the most menial task that a household servant could perform at that time. You've heard the cultural background, I'm sure. People wore sandals as they walked around in the dusty streets, which were also full of animal droppings. Nobody wanted all this tracked through their house.
Besides, they ate meals at low tables while they reclined on the ground. Which means that everybody was down near foot level. Imagine how feet must have stunk! So they had the lowest of the low household servants wash everybody's feet as they entered the house.
To show his disciples how much He loved them, He washed their feet. That is, He became the lowest of the low servants in the house.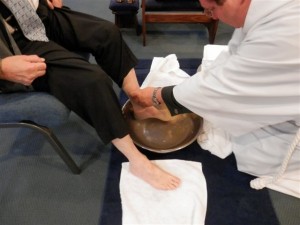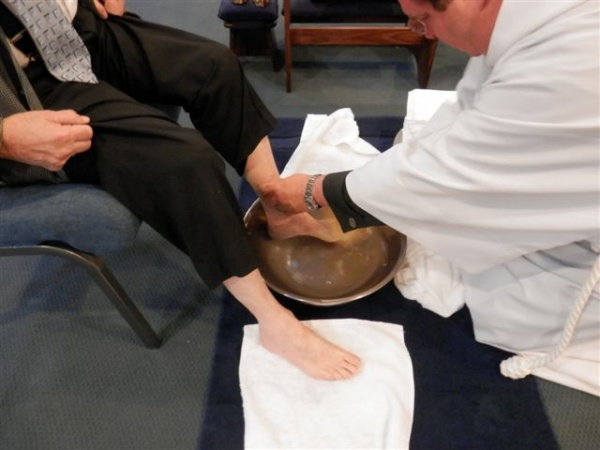 Does a modern foot washing ceremony do this? Hardly. More often than not, people who attend these foot washing ceremonies make sure that they washed their feet in advance and scraped all the gunk out of their toenails. Then they wear a clean pair of socks and shoes.
A True Foot Washing Service
If have often thought that if we really wanted to follow the spirit and symbolism of that first foot washing ceremony, we would find the dirtiest and most menial tasks in our churches, our neighborhoods, or our homes, and do those.
I have heard of pastors who pick up cigarette butts from the church parking lot, and go change diapers in the nursery. That's foot washing! I have heard of youth pastors who led their youth group on a mission's trip to the local outhouses near where the homeless people live and cleaned them up. That's foot washing! My friend, Sam Riviera, often walks around where the homeless are and picks up trash along the street. He says it is not uncommon to find used condoms and syringes. That's foot washing!
But let me get back to Daniel and his note. His note to me from God reminded me that washing someone else's feet is not just about what you do, but whom you do it for. Yes, Jesus washed the feet of his disciples, but remember, Judas was there too. Do you think Jesus skipped Judas as being "unworthy"? I doubt it.
It seemed to me that Daniel's note was an invitation for me to "wash the feet" of the mentally ill I encounter every week. How? By listening to them with patience, even when I don't understand a word they are saying. The mentally ill are often mocked, neglected, and abused by those who should love, protect, defend, and care for them. Maybe I can be a kind voice. A helping hand. A listening ear. A pat on the back.
If you don't know anyone who is mentally ill, that's okay. There are other people whose feet you can wash. Maybe you could "wash the feet" of Muslim neighbors by being kind to them (without trying to convert or condemn them). Maybe you could "wash the feet" of homeless people by giving them a meal, even when you know they waste all their money on drugs.
There are thousands of ways to wash people's feet, and billions of people who need their feet washed.
Open your eyes. Look around. There is pain and fear all around, just waiting for someone to wash it away. After all, "Would you have your brother too, be he, whom would be left to the way?"
---
This post is part of the October 2014 Synchroblog. Below is a list of other contributors. Go read them all!