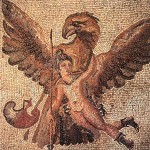 In the past, I have taught that Jesus never mentioned homosexuality.
But a few weeks ago, after the Supreme Court of the United Stated ruled that gay couples could get legally married, a guy came up to me and said, "This ruling is a sign of the end of the world! Jesus prophesied in Luke 17:34 that when the rapture happens, there will be two men in a bed!"
I went on to show him that in the Greek, the word "men" is not actually there, so all it really says is "There will be two in one bed …"
And besides, there is some question about whether Luke 17 is even referring to the rapture.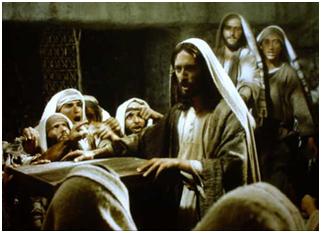 But even if the text is referring to a gay couple in bed, and even if the text does teach about the rapture, I pointed out to him that one of the men was taken in the rapture, which means that apparently, God accepted him.
He apparently hadn't though about this … and so started back-peddling a bit from this text.
But I decided to look into Luke 17:34 a bit more deeply.
Is it just two people in a bed?
As I pointed out to the end-of-the-world alarmist, the word "men" is not in Luke 17:34. The text literally reads:
In that night there will be two in one bed; one will be taken and the other left.
But then I noticed that in the context, our English translations go on in Luke 17:35 to record Jesus talking about two women grinding at the mill. I looked briefly at the Greek here as well, and noticed that the word "women" was not in Luke 17:35, just as the word "men" was not in Luke 17:34. Note that the word "mill" is not in the text either. Luke 17:35 literally says this:
Two will be grinding together; one will be taken and the other left.
So I asked myself, "What am I missing? Why do many English translators supply the word "men" in Luke 17:34 and "women" in Luke 17:35 when neither word is there? So I looked at the verses a little more carefully, and noticed that other words in Luke 17:34-35 revealed the gender of the people in question.
When Luke 17:34 says, "one will be taken and the other left," the words "one" and "other" are both masculine. By itself, this might not mean that the two people were men, for Greek (as in most languages) can use male words and pronouns to refer generically to "people" whether they are male or female.
But Luke 17:35 is much more clear. When this verse says, "one will be taken and the other left," the words "one" and "other" are both feminine. A feminine pronouns are only used of women.
So when you compare Luke 17:34 and Luke 17:35, and Luke 17:35 is clearly referring to two women, then it seems pretty clear that Luke 17:34 is referring to two women. The burden of proof lies on those who want to say that Luke 17:35 refers to women while Luke 17:34 refers generically to "people."
But so what?
Just because two men are in one bed, this doesn't mean they're gay.
This is very true.
While rare, it is not completely unheard of for two straight men to share one bed today. They might share a bed for warmth, or for protection, or simply because there is a lack of bed space.
This is especially true of men in ancient Middle-Eastern cultures. Unlike most modern Western males, I read in various sources that men of the Ancient Near East didn't feel "weirded out" by sharing a bed with another man.
But then I started studying the context further.
One source that really provided some background details for my study was a series of blog posts by Ron Goetz on gays and lesbians in Luke. What follows below is a brief summary of his arguments.
NOTE: I am not saying I agree with Ron Goetz. All I am doing is summarizing his research. I would like your opinion on what he argues, and would like your thoughts about whether or not Jesus does, in fact, mention homosexual couples in Luke 17:34-35, and what this means (if anything) for the debate today about Same-Sex Marriage.
Gay Sex in Luke 17:34-35
Below is a small sampling of what Ron Goetz argues regarding two same-sex couples in Luke 17. Before you criticize what he says, I strongly urge you to go read through his entire series of posts, as it is likely that he has already responded to your question or criticism.
The summary/extended quote from Ron Goetz begins below…
I tell you, in that night,
there shall be two men in one bed;
the one shall be taken, and the other shall be left.
Two women shall be grinding together;
the one shall be taken, and the other left.
(Luke 17:34-35, KJV)
The Context of Sodom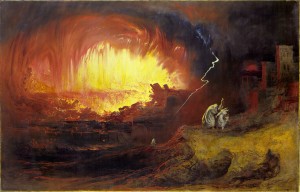 Immediately before the mention of two men in one bed is a lengthy discussion of the destruction of Sodom. Now I don't believe the sin of Sodom was homosexuality. But there are many today who believe that it was, and I think most of the Jewish believers in Luke's audience may have believed it as well.
Jesus knew that by recounting key details of Sodom's destruction, his audience would have man-on-man sex on its mind. Jesus intended for us to understand that the "two men in one bed" were gay.
One key practice for interpreting a passage in the Greek scriptures is to look for its antecedents in the Old Testament.
I've only found two Old Testament references to two men laying together.
"Thou shalt not lie with a man, as with a woman: it is abomination" (Leviticus 18:22).
"If a man lie with a man, as he lieth with a woman, both of them have committed an abomination: they shall surely be put to death; their blood shall be upon them" (Leviticus 20:13).
By clearly alluding to the Levitical prohibitions against male homosexuality, followed immediately with his declaration that "one shall be taken, and the other left," Jesus declared his own acceptance of gays and lesbians, and that gays and lesbians are not automatically rejected by God.
Whether or not you believe in this final separation, or whether or not you believe the Bible, doesn't matter with regard to the significance of the passage. What is important is that Luke 17:34-35 teaches that sexually active gays and lesbians are not automatically consigned to perdition.
Two Women Grinding Together
In the Hebrew Bible, "grind" is used as an acceptable euphemism for sexual intercourse in at least four places: Job 31:10, Judges 16:21, Isaiah 47:2-3, and Lamentations 5:13.
[Yet] It seems shocking that Jesus would use what sounds to us today like gutter language when referring to lesbian love-making. The idea of Jesus uttering the words "women grinding together" can be very uncomfortable. It certainly was for me. Even though the Old Testament evidence confirmed my hypothesis, it was difficult for me to hear that language coming from the mouth of Christ.
But when you remember that there is earthy language throughout the Bible, in both testaments, we get an understanding that the church's demand for regal, solemn, respectable language is not a Biblical demand. Our personal and cultural expectations are not necessarily in sync with the scriptures. What sounds like earthy language today were, generally speaking, acceptable Biblical euphemisms.
Solomon's love poem, the Song of Songs, is well known for its graphic descriptions of romantic love. First century Israel did not have the clinical, scientific nomenclature for sexual matters that we have today, but they did have acceptable ways to discuss these things among adults.
No, Jesus Christ was not using gutter language when he mentions "two women grinding together." The Old Testament books of Job, Judges, and Lamentations contain the Biblical use of the metaphorical grind. Jesus used the ordinary, acceptable language of his day to refer to lesbian love-making.
[But it is not just a couple of Old Testament texts that use "grind" in this way.]
In Latin, the word "grind," and the related word "mill," are both euphemisms for things sexual. The Roman poet Horace (65 to 8 BCE) used "grind" in his endorsement of brothels. Writing in Latin just decades before the birth of Christ, [one author] says that
Once, when a noble left a brothel, "Blessed be thou for thy virtue!" quoth the wisdom of Cato: "for when their veins are swelling with gross lust, young men should drop in there, rather than grind some husband's private mill."
His use of both "grind" and "mill" shows that even the presence of the word "mill" does not eliminate the possibility of sexual meanings in the word "grind." Horace's usage is very significant because it is proof of the use of "grind" as a euphemism for sexual intercourse in the Roman empire just a few decades before the birth of Christ.
[Such euphemisms are also found in Greek.]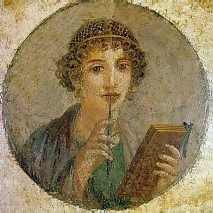 Plutarch (ca A.D. 45 to 120) was born in Greece near Delphi, and was a contemporary of Luke. One of Plutarch's s, "The Banquet of Seven Wise Men," is a fictional conversation among some famous men who lived around 650 BCE. After a brief lull in the conversation, Thales of Miletus speaks:
This remark arrested the attention of the whole company, and Thales said jestingly…. "when I was at Lesbos, I heard my landlady, as she was very busy at her handmill, singing as she used to go at her work:
Grind, mill, grind;
For even Pittacus grinds,
King of great Mytilene.
Plutarch records "grind" used as a sexual metaphor in the last quarter of the first century A.D., overlapping the probable years when Luke was composed.
The sexual meanings of "grind" and "mill" were common in Greek society when Luke being composed, and could have been in common usage for as long as 700 years prior to that. There is no room for quibbling over whether or not "grind" and "mill" were used sexually in the Greek language of the first century, and that this layer of meaning was familiar to literate Greeks.
The Lightning and the Eagle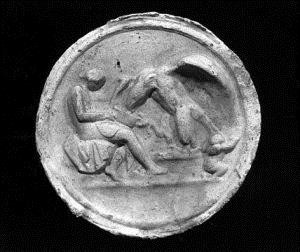 A major piece of evidence supporting the thesis of a deliberate gay theme in Luke's Small Apocalypse (which I call "Luke's Gay Apocalypse") is found in the two primary symbols of Zeus, the supreme god in Roman religion. The symbols of Zeus are the lightning bolt and the eagle, and they appear in Luke 17:24, 37.
I subsequently investigated the Luke 17 passage specifically as the "Q Apocalypse," and was blessed to find a terrific resource, "Where the Eagles are Gathered": The Deliverance of the Elect in Lukan Eschatology, by Steven L. Bridge (2003), who connects the lightning and the eagles with Zeus and Ganymede.
The lightning bolt was Zeus' powerful weapon, and the eagle was sent to retrieve the bolts after Zeus had thrown them. One of the most popular and enduring stories involving the eagle describes the Abduction of Ganymede. According to the story, the King of Troy had a beautiful son named Ganymede, and Zeus found Ganymede irresistibly attractive.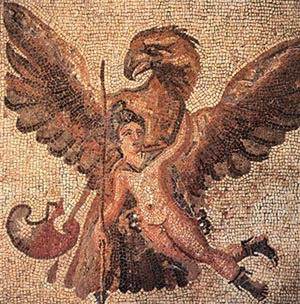 According to the story, the attractive young Ganymede is abducted by an eagle, who in one version is Zeus himself, having transformed himself into an eagle. While the story had several uses (as a paradigm for imperialism and an allegory for Truth), in the Roman era the sexual nature of Ganymede's relationship with Zeus was widely recognized.
Zeus had numerous liaisons with mortal women, but only one same-sex relationship, and the eagle is vividly associated with his romantic relationship with Ganymede. Just as the donkey reminds Christians of the Nativity and the Triumphal Entry, so also the eagle reminded Romans and Roman subjects of Zeus' sexual relationship with his cup bearer and servant, Ganymede. The story of Zeus and Ganymede adds a layer of sexual meaning and interest to the eagle's image which is missing from its common use as a symbol of power.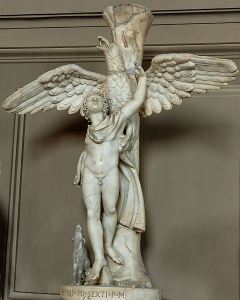 What we have here are the two chief symbols of Zeus, lightning and eagles, one of which is vividly associated with Zeus' same-sex relationship with Ganymede, located at the beginning and end of a discrete unit of the third gospel, Luke's Small Apocalypse. That distance between the verses may seem great, and this distance has obscured their historical and cultural connection. But these were the symbols of Zeus. If we were to read a paragraph that opened with a mention of a "crown of thorns" and ended with a "cross," no one would doubt that the crucifixion was a central element in that paragraph.
Anywhere in the Roman Empire, someone reading Luke 17:20-37 would immediately recognize Zeus and Ganymede in Luke 17:24, 37.
So are Gay People Accepted by God or not?
The upshot of all this? Once we recognize the common thread running through the major elements of the passage–Zeus and Ganymede, Sodom, and the gay and lesbian couples–the entire passage coheres as a unified whole. Not only do the major elements of the passage become related in a single theme, but several unresolved interpretive questions fall into place as well.
The general topic or theme of the passage is indeed judgment, but the examples Jesus uses to illustrate the enactment of judgment don't tell us what is worthy of judgment, but what is not worthy of judgment.
And this is one very accurate way of describing the purpose of the passage. We've never quite known what the basis of acceptability was for the favored members of these pairs. We have surmised that they have an unspoken relationship with God, that they have faith, that they have remained awake and watchful and kept their lamps trimmed, but the passage has forced us to guess what the difference is between those who are taken and those who are left.
That puzzled guessing is understandable, because the point of the passage never has been to tell us the difference between who is acceptable to God and who is unacceptable. The point has been to tell us that homosexuality is not a factor in a person's acceptability to God.
People's sexual orientation is not among the criteria for whether they're in or whether they're out.
Luke's Gay Apocalypse, with the romantically involved gays and lesbians and the gathering of the Eagles around the Body of Christ, tells both Jews and Roman gentiles the "moral of the story." It is this:
Non-Celibate Gays and Lesbians are not Rejected by God.
Homosexuality is Not a Criterion of Acceptability for God.
Lesbians and Gays are Present in the Final Eschatological Gathering of God's Elect.
Just because the word "homosexual" doesn't appear in the gospels doesn't mean Jesus didn't talk about it. He did talk about homosexuality, using concrete terms similar to those in the Hebrew scriptures.
I tell you, in that night,
there shall be two men in one bed;
the one shall be taken, and the other shall be left.
Two women shall be grinding together;
the one shall be taken, and the other left.
(Luke 17:34-35, KJV)
Jesus discussed homosexuals in precisely the way we would expect him to, not in abstract terms, but using concrete examples.
The post above was part of the 2015 Sychroblog on Gay Marriage. Below are posts from other bloggers who also contributed. Go read them all to see what they have to say!