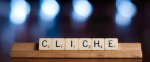 There are numerous Christian clichés get people nodding their heads in agreement and saying "Amen!" in sermons, but when you stop to think about them, they are not only meaningless, but also border on heresy. OK, maybe heresy is too strong a word, but at the bare minimum, these Christian clichés are dangerous.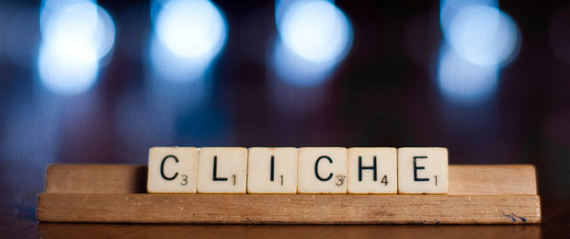 On the surface, many of these Christian clichés appear to be true (some are even quotes from Scripture), but they are almost always used in a damaging and controlling context and teach people some very bad theology.
So don't say the following Christian clichés
Where God guides, God provides. The worst Christian clichés are the ones that rhyme. Like this one. But more than that, the message of this Christian cliché is awful. When people say this, what do they mean by "provide"? Does this refer to money and finances? That is the context in which I have always heard this statement said. So, if this Christian cliché is true, then the only things we should follow God in are the areas where we have money and finances to do it? And even if you do receive lots of money, or lots of people, are you sure this is God's green light to move forward? It seems from Scripture that God is most often at work in small ways, foolish ways, insignificant ways, and with people who are nobody, and who have no money, no power, and no prestige.
If God brings you to it, He will bring you through it. Hey, it rhymes, so it must be true! Gag me. Maybe God didn't bring you to it at all, but you brought yourself to it. Or maybe He did bring you to it, but He is not going to bring you through it, because He wants you to sit in it for a while and learn something. And even if He is going to bring you through it, maybe it will take decades.
The greatest distance in the universe is the eighteen inches between your head and your heart. This Christian cliché is quite popular, but thankfully it doesn't rhyme. What people mean when they say it is that following God about more than just what you know; it is about what you do. I suppose this is true at one level, but the fact of the matter is that what we do is most often based on what we think. This is why Paul encourages his readers to "renew their mind" in Romans 12:1-2. The renewal of one's mind leads to the renewal of actions and behavior.
You can't outgive God! Again, this Christian cliché is almost always said in the context of some call for monetary donations to a building project, a ministry opportunity, or some other fundraising campaign. And while it is true that God is more generous than we can ever imagine, it is not true (as is often taught) that if we give lots of money, God will give us even more money. Don't give beyond your means to a church or ministry based on this faulty understanding of finances. We can give generously and joyfully, to ministries and people that are serving in the Kingdom of God, but don't expect that by giving, God will give you greater financial wealth. He probably won't. 

We are saved by faith alone but not by a faith that is alone. This is based on a misunderstanding of James 2:14-26. Related to this is the statement that "Even demons believe." I'm not going to say much about this, because I have written on these Christian clichés elsewhere. Click the links to read more.
When God closes a door, He opens a window. What does this even mean? And even if He does open a window, what am I supposed to do? If I wanted to walk through a door to a certain opportunity, and God "opens a window," does that mean I just get to sit there and look out the window? Am I supposed to crawl out the window? I just don't get this Christian cliché.
Man meant it for evil, but God meant it for good. So, God is in the business of getting evil people to do evil things? I know that Joseph said something like this in Genesis 50:20, but pretty much just like every other verse quoted out of context, we should not understand Joseph to be saying that evil things that happen are good. God never calls evil "good," and neither should we. Evil is evil. What Joseph meant is similar to what Paul says in Romans 8, that although evil things happen, God can bring good from them, and still accomplish His goal and purposes in our lives despite the evil.
Do not forsake the assembling of yourselves together. Yes, another Scripture that is quoted a lot. This one comes from Hebrews 10:25. I wrote on this misquoted verse previously as well, and won't say anything more about it here, except to say that this Christian cliché is often used as a club to beat Christians over the head who are following Jesus by loving and serving others, but who may not "attend church" on Sunday morning in a building with stained glass and a steeple. I don't think that is what the author of Hebrews had in mind…
A Bible that's falling apart usually belong to someone who isn't. In my experience, those who have Bibles that are falling apart should just go buy a new one. I have also seen Bibles that were falling apart because they were severely abused by their owners… you know, thrown into duffle bags with the gym clothes and poorly-sealed tupperware container of leftovers. A Bible doesn't fare well in those situations. But even when Bibles are falling apart because their owner truly does read and study it all the time, many of them are some of the proudest, self-righteous, judgmental Christians I know. Being a Bible expert does not guarantee Christlike behavior.
God said it. I believe it. That settles it. In other words, "I just believe the Bible." Riiiiight. Me too. So when we disagree, who is correct? This Christian cliché is another idea I have written about elsewhere (see this post, for example), but my concern is that when most people say "The Bible says" what they really mean is, "My understanding of the Bible says…" Any Bible student who has read more than two books on any subject in Scripture will be aware that different people read various passages in Scripture in different ways. Settling theological or ethical debates is not a matter of just quoting Scripture. We need to actually understand what the Scripture says in its various contexts, and then bridge the gap between those contexts and our own. In this process, there are thousands of possible ways to go astray, and so in many areas of theology and Christians ethics, what we believe must be held with a degree of humility.
Bonus Christian clichés: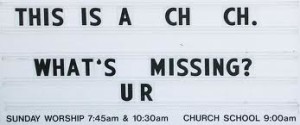 One bonus Christian cliché is that sign to the right…"This is a ch ch. What's missing? U R." This Christian cliché always reminds of that sign you see at swimming pools: "Welcome to our  ool. Notice there is no P in the pool. We'd like to keep it that way." The ironic thing about this church sign is that sitting in a building on Sunday morning doesn't make you part of the church. In fact, someone can be a fully-devoted follower of Jesus Christ, loving and serving others on a daily basis, but not ever "attend church" yet still be a member of the Body of Christ. Nothing magical happens by sitting in a pew on Sunday morning to sing a few songs and listen to a sermon. I kind of covered this point above already, with the Christian cliché about not forsaking the assembling of ourselves together.
"I'll pray about it." This isn't a Christian cliché as much as it something Christians say when they want to get themselves off the hook for their own personal decisions. I remember when I was a director for a Bible camp, and a young male teenager wanted to work as one of my counselors. He asked his dad, and the dad said, "I'll pray about it." As his father walked away, the young man looked at me and said, "That means no." We can't fool our kids! If you have to make decision, and you want to say "No," then say "No." If you want to say "Yes," then say "Yes." But don't blame God for your decisions by using the cop-out Christian cliché "I'll pray about it." 

15 more Christian Clichés to Avoid
Just for fun, here are 15 more Christian clichés to avoid:
What other Christian clichés have you heard which should be avoided like the plague? Let us know in the comments below!
---