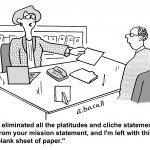 I have written about this before — "10 Christian Clichés to Avoid Like the Plague" and "Stop saying God Bless You" — but I keep running into more Christian Clichés that I wish Christians would remove from their vocabulary.
Please note that as I point these out I am not trying to be critical of Christians. Instead, I am hoping to make us real. The watching world is tired of empty answers to important issues, and instead wants us to engage them in real conversations about the pressing questions of our day. We can never do this if we always resort to Christian Clichés
So here are a few more Christian Clichés to avoid like the plague:
You're Covered in the Blood!
Eeewww. That sounds … terrible. It sounds like a Freddy Krueger movie. I really don't want to take a bath in blood.

Just Press In to God
Press in to God? What does that mean? How do I do it? Where is God so that I can press in to Him?
And won't He think that's a little strange if I press myself up against Him?
God is Good? … All the Time! … All the Time? … God is Good!
Lots of Christians include this sort of chant in their Sunday services.
But what does it mean? Is it even true?
Well, of course it's true, but when a person is facing trouble and trials in life, does chanting this do anything to help? No. Not really.
Brother … Sister
This is when Christians refer to each other as "Brother" and "Sister" as in "Brother Bob here …"
It just sounds cultish. Don't use it.
Jesus Saves!
He does? From what? See my post here on this: Saved: The Most Misunderstood Word in the Bible
Bless Your Heart
Unless I have heart problems, I am not sure my heart needs to be blessed.
It's Good to Be in the House of the Lord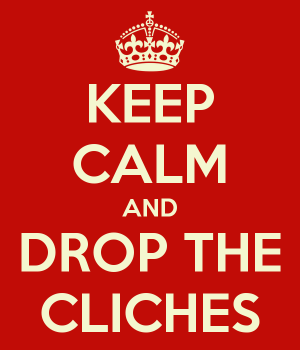 The house of the Lord? This building we're in is God's house?
Does He live here? Does He sleep here?
And what about the church down the road? Is that His House also? Why does He have so many houses? Does He really need them all?
Let Go and Let God
Let go of what? And let God do what? Are you saying I should just sit on my couch all day and let God run things for my life? I'm pretty sure that if I did this, I would lose my job, destroy my marriage, and die from starvation. So clearly there are numerous things God cannot do for me in my life. How can I know that God will actually do the things I am supposed to "Let go" of?
I've Got a Word for you from the Lord
Ironically, "a word" is usually hundreds of words. And the words are usually so vague, they could apply to anyone. They are often sort of like a fortune teller's predictions about the future.
And even when the message from God is specific, it tends to benefit the person giving me "a word from the Lord" more than it benefits God or me. This makes me very suspicious that "a word from the Lord" is actually a word from you, and you are saying it came from God so that you can manipulate me into doing what you want.
Someone once told my parents "God told me to tell you to that you are supposed to give me your house." My mother's response was perfect. She said "Ok. As soon as God tells us the same thing, I will do it."
Amen
I said this recently in a conversation with a non-Christian and he did a double-take at me and said, "Amen? As in the Egyptian Amen-Ra? Why would you say that?"
I had to explain that "Amen" is old way of stating agreement, and it means "Truly" or "That's the truth!" A modern equivalent might be "Right!" or "Yes!"
He said, "Oh. Well, why don't you just say that then?"
Amen!
The Spirit is Moving
He is? Moving where? Moving how? How can you tell? Does He need a U-Haul?
Isn't God everywhere? If so, how can He move?
I'm going to lift you up in prayer
Lift me up? How? Do you need to touch me? Lift me up to where?
Lord, Put a Hedge of Protection Around Us
A hedge? Like … bushes?
And the bushes are going to protect me from what exactly? Maybe from The Knights who Say Ni!
I think a wall might be better, but with the things I'm struggling with, I don't think even a wall will help. I'm not trying to keep out immigrants.
The Bible Says It. I Believe It. That Settles It.
Yes, well, the Bible doesn't actually say what you think it says, which means you don't actually believe it, and so nothing whatsoever is settled.
I wrote about this before as well: Nobody believes the Bible. not even you
A Cliché Sermon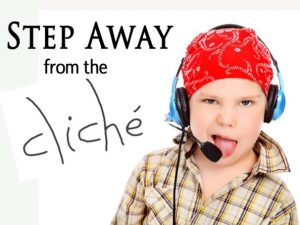 There have been times when I have sat through Sunday sermons that were nothing but one long string of clichés like the ones above. The sermon went something like this:
Good morning! It's good to be in the house of the Lord! Amen? (Audience: Amen!)

I'm Brother Bob! Wasn't that song by Sister Mary just beautiful? Bless your heart, Sister Mary!

This morning, I've got a Word from the Lord for you. But before we get to that, I just want to say this: God is Good? (Audience: All the time!) All the time? (Audience: God is good!) Amen. Amen.

Can I get an Amen? (Audience: Amen!)

I am really excited about what the Lord has laid on my heart to share with you today. God just touched my Spirit this week, and I know that the Spirit is moving in this place today, and what I share with you is going to help you press in to God this week. Amen? Hallelujah!

What God wants you to do is just let go and let God. Whatever you're facing in life, always remember that Jesus saves. That issue you are facing? That trouble, that trial? It's covered in the blood! You're covered in the blood. We're all covered in the blood!

Can I get an amen? (Audience: Amen! Hallelujah!)

Now I got a Bible verse I'm gonna preach from today. But before I read it to you, I want to remind you that the Bible is the Word of God, and whatever it says, we can trust it. Remember, if the Bible says it, I believe it, and that settles it.

Amen? Amen and Amen.

This past week I was walking through town, and I passed Brother Jim back there – everybody turn around and say hello to brother Jim! (Audience: Hello Brother Jim!) – you know, Brother Jim's been having a real hard time in life, and I told him I would lift him up in prayer, and I would invite all of you to lift him up in prayer as well – just pray that God will remind him that he is covered in the blood and that no matter what he's facing, Jesus saves and that he should just press in to God. Anyway, I was talking with Brother Jim, and hearing about his problems, and right at that moment, the Lord gave me a Word to share with Brother Jim, and after I shared it with him, I realized God wanted me to share this word with all of you as well, and it comes from a verse in the Bible.

Let's turn to [Fill in the blank here for ANY verse in the entire Bible] and read it.

[The speaker then reads a random verse.]

Now what we see here is that God is speaking to us, and this is His very word, and we know that if God says it, it can be trusted, and we can believe it.

[The sermon goes on from here, basically repeating everything that has already been said.]
Now, did the pastor actually say anything? Nope. He didn't say a single thing. Go back and read it and see if you can figure out what he is saying.
A REAL Blog Post I Discovered:
As I was searching for images for my blog post above, I came across the following blog post from another blogger. Go ahead and read it, and when you are done ask yourself, "What exactly did I just read? What was the message? What did I learn? What should I do? How can I put this into practice?"
I'm dressed in red today. On fire for the Lord; covered by the blood of Jesus. God, you can do anything but fail. Your purpose will prevail.

The minute your feet hit the ground the devil's rehearsing your past. Looking for anything to distract God's purpose. Look to God on purpose.

The devil can do nothing to you without God's permission. He won't win. He may come in like a flood. God will lift up a standard against him (Isaiah 59:19).

When storms are raging around you and it seems nothing is working out, God is with you. He will calm the seas. He'll make everything alright.

Be encouraged. You're covered by the blood. Put on the whole armor of God. Don't look to the right or to the left. Look to the hills from whence cometh your help.

No matter what comes today, glorify God in it. He's able to do exceedingly abundantly above all that you can ask or think (Ephesians 3:20). Pray without ceasing. Walk by faith.

Devil you've been served notice today. God will have his way. No weapon formed against us shall prosper. Every assignment has been cancelled. It's already done. We're returning everything you sent signed, sealed, and undelivered! We are covered by the blood. In the name of Jesus. Glory. Hallelujah!

Be blessed!
I read through several other blog posts on the blog that this one came from, and found that every single one of them was just like the one above. In fact, as I read, I discovered about 200 more Christian Clichés that lots of Christians say but which are completely meaningless. Here are some more I found on the site:
God is Working Things Out in Your Favor
God Will Never Leave You Where He Found You
Don't Fit In; Stand Out!
Preparation Before Elevation
Your Breakthrough is Coming!
New Year; New You!
New Levels; New Devils
By His Stripes, You are Healed!
You Can Do All Things Through Christ Who Strengthens You
No Weapon Formed Against You Shall Prosper
Don't Fight the Battle You've Already Won
Yes, I know that some of these statements come directly from Scripture. But when we just quote them without thinking about them and do not really understand what these statements mean, even Bible verses can become Christian Clichés.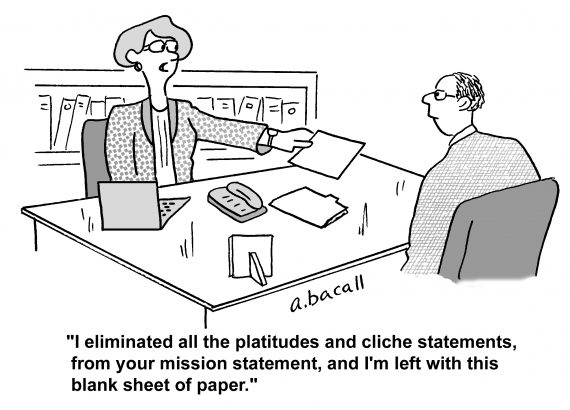 Why do Christians use Christian Clichés
There are a couple reasons Christians talk this way.
First, Christians talk this way because … well, because Christians talk this way. There is no other reason. Nobody in real life talks this way, and the only reason some Christians talk this way is because they spend a lot of time with each other and learn the Christian lingo so that everybody talks this way.
Second, Christians talk this way because it makes us sound spiritual. Christian clichés make us sound like we know what we're talking about even when we don't, they make us sound like we care even when we don't, they make us sound like we understand Scripture even when we don't.
I have heard cliché sermons like the one above where the pastor says absolutely nothing for 30 minutes, but because he got the audience to shout "Amen! Hallelujah!" a lot, they walk out of the building thinking that they just heard a really great sermon.
The thing is, outside of Christian circles, talking this way just makes people think we're crazy. It makes people think we're shallow and empty. That we don't have anything to say. They hear us talk this way and all they do is roll their eyes.
So give up on cliché Christianity, and start living real life with real people as we have real conversations using real words about real issues. Can I get an Amen?