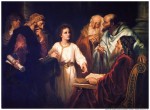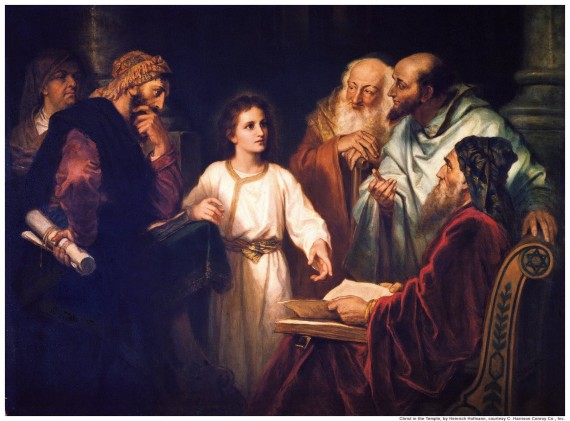 I taught recently on Luke 2:40-52 and indicated in my message that Jesus learned the Scriptures and learned wisdom just like any human. Just as He grew physically, He also had to grow in knowledge, wisdom, and spiritual strength.
That Jesus learned seems pretty clear from verses like Luke 2:40 and 52 where it says that Jesus grew in wisdom and stature and in favor with God and men. You can see an old version of a sermon I taught on Luke 2:40-52 here.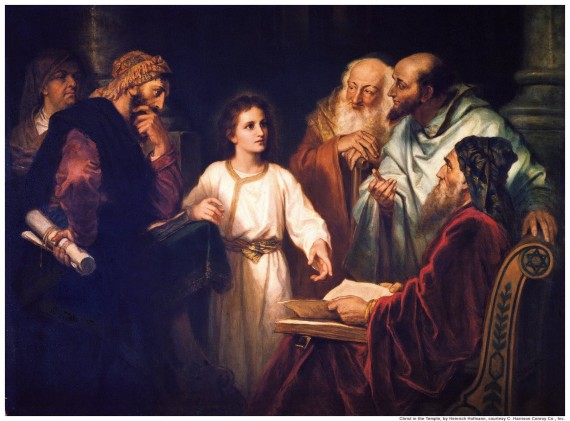 I also pointed out in that message that when Jesus went to Jerusalem at the age of 12 with his parents, He went to the Temple and listened to what was being taught and asked questions (Luke 2:46). Finally, I mentioned Hebrews 5:8 which indicated that Jesus learned obedience through what He suffered.
After the study concluded, I had several people challenge me on the idea that Jesus had to learn anything. They argued that since Jesus was God, He knew everything, even from birth, and so didn't have to learn from His parents, from reading Scripture, or from anybody at the Temple in Jerusalem.
Such an idea shocked me. I have never heard such a thing before. Have you?
Did Jesus Learn?
I asked if Jesus knew how to speak all languages when He was an infant, and was told that yes, He did. He didn't have to learn how to talk, but that He "hid" His ability until it was normal and natural for a child to speak. They said that His parents didn't teach Him anything about the Scriptures and that He never had to attend school or a Jewish synagogue to learn how to read or to learn what the Scriptures said. Because He was God in the flesh, He just knew it.
When I pointed out that Luke 2:40 and 52 says that Jesus grew in wisdom, they said that this just meant that Jesus became known for His wisdom, as is indicated in Luke 2:47.
I told them that to me, this sounds a lot like the ancient Gnostic and Docetic heresies which taught that Jesus wasn't fully human. After all, isn't learning, growing, and developing in knowledge and wisdom a central element to being human?
If Jesus didn't have to learn, then isn't He just like some sort of divine Buddha child that falls out of heaven, who has all wisdom and knowledge from birth? If Jesus didn't have to learn, then why did Jesus have to wait until He was 30 to begin His ministry? If Jesus didn't have to learn, then how can He truly understand what it is like to be human?
At one point in our discussion, I said, "Well, it seems logical that if Jesus was fully human, then He had to learn." Their response was, "I don't use logic. I just use Scripture." I just about broke out laughing. It seemed pretty obvious to me that logic was not being used. Ha! One guy also kept saying, "I don't speculate about Scripture. I just believe what it says." This is the old "The Bible says it; I believe it; that settles it" cliche which I wrote about a while back. People like to believe that they are just believing the Bible, but they don't. I don't either. We believe what we think the Bible teaches. Some of what we believe is truly what the Bible says, ans some of what we believe is a misunderstanding of what the Bible says. The trick is knowing which is which…

This group also strongly objected to the idea that Jesus might have attended a Jewish synagogue as He was growing up, and also later in life. I pointed out that Luke 4:16 pretty clearly indicates that Jesus had a tradition of attending the synagogue, which probably went back even into His childhood. They said, "Well, even if He did go, He didn't go to learn anything. Even if you are right that Jesus had to learn, there was nothing He could learn from them."
"From who?" I asked. "The Jews?"
"Right. Jesus wouldn't learn anything from Jews."
"…You do know Jesus was Jewish, right?" I asked.
They responded that they did know this, and we moved on to other topics, but it seemed to me that this was another one of those old mistakes (championed by Marcion who ended up discarding most of the Hebrew Scriptures) where some Christians try to separate Jesus and the apostles from anything Jewish. I believe that such a move causes us to misunderstand most of what Jesus, Paul, and Peter teach. But I digress….
I think Jesus did learn. I think learning is a major element of being human. I think that Scripture pretty clearly indicates that Jesus grew physically, mentally, and spiritually (Luke 2:40, 52). Note that something nearly identical is said of John the Baptist in Luke 1:80. So however a person understand Jesus' learning (or lack of learning) in Luke 2:40, 52, this same idea must be applied to John in Luke 1:80.
But what do you think? Did Jesus learn? However you answer, what Scriptures and logical arguments would you use to defend your position? 
On a related note, here is a much harder question: If you think Jesus did have to learn, when do you think Jesus knew He was God incarnate? When do you think He realized He was the promised Messiah?
Below is a video where NT Wright addresses this question a bit, and for you scholarly types, here is an article he wrote on the topic: Did Jesus Know He was God? And for you super scholarly types, I recommend Wright's book, Jesus and Victory of God.