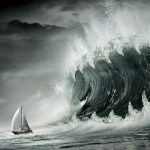 In Jonah 1:4, God sends a storm upon Jonah and the ship that carries him to Tarshish. Is this how God normally behaves? It's a practical question that all of us face in life from time to time.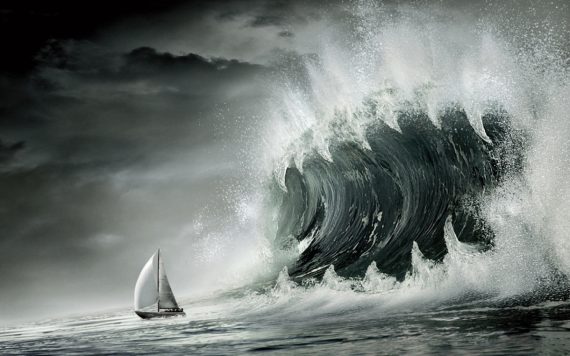 My wife and I are experiencing some difficulties in life right now. Quite often, it feels like we are in a storm, being buffeted by wind and waves. We sometimes have trouble keeping our heads above water.
My wife mentioned our struggles to someone this week, and they sent an email to her saying that the reason we are facing this storm is because we are sinning. The person who wrote the email said that God sent these troubles upon us because our views about church and about the LGBT community were sinful. We have been deceived by Satan, the email said, and so this is why God is punishing us with the storms of life.
People read in the Bible that Jonah disobeys God and so God sends a storm. Then when people see others facing storms in life, they says, "Oh, well, it must be because you are disobeying God."
Is that really how God works? Does God send storms into our lives to punish us? If you sin, will God send disasters into your life to punish you? Does God send sickness, disease, famines, floods, earthquakes, or the loss of jobs, income, health, or even the death of a family member? Is this what God does?
Well, lots of people think so, and it is because of verses in the Bible like Jonah 1:4 that they think so. This is the verse we are looking at today, and by doing so we will hope to answer some of these questions.
The Text of Jonah 1:4
But the Lord sent a great wind on the sea, and there was a mighty tempest on the sea, so that the ship was about to be broken up.
In this discussion of Jonah 1:4 we look at:
The description of the great storm in Jonah 1:4
Why some people think God sends storms upon sinners
Why Jesus reveals that God does not send storms to punish sinners
If God does not punish sin with storms of destruction, then what is going on in Jonah 1;4?
A brief preview and overview of the message in the book of Jonah
Resources:
While you wait for my book on the violence of God to come out, below are some additional resources that I have found helpful, and you might too…
Downloadable Podcast Resources
Those who are part of my online discipleship group may download the MP3 audio file for this podcast and view the podcast transcript below.
You must
join a discipleship group
or
login
to download the MP3 and view the transcript.
Do you like learning about the Bible online?
Do you like learning about Scripture and theology through my podcast? If so, then you will also love my online courses. They all have MP3 audio downloads, PDF transcripts, quizzes, and a comment section for questions and interaction with other students.
If you want to deepen your relationship with God and better understand Scripture, take one (or all) of these courses. They are great for personal study or for a small group Bible study.
You can see the list of available courses here, and if you join the Discipleship group, you can take all the courses at no additional cost. Go here to learn more and join now.