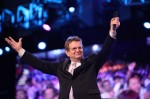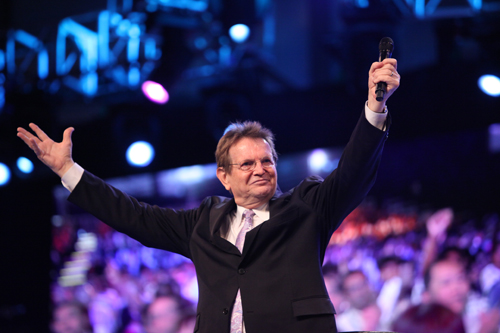 Below is an excerpt from a book I'm writing called Adventures in Fishing (for Men). The book is a satirical allegory about Christian attempts at evangelism. He who has ears to hear…
---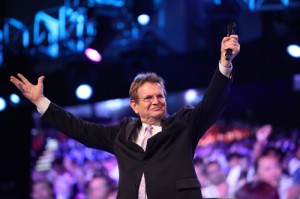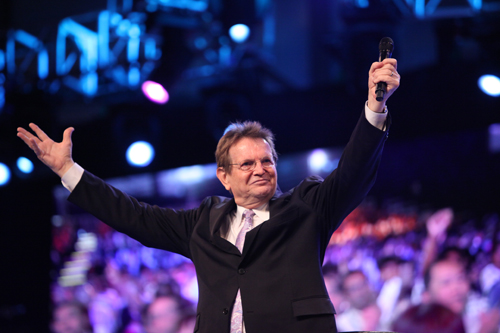 There is only one thing better than fishing, and that is watching fishing on TV. In fact, I like watching fishing on TV so much, I have temporarily stopped fishing altogether. I feel so much more successful as a fisherman when I can watch others catch the "big one" and hear their tips and tricks for how they did it. It just goes to show that if I had been the one in that boat, with the knowledge that those fisherman had, I would have been the one to catch the big fish.
So while my wife thinks that watching fishing on TV is a waste of time, I think it is highly educational. The things I am learning about fishing will make me a highly successful, world-famous fisherman someday. I figure that the more I learn on TV, the better fisherman I will become. As a result, I turn on the TV first thing every morning to watch one or two fishing shows before work, and then I come straight home and watch fishing on TV for six or seven hours every night.
My favorite fishing channel is the Trout Broadcasting Network, TBN for short. It has one fisherman after another, all day long, talking about how they almost gotten eaten by lions while fishing in Africa, the harrowing adventure they had while fishing in Communist China, and how the Taliban almost killed them when they went fishing in Iran. These TV fishermen almost never do any actual fishing on their shows, but instead share their fish tales in front of large audiences and crowds. It is very inspiring.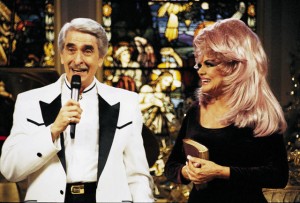 The fishermen on TBN are very successful. They are always surrounded with beautiful potted plants, golden furniture, crystal chandeliers, and brass statues of fish. One fisherman I saw even had a giant oil painting of a fish descending into heaven from the peak of a waterfall. I am always in awe when I watch the show. I am not sure what fishermen paradise looks like, but it must be close what they show on TV. Best of all, in all my hours of watching, I have yet to see any dangerous fishing rods or barbed hooks. There is never any water a person might drown in, and most importantly of all, these fishermen are so thoughtful of their viewing audience, they never show any stinking, rotting fish.
One of my favorite fishermen has his hair bleached out. He said it was sun bleached from all the time he spent outside fishing. He also wore a fancy suit and gold rings, which were symbols of his success as a fisherman, and he had the biggest smile I had ever seen. I am always impressed at how white his teeth are!
Recently this fisherman personally asked me to participate with him in his worldwide fishing efforts! It was quite an honor. I was watching his show on TV, and in his signature shouting-cadence style, here is what he said:
I AM-ah one of the world's greatest fisherMEN-ah of the world-ah.

Can I hear an Amen? AMEN-ah! Glory be to God! Hallelujah! Praise Jesus. Praise HIM-ah.

And I KNOW-ah that many of you would love to go fishing with ME-ah. And you can! Yes, you can! You CAN-ah!

You want to know how? Well, let me hear you say it today! Say, "Tell me how!" Shout it louder! SHOUT IT LOUDER! Amen-ah. Amen and Amen-ah.

Foom-cay-ta-la-toe. Azhim! Ey-lay-tay-eyana. Ah-la-a-za-ba-ta-la.

Do you want to go fishing with me?

Well, you can't-ah. You can't go fishing with me. It's too DANGEROUS-ah.

But because it is so DANGEROUS-ah, I cannot go ALONE-ah!

Say it with me! I CANNOT GO ALONE-ah.

…Ah-la-a-za-ba-ta-la…

So I need your help-ah. When I go out into the world to rescue those poor fish-ah from behind their logs and deliver them from their DARK holes, I need your HELP-ah!

Let me say it again: I NEED YOUR HELP-ah!

Here is what you can do.

You can support my fishing. You can partner with me in my FISHING! You can BECOME-ah my FISHING PARTNER-ah.

You see, it is expensive to fish, and the danger is great, and the needs are many. The streams are WHITE with the HARVEST-ah of fish that need to be GLEANED-ah from within their swollen BANKS-ah, and I am willing-ah to go out into the RIVERS-ah and LAKEBEDS-ah and call those fish to come in!

Say it with me, "FISH! Come in! Come on IN, FISH-ah!"

Our fishing efforts are short about $2 million this year. You say, "Why so much?" Because fishing is so EXPENSIVE-ah. That's why. Why is it so expensive? Because it is DANGEROUS-ah. It is DANGEROUS-ah!

Shout it out: "IT IS DANGEROUS!"

That's why it is so expensive. It's expensive because it's dangerous.

But I am willing to take that risk, if you are willing to partner with me. If you want me to keep fishing these DANGEROUS waters, then I need your HELP-ah to keep my fishing GOING.

All you have to do is send in some money. If you send in whatever is in your wallet right now, I might be able to keep FISHING-ah for another DAY. If you send in whatever is in your checking account, I might be able to keep FISHING-ah for another MONTH-ah. And if you send in whatever is in your savings account, I might be able to keep FISHING-ah for another YEAR-ah!

The more you send in, the more you will be BLESSED-ah.

I remember back when I first wanted to be a fisherman, I helped support the fishing efforts of a different successful fisherman. I sent him every penny I had. And it hurt. I gave 'till it HURT-ah.

I said, "Ouch!" when I gave.

Have you said, "Ouch!" recently? Maybe you SHOULD-ah.

Because after I said, "OUCH!" when I gave to that other fisherman so many years ago, I got so BLESSED-ah. And look at me now! My donation to that other fisherman has increased TEN-fold, a HUNDRED-fold, even a THOUSAND-FOLD-ah!

And that can happen to you! It can happen to YOU!

Amen. AMEN. AMEN-ah. Say Amen.

…La-sa-da-ba. Ay-ya-la-yo-nee. Ya-she-na-ash-lo-so-nee-mah…

You want to become a successful fisherman like me? You need to say, "Ouch!" So take out that checkbook, pick up that phone, and send in a donation. And don't just give 'till it hurts. Give 'till you say "OUCH!"

Say it with me, "I want to say, 'OUCH!'"

Yes, that's right. And let me give you that opportunity right now.

Tonight only, if you support my FISHING efforts with your GENEROUS donation, if you send in a donation of $100 or more, I will send you a crystal jar filled with water from my favorite fishing hole. I caught the BIGGEST fish of my life out of that hole-ah, and with this jar on your shelf-ah, you are guaranteed to catch BIGGER fish more often than ever BEFORE-ah!

Don't miss out! Call in today and support my worldwide fishing efforts!
After I heard this offer, I called in right away, and made a donation of $1000. My wife and I had several bills due in the next couple days, and giving this money meant that we would not be able to pay our bills, but since I wanted to become a world-famous fisherman, I knew that I needed a bottle of that fishing water. Besides, by supporting this other fisherman in his work, I was partnering with him in his fishing. In a way, by giving money to him, I became his fishing partner. Every time he caught a fish, it would be as if I was right there catching fish with him.
I was well on my way to become a world-famous fisherman, just like the man on TV!

Chapters from Adventures in Fishing (for Men)
Here is a list of posts from the book
Adventures in Fishing (for Men)
:
I really had a lot of fun writing this book. If you want to purchase an ebook of it, you may do so at Amazon:
Adventures in Fishing (for Men)
.
---