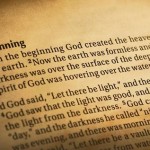 As we worked our way through Genesis 1 and the first creation account in Genesis, numerous people sent in questions about what they were learning.
Before we move on in our study of Scripture, I wanted to take an episode to answer some of these questions. I have already personally answered most of the questions sent in to the people who sent them, but I figured I would ask and answer these questions in a podcast episode as well since you might have similar questions.
To ask your own questions on future episodes, feel free to comment on the blog post of any episode, contact me through the contact form, message me on Facebook, or send me an email.
Here are some links I referenced in this episode: