I write some controversial stuff on this blog from time to time. It often seems that whenever I do, I get a comment on the blog or over on Facebook that I am wrong because I have chosen to reject what the Bible clearly teaches in favor of my own personal human opinion. It is not always stated with these words, but that is the general idea.
I was listening to a podcast the other day where the guest on the podcast said this very thing. He wasn't talking about me, of course, but he said that the big problem in the church today is that people read the Bible, they don't like what they read, and so they reject what the Bible clearly teaches because they prefer their own theology over the theology of the Bible.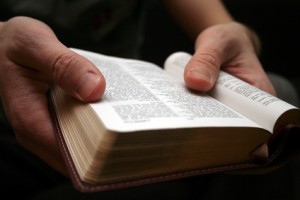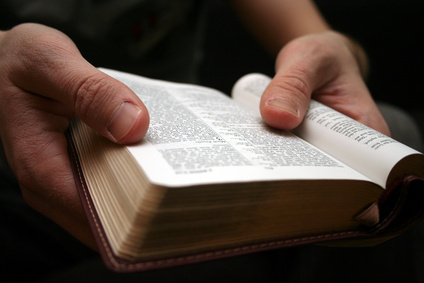 I was glad that the podcast host pushed back a little bit by asking if the pastor saw any difference between "what the Bible says" and "our understanding of what the Bible says." The pastor said he did see a difference, but then went on to show by the rest of his comments that he didn't. He basically said that how he understood the Bible was what the Bible clearly teaches because he lets the Bible and the Bible alone inform his theology, and anybody who disagreed with him was just following their own human understanding of the text imposing their own theology on the text of the Bible.
I smiled a bit, because I used to be the exact same way. This probably could have been one of the 5 Theology Mistakes I made as a pastor.
In the last decade or so, I have come to see things quite differently. I now understand that it is impossible to "just believe the Bible."
I Just Believe the Bible?
When someone says to me, "I just believe the Bible," I sometimes ask them, "Which Bible?"
I sometimes get a blank stare in response to this question, for in the minds of the most people, there is only one Bible. "You know, THE Bible," they say to me.
Most people, however, understand me as asking which Bible translation they are using, and so they will launch off into an explanation of why they read the KJV (because it has the greatest tradition), or the NASB (because it is the most accurate), or the ESV (because some big name scholars endorse it), or the NIV (because it's the most understandable), or whatever.
I then point out that a Bible translation is not really "THE Bible," but is simply the shortest Bible commentary that exists. A Bible translation is nothing more than a good representation of what a certain person (or committee of persons) understands the Bible to be saying. A Bible translation is not the Bible; a Bible translation is a commentary on the Bible.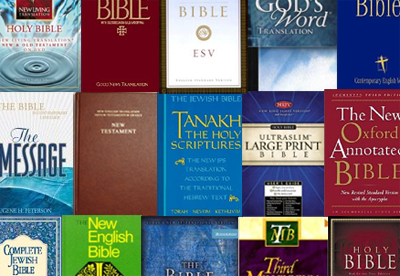 This is seen by comparing various translations of the Bible. Pick almost any chapter from the Bible and compare it between five or six translations and you will see how translation decisions give different meanings of the text due to the words that were used.
Since I am doing a study on Genesis 1 in my podcast, I have noticed this over and over as I compare translations of various verses in Genesis 1. Some translations lean heavily toward young-earth creationism while others lean more toward an openness about when and how quickly the universe came into existence.
Another example is the NIV and the ESV translations of the Bible, which were put together by a committee of scholars who are mostly Calvinists. As a result, these translations lean heavily toward Calvinistic interpretations and understandings of the text. These translations are short Calvinistic commentaries on the Bible.
I Read and Study the Greek and Hebrew Bible?
Occasionally I will talk to someone who knows that Bible translations are biased, and so after discussing English translations for a bit, they say, "Well, that's why I always go back and check the Greek text."
My response is this, "Wonderful! … Which Greek text?"
Then we have the exact same conversation we had about the English translations, but this time about Greek texts. There are thousands upon thousands of ancient Greek texts, and when compared with one another, they contain thousands of variant readings. Scholars have tried to sort through these texts to come up with what is likely to be the original Greek text, but (no surprise here), there is no universal consensus.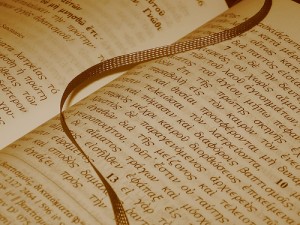 In fact, there is not even a consensus on how to decide which variant readings are the best. There are two main approaches to the Greek texts, which can be found in the NA/UBS Text and the Majority Text. While the vast majority of scholars today prefer the approach found in the NA/UBS Text, a large number of scholars prefer the approach of the Majority Text. I won't get into the differences here, because it would bore you to tears. In case you are curious, however, I prefer the Majority Text myself.
The point is that even when people read and study the Greek Bible, we cannot say that there is such a thing as THE Greek Bible. Just as there are different English Bibles, so also, there are different Greek Bibles.
I Perform Greek and Hebrew Word Studies?
Let us assume, of course, just for a moment, that everybody could agree 100% on what the original text meant. Or let us assume just for a moment that we somehow, miraculously, discovered the original manuscripts of the New Testament (called the autographs) as written by Matthew, Luke, Paul, Peter, etc.
We still could not say that we "just believe the Bible," because even though we would now know for sure what words were used, there would never be consensus on what those words mean. Sure, we have Greek dictionaries, but — surprise, surprise — the various Greek dictionaries do not all agree on what the particular words mean in their various contexts. Sure, there is a lot of agreement, but on key Biblical words like justification, faith, heaven, eternal life, hell, Son of Man, Christ, and numerous other such terms, there is no universal consensus on how these words are to be understood in the Greek text.
After all, we must remember that just as Bible translators let their own theology guide how they translate the Greek text, so also, the people who write Bible Dictionaries let their own theology guide how they define various Greek words. So if you use a Greek Bible Dictionary written by a Calvinist and compare it to a Greek Bible Dictionary written by a Catholic, you will get some very different definitions of what is meant by the word "justification."
I study the Historical and Cultural Context?
One important tool that many good scholars use to help them understand how the words were used and understood by the original author and to the original audience is historical-cultural background studies. I use these a lot myself, and find them to be one of the most enjoyable and fruitful areas of biblical research.
However, as with everything else, there is a lot of wiggle room when it comes to how much historical and cultural background studies help us understand the text.

Take my current studies on Genesis 1 as an example. I have read about 30-40 books on this chapter so far. About 10-15 of them have said that the original author knew nothing about the Babylonian, Canaanite, and Egyptian creation myths, and so it is unwise to draw parallels between Genesis 1 and what is recorded in those other religious creation accounts.
The rest of the scholars say that it is almost absolutely certain that the original author and audience knew of these accounts and was writing some sort of theological polemic against them.
Most ironically of all, the first group of scholars (who deny any connection) often say that "the issue has been decisively settled in our day and no reputable scholar believes in any such connection any longer." I scratch my head at this, because I have just read a couple dozen modern, reputable Bible scholars who do, in fact, believe in the connection between Genesis 1 and the Babylonian, Canaanite, and Egyptian creation myths.
So there is no consensus.
Or take the current debate about justification. In case you were not aware, there is a big debate among New Testament scholars today about what Paul meant by justification. In some of these books and articles on this debate, it is not uncommon to see a scholar say, "Well, in Paul's day, the Jews believed … " and then go on to state what Jews believed. I have undoubtedly said something similar in many of my own writings and teachings.
And yet saying "In Paul's day, the Jews believed …" is like saying, "In our day, Christians believe … " Put anything you want after that ellipses, there is no universal consensus about it. Do all Christians believe the same thing about what happens after death? Nope. About how to receive eternal life? Nope. About the deity of Jesus? Nope. About the nature of the church? Nope.
So again, even if we were doing a "Historical-cultural background" study on our very own day and our very own culture, it is impossible to give a blanket statement and say, "Well, in the 21st century, Christians believe that …" Whatever you put there, some Christians will believe it, and some won't.
So historical-cultural background studies are helpful, but even they will not give you absolute certainty about the meaning of any text.
The straightforward reading the Bible is a myth.
I could go on and one with numerous other issues that affect "the plain and simple understanding of the Bible" to show you that there is no such thing. We could talk about how our own culture and history and personal experience colors our reading and understanding of Scripture. We could talk about worldviews and thought patterns and logical reasoning. We could talk about the nature of truth.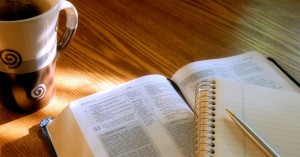 And on and on and on …
The point is this: The straightforward reading the Bible is a myth.
Don't believe anyone who says, "I just believe the Bible." They don't.
Sure, they might believe they "just believe the Bible," but this mindset is the greatest contributing factor to their failure to see all the areas where they are wrong about what the Bible says. The person who says they just believe the Bible may be the most dangerous person to listen to regarding what the Bible teaches because they are blind to everything that has influenced their understanding of the Bible.
It is absolutely NOT true when someone claims, "The Bible says it; I believe it; that settles it."
Again, you sometimes hear people say, "If the plain sense of the Bible makes sense, seek no other sense." But again, there is no such thing as the "plain sense" of the Bible, for what may seem to me to be the "plain sense" completely contradicts what someone else thinks is the "plain sense."
I still remember when I was in Seminary and I was attending a class on the book of Romans, and after class as all of us students were filing out the door, one of the students said to me, "The professor is wrong. I've read Romans before, and that is not what it says."
Ha!
But that's the way many of us approach Scripture and how other people understand it (when it disagrees with our understanding). When presented with an explanation of the text that challenges our own explanation, our immediate defensive position is to say, "Well, that's wrong because they are importing their own human interpretation into the text rather than letting the text speak for itself the way I do."
Don't fall into that trap.
Disagree with the other person if you want to, but recognize that they are trying to understand and explain the text just as much as you are, and that just as you want them to listen to how you arrived at your conclusions regarding the text (and don't say, "I just read the Bible," because you didn't), so also, that other person likely engaged in deep study of the biblical text to arrive at their understanding and it would benefit you to hear how they came to their understanding.
In this way, both of you can learn from each other and challenge each other to understand the text at a deeper level.
Ultimately, finally, no matter what "conclusions" you come to about the meaning of a text, never let them be your "conclusions." Hold all your conclusions tentatively. Hold them humbly. Recognize that you always have more to learn, that you have never "arrived," and that God may just want to reveal an incorrect belief to you by bringing this other person into your life with whom you (currently) disagree.