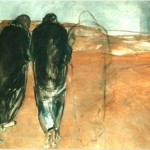 I have participated in the Synchroblog for quite a while. But just as all good things must come to an end, the Synchroblog is closing shop. For this last synchroblog, participants were asked to write a blog post as if it were their only blog post ever.
In other words, if I had just one blog post to write, what would it be?
I have spent the last several weeks thinking about what I would write if I could write only one post.
I knew that it had to have something to do with Scripture and theology, since that is what I enjoy writing about. I wanted to write about some of the central biblical and theological truths that had rocked my world over the past decade, such as mimetic rivalry and scapegoating, or my growing conviction that God is not violent.
I also knew that it had to have something to do with the radical, free grace of God in Jesus Christ. Since so many people are caught up today in some form of works-based, guilt-based, performance-based religion, the outrageous, shocking, scandalous grace of God is a nuclear bomb that demolished everything you think you know about God and following Jesus, but at the same time, rebuilds and regrows everything into a new relationship with God built on love, joy, and freedom.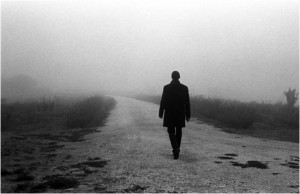 But I also knew that knowing Scripture, and knowing theology, and knowing about grace is not really the point of it all. The point of it all is to actually live this stuff out in real-world relationships by loving other people.
In the end, I finally realized that all these themes were centered on one common thing. Or I should say, they were centered on one common person: Jesus.
Jesus truly is all
If you want to understand the character and nature of God, just look at Jesus. Since God looks like Jesus, all proper thinking about God begins and ends with Jesus. Once you view God through Jesus, you begin to understand God so much more.
It is Jesus who revealed the mimetic rivalry and the scapegoating sacrifices that both threaten and bind all human cultures, civilizations, religions, and relationships. Once you view humanity through Jesus, you begin to understand humanity so much more.
It is Jesus who reveals that God is not violent; that there is no violence in God at all. And because of this, if you want to understand the violence of God in the Bible, you need to begin by looking at Jesus, and especially what Jesus did on the cross and how He appeared on the cross. "Christ, and Him crucified" is the key to understanding divine violence.
It is in the life of Jesus where you see most clearly what shocking, scandalous, outrageous grace looks like. While religion keeps sinners at a distance, Jesus parties with them like there's no tomorrow. He makes friends with the worst of the worst (from a religious perspective) and tells stories which make heroes out of all the wrong people. He loves those the world says are unlovely. He touches the untouchable. He forgives those who think they cannot be forgiven.
All of this, of course, was no mere "theology" for Jesus. Jesus didn't have a "theology" so much as He had a life focused on love. Everything that He said and did was to show people that He liked them, that He loved them, that He wanted to be with them.
The example of Jesus is so strong, that even people who do not believe in God, or who think that Jesus is a figment of historical imagination, are still inspired by the example of Jesus to live with more love toward others. The pull of Jesus is so strong, that in one sense, all the world is following Jesus.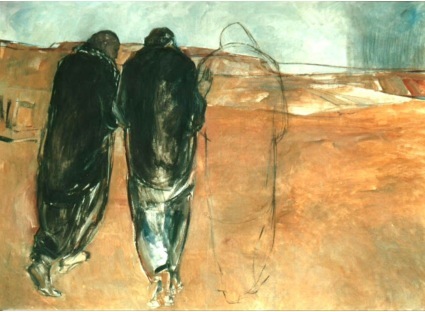 So if I only had one message, one article, one blog post, or one thing to say to you, it would be this:
Follow Jesus.
I don't care what you think about Jesus. I don't care what you think about God. I don't care what you think about Christians, or the Bible, or church, or politics, or religion, or anything else that people get so wrapped up in. My invitation to you is still the same:
Just follow Jesus.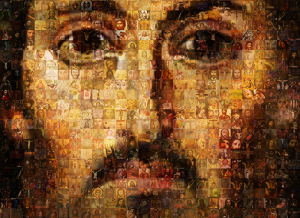 And trust me … if you follow Jesus, you will never get bored.
Jesus will lead you to the craziest of places and teach you the most amazing things. He will help you become truly "you."
If you want to learn about God, Jesus will show you what God is like.
If you want to understand the Bible, Jesus will be happy to explain it to you.
If you want to get along with your neighbor, your boss, your spouse, or even your enemy, Jesus specializes in helping us learn to love.
I have written over 2000 blog posts on this blog, and while it may not be obvious on all the posts, every single one of them has been focused on one thing: I want to follow Jesus wherever He leads and I invite you to do the same.
But how can you follow Jesus?
I always try to be somewhat practical on this blog. I know that the invitation to "follow Jesus" is a little vague. We hear it so often in sermons and books, it has come to be almost meaningless.
So you might be asking these sorts of questions:
What does it mean to follow Jesus? How can someone do it? What are the steps? How can you follow someone you cannot see or hear?
My answer will probably not be very helpful, but it's the best one I've got. My answer this:
You follow Jesus by believing that He's leading you.
That's it.
I know this is still terribly impractical, but it's the only way I know to describe it.
There are no 10 steps for you to learn.
There are no doctrinal statements to sign.
There are no meetings to attend.
There are no Bible studies to take.
You simply trust that as you go about your day, Jesus is leading you. Following Jesus begins with a mental conviction, a mindset, or a frame of reference that Jesus is leading you.
And He will.
You won't see much change immediately.
It might take a couple months, years, or even decades. But eventually, you look around in wonder and think, "How in the world did I get here?"
Jesus will wink and smile, and say, "Just wait until you see where I take you next. You ready?"