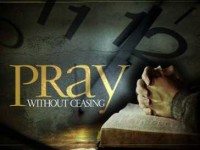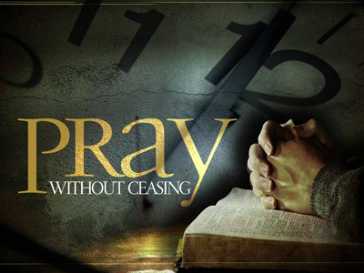 Many people wonder what Paul meant in 1 Thessalonians 5:17 when he wrote about praying without ceasing.
But when we come to recognize prayer as a running conversation with God, it helps make sense of what Paul meant in 1 Thessalonians 5:17 when he instructed his readers to "pray without ceasing."
If prayer is a set time and place where we go into a particular room, get down on our knees, fold our hands, bow our heads, close our eyes, and say certain things to God, it is nearly impossible to follow Paul's instruction. How could one possibly do this nonstop?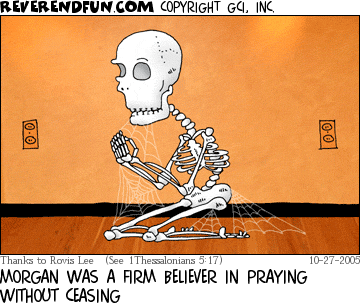 Formal Prayer Without Ceasing is Impossible
And yet some Christians try.
You will often find illustrations in sermons and books on prayer about how prayer is a spiritual discipline, and while the new believer may only pray for five minutes a day, the longer one is a Christian, the more time they should spend in prayer, so that the truly spiritual prayer warrior will pray for several hours a day.
Martin Luther once said that he tried to spend two hours every day in prayer, but if he was really busy, he would spend three.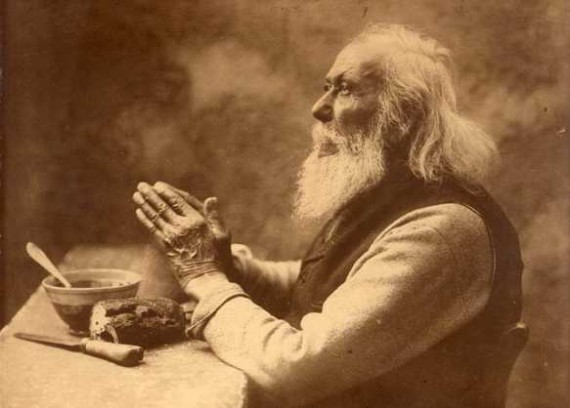 This sort of mentality was found in the Desert Fathers who went out into the wilderness so they could devote more time to prayer. Today, people go on "prayer retreats" so they can spend the majority of that time in prayer.
Yet in all of these cases, nobody claims to be praying without ceasing. They must sleep. They must eat. They must run errands, and talk to other people.
As long as one has a formalized definition of prayer that requires a certain posture and a certain way of speaking, then praying without ceasing is impossible.
Do not misunderstand.
I am not against formalized times, places, and postures of prayer. I think Jesus might have had all of these. We do read that He often got up very early in the morning, and went out to a solitary place to pray (Mark 1:35).
But it would be wrong to think that these were the only times Jesus prayed. Jesus understood what it meant to pray without ceasing, and these early mornings of prayer were a small part of His overall prayer life.
Conversational Prayer without Ceasing is Achievable and Enjoyable
Praying without ceasing requires us to think about prayer as we have seen in the recorded prayers of Jesus, Paul, and the Psalms.
If prayer is an ongoing conversation we are having with God, and if God is with us always, then we can always be in conversation with Him.
Sure, you will not always be talking to each other, but as in any relationship, silence is part of a conversation too. Sometimes there is a lot to say, and sometimes it is enough to just be in each other's presence. Frequently, it is nice to sit down for a long talk, and other times, you can casually discuss issues as you run errands, take a walk, eat meals, or watch television.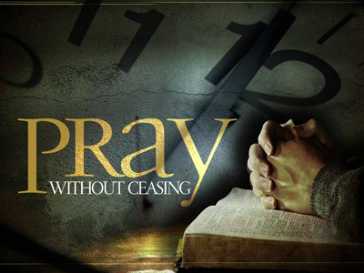 When we view prayer as a conversation with a God who is always present, it opens up a whole new realm of freedom in prayer.
You no longer have to feel guilty about not spending enough time in prayer; you can always tell someone you pray nonstop during your waking hours. You no longer have to begin and end each prayer with certain words, because in an ongoing conversation, there is no beginning and end. You no longer have to remember to pray about something.
If you learn of a need, just start talking about it with God right then and there. If you find yourself in a bad situation, you no longer have to think, "I should have prayed for protection this morning." If you find yourself in a predicament, don't beat yourself over the head with guilt. That's just makes things worse. Instead, pray for protection. A word or two will do: "God! Help!"
In these ways and so many others, your prayer life can be transformed from a tired and boring religious duty that you try to fit in to your busy day, into a vibrant and inspiring ongoing conversation with a living and powerful God who is always by your side.
You say "Good morning" when you wake up, and "Good night" when you go to bed. You thank him for the taste of your coffee, and praise Him for the beauty of the frost on the grass. You discuss with him the problems you are facing with your daughter, and your worry about the meeting with your boss at work.
And when you sin (as you will every day), you don't need to fear that God was scared off. No, He's seen and heard it all before. So you laugh with God about your weakness and thank Him for the forgiveness He has already offered by His grace through Jesus Christ. And then you continue with your day.
This is how we pray without ceasing. It is an ongoing conversation with God. Incidentally, this is also how we learn to pray according to the will of God.
If you want to learn more about this sort of prayer, I highly recommend The Practice of the Presence of God
by Brother Lawrence.
Do you want to pray like never before?
Do you what to talk to God like you talk to a friend? Do you want to see more answers to prayer?
If you have these (and other) questions about prayer, let me send you some teaching and instruction about prayer to your email inbox. You will receive one or two per week, absolutely free. Fill out the form below to get started.