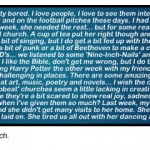 When I was a pastor in Montana, a man who had attended our church for years stopped coming. He came by to let me know why (which I respected greatly, since most people just disappear and then get upset when the pastor doesn't call them to find out why they haven't been attending). He said that the reason he wasn't going to attend our church was because we didn't let God in the door. What he meant by this was that he thought we were quenching the Holy Spirit in our Sunday services.
In response, I wrote and distributed throughout our church a little pamphlet called "Attending the Church that God Does" explaining that if Jesus were walking planet earth today, ours was the kind of church He would attend. Yeah, I think I handled that guy's departure pretty well.
The ironic thing is that I don't agree with what I wrote in that pamphlet five years ago. These days, I am finding that to be true of almost everything I wrote so many years ago. (So if you disagree with the content and tone of many of my sermons on this website, you're in good company — I disagree with some of them too.)
Anyway, I found the following "comic" strip on a blog called Adventures of the ASBO Jesus. The following example is nothing more than a word balloon from God, but what do you think of what this writer has God saying? Do you think God is as bored and tired of our churches as we sometimes are?