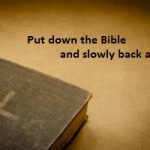 This is the last post in my short series of posts on Biblical illiteracy. Here are the other posts:
As we have seen, there are lots of reports that people are becoming more biblically illiterate.
But I am not convinced that the statistics are true, that we really are becoming more biblically illiterate. It all depends, really, on how a person defines "biblically illiterate," and I am not convinced that the traditional definitions and tests we use to determine biblical literacy are all that correct. I sort of think that the real problem with biblical illiteracy is how we define and test for biblical illiteracy. For example, I am not sure that knowing Bible facts is the same thing as biblical literacy. From one perspective, it could be argued that people are more biblically literate today than ever before!
I know, of course, that such a statement might be controversial, and so let's just leave that idea alone for now and agree with the common consensus. Let us concede their claim that people are becoming more and more biblically illiterate. For the sake of argument, let us just assume that this is the case.
I do not see it as a bad thing. I see this as a good thing.
Why?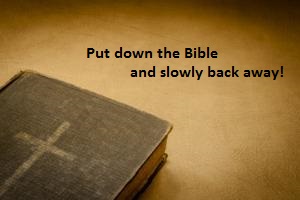 Because we are finally giving up the illusion that Bible knowledge is the key to living the Christian life.
Frankly, I would love it if more Christians put down their Bibles.
People already know enough. The real issue is that they don't do enough. They don't put into practice what they already know.
When pastors and professors bemoan the lack of biblical literacy in the church today, they are telling people that the most important part of the Christian life is knowing more. But it isn't. The most important part of following Jesus is actually following Jesus into loving and serving others.
Look, the call for biblical literacy is not actually about biblical literacy. These pastors and professors believe that biblical literacy will lead to biblical living. They see people not living very biblically, and not really having a biblical worldview, and so they think that if they can raise the level of biblical literacy, this will raise the level of biblical living as well. But it is not working. There is some question as to whether it ever really did work.
If I had to choose between a Bible expert who could recite large chunks of Scripture from the Greek and Hebrew yet who did not show love toward his neighbor, and someone who barely knew anything about Scripture but who did show love to his neighbor, I will choose the second person every day of the week.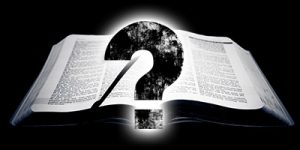 Ideally, it would be nice if everyone was a Bible expert AND they practiced the Bible, but nothing in this life is ideal And in my experience, it seems that Christians often prefer to put off loving other people because they fear they don't know how, or won't be able to answer a question properly, or won't know how to deal with certain objections or issues that often come up. And so, in a good and godly quest to prepare for the act of loving and serving others, they just attend one seminar after another, one training session after another, one class after another, and many of them never get around to actually loving the other person.
What often happens in churches and groups that place a heavy emphasis on biblical literacy is that the goal in the Christian life seems to be little more than the accumulation of Bible facts and theological trivia.
So I am thankful that studies and reports are showing that people are more and more biblically illiterate, because I think it finally raises the question of whether that should have ever been the goal in the first place, and whether or not biblical literacy ever really even "worked" in helping people live biblically.
The goal is biblical living; not biblical literacy.
If we strive for biblical living, we also get biblical literacy. But if we strive for biblical literacy, we end up with neither biblical living nor biblical literacy. We need to stop chasing biblical literacy and start pursuing biblical living.
A lack of biblical literacy is not the problem; a lack of biblical living is. And to live according to the Bible, we might need to stop studying the Bible. Living out the Bible begins by getting our noses out of the Bible.
This can be seen in three points:
When we strive to become biblically literate, there is never any end to it. When the goal is biblical literacy, there is never an end to the studies, seminars, and conferences. You never know enough. It becomes an addiction of sorts.
Biblical literacy doesn't automatically lead to biblical living. Most people who call for biblical literacy don't actually want biblical literacy – they want people who follow and obey the Bible. This is a good thing. But the problem is that the same studies which report that people are more biblically illiterate than ever before usually also report that even those who know a lot about the Bible are not actually living that much more biblically than people who are ignorant of the Bible. So if biblical literacy isn't "working" among those who have it, why are they trying to export it?
Biblical living very often leads to biblical learning. The call for biblical literacy is putting the cart before the horse. We've got the order backwards. People often think that you have to learn the Bible before you can live it, but I think that what we are beginning to see is that you actually have to live it before you can learn it. Yes, I know, this seems impossible. How can someone live something they have not learned? Well, they do need to learn a little bit, and the truth is that everyone pretty much already knows that little bit. So they don't need to learn more until they have learned to live what they already know. Then, as issues comes up, as questions arise, these call them back to Scripture and Bible study and Christian for answers and ideas.
I call this "on the way" teaching. Or it could be called "Just in time" learning, or "On Demand" learning. This is the best way to learn something. You don't need to learn something until you need it, and you don't know what you need to learn until it comes up.
Here is how this works: You go out and you love or serve somebody. You put into practice the little bit you do know. And when an issue or question comes up that you cannot address, you say, "That is a great question. I don't know. Let's discuss it more together. What do you think? Let's read this book. Let's invite some others into this question and see what they say."
In this way, you don't come across as a know-it-all, you praise and honor the other person for their great question, and then you model for this other person the importance of ongoing study and learning and most of all, the importance of a community of relationships.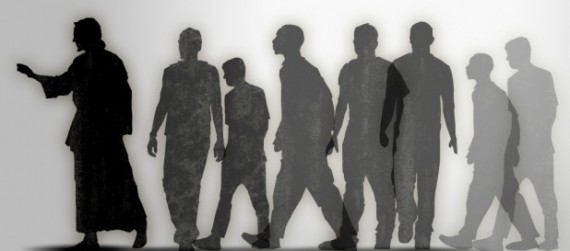 On the Way Learning was Modeled by Jesus
On the way learning is a beautiful way of learning that is modeled, of course, by Jesus. Jesus didn't spend three years teaching His disciples in a classroom before sending them out. No, He told them a little bit, and then sent them out, and then when they came back, they debriefed and told Him what they saw and heard, and He taught them a bit more, and then sent them out again.
People don't need more Bible learning. They just need to go out and live what they already know. Then, if they need more learning, well, they know what they need to learn and so it will mean that much more to them.
And how much does a person need to learn before they go out? I believe that pretty much everything a person needs to know to begin living biblically can be taught to them in 20 minutes. Maybe less. If I was really pressed for time, it could probably be taught in one minute or so. (See below)
The bottom line is that people know enough already. They don't need to know more. They can go out and start loving and serving right now. When they do this, they will WANT to learn more when they see the usefulness and importance of what they already know.
So send them out! Encourage them to go out. Liberate them. Praise them for what they do. God is not saying to the church "Let my people learn," but rather, "Let my people go!"
1 Minute Biblical living
If I had one minute to tell you everything you need to know to begin living biblically,  I would say something like this:
If there is one thing Jesus reveals over and over, it is that you are loved. More than you can ever possibly know. This means there is nothing you can do to mess up. Nothing. So relax. Enjoy life. Enjoy people.

And as you come to the realization of how loved you are, try to show that same love to other people. You don't need to correct their sin. You don't need to invite them to church. You don't need to tell them to do anything. Just love them. Love others as you have been loved and as you would want them to love you.

The rest follows from love. Everybody can love, and once you have learned to love, the rest just follows naturally.
Go ahead, read that out loud and time yourself. It's about 1 minute, right? And living out what is said in those few sentences will take the rest of your life. And guess what? Even if you can't list the four Gospels, the 10 Commandments, or the 66 books of the Bible, but you live out what is said above, you will be living biblically, even if you are technically "biblically illiterate." Who can complain about that?
I believe it is not a problem that people know less about the Bible than they used to know. All I really care about is that people try to live out whatever it is they do know. How about you? What do you believe about this topic? Weigh in below!