When we sin willfully and rebel against God, He continues to love and forgive us. But there are natural consequences to our disobedience, one of which is broken fellowship and communion with God, which may reveal itself in our inability to pray.


In many situations, of course, God may choose to discipline us. But discipline is a reminder that God loves us, for God disciplines those He loves (Heb 12:6).
Discipline is never pleasant, but we must remember that discipline is another form of God's love, and furthermore, God's discipline often serves as a means of deliverance.
Discipline is often one of the ways God delivers us from committing even greater sins that will mess up and destroy our lives in even greater ways. So deliverance and discipline often come from the same source.
Take Jonah as an example.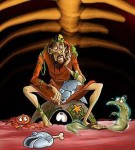 In Jonah 1:17, Jonah finds himself in the belly of a great fish. It could not have been fun. Jonah had sinned terribly against God, and certainly saw his presence in the fish as a form of discipline. But it was also a form of deliverance. God rescued Jonah from death, which is what Jonah thanks God for in chapter 2. Jonah does not learn as much as he could have or should have while he was in the belly of the fish, but at least he learned that God was not going to let him escape his responsibility to preach to Nineveh. So when God called Jonah a second time to go to Nineveh, Jonah went (3:1-2).
This is similar to what happens when we face the discipline of God. We may get placed in a holding pattern until we choose to follow God. We may get sidelines from the major events in the Kingdom of God until we decide to play by God's rules.