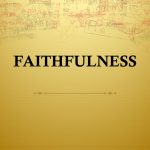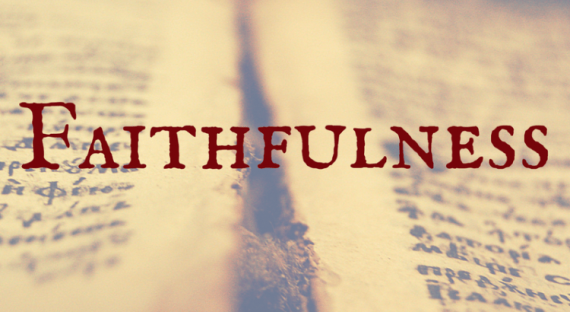 There are Christian books and teachings out there which say that the Greek word pistis is best translated as "faithfulness" or "allegiance."
If this is true, then rather than eternal life being gained by believing in Jesus for it (and not by works of any kind), eternal life is instead gained by living a life of faithful obedience and allegiance to Jesus.
But is eternal life gained by allegiance to Jesus? No. This is a gospel of good works, which is no gospel at all.
Indeed, I believe that there is not a single use of the Greek word pistis in the New Testament which is properly translated as "faithfulness."
Yes, The BDAG Greek lexicon does list six verses where pistis can be translated as "faithfulness," but not all English translations of these passages translate it in such a way.
In fact, "major contemporary English versions translate pistis as 'faithfulness' or 'fidelity' in only three or four New Testament verses" (Brindle, "Faith in Christ Does Not Mean Faithfulness or Fidelity"). And even in these three or four verses, pistis could arguably be translated as "faith" (Matt 23:23; Rom 3:3; Gal 5:22; Titus 2:10).
Let me show you why this is so, and then we will consider a sample verse from Scripture which helps illustrate this view.
Note: The following is drawn from my book, What is Faith?
Faithfulness vs Faith for the Greek pistis)
For numerous reasons, it does not seem best to understand the word "faith" (Gk., pistis) as "faithfulness."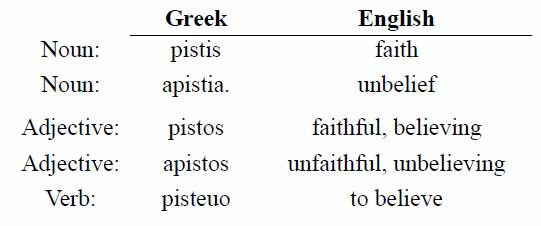 While there does initially seem to be some evidence for this understanding in various biblical and extra-biblical contexts, such a view opens the door for a works-based approach to gaining, proving, or keeping our eternal life, and so should be rejected.
After all, if pistis can sometimes refer to allegiance, loyalty, or ongoing obedience, then there is nothing to stop someone from saying that most references to faith in the New Testament carry this idea, and therefore, eternal life is not gained by simply believing in Jesus for it, but instead by living loyally and obediently to Him.
This is indeed what some argue (see, for example, Michael Bates, Salvation by Allegiance Alone).
Yet once we properly understand that faith is a conviction or persuasion that something is true, we are then positioned to better understand the various texts in English Bibles which translate pistis as faithfulness (Matt 23:23; Rom 3:3; Gal 5:22; Titus 2:10).
When studied in their contexts, we see that these controversial passages do not require for pistis to refer to loyalty, allegiance, or ongoing obedience, but could instead refer to a persistent and ongoing faith.
Faith is like a light switch. When it comes to the various truths we can believe, faith is either "On" or "Off." If it stays "On" for a long time, then it is persistent faith.
Not all beliefs stay "On" all the time. We often change our beliefs due to new evidence that is presented to us. Sometimes we change our beliefs as we learn more about God through Scripture and in fellowship with other believers.
In such instances, we turn away from falsehood and embrace the truth, so that our network of beliefs comes to more closely match what is actually true.
We can also stray from the truth and fall into dangerous and unhealthy teachings. It is not uncommon for true believers to fall prey to false teaching so that they come to deny the truth and turn instead toward lies and deceptive ideas.
But as long as a Christian maintains a belief in what is actually true, their belief is persistent. This persistent faith is which Scripture invites us to strive and long for.
Therefore, the texts that seem to require a translation of "faithfulness" are not referring to allegiance and obedience, but to this ongoing and persistent faith. It is a faith that remains.
The "Faithfulness of Jesus" is His Ongoing, Persistent Faith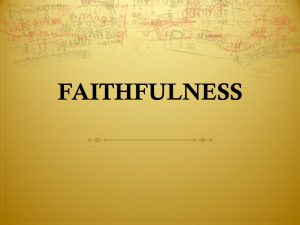 This is even true when the Bible refers to the faith of God or the faith of Jesus.
It is not necessary to understand these texts as referring to the faithfulness of God or the faithfulness of Jesus.
Since faith is the knowledge, conviction, or persuasion that something is true, then it is obvious that both God and Jesus can have faith.
Indeed, the Trinitarian God is the only being in the universe who has perfect faith.
All other beings in the universe do not have perfect knowledge of all things, and therefore, do not believe or know all things. Only God's faith is eternally perfect and persistent.
Since faith or belief is the conviction that something is true, God knows everything that is true, and therefore, believes it and will always believe it.
Furthermore, He even has faith toward us. He knows what is true about us, even when we do not (Rom 3:3-4). He also knows what will be true about us, and He speaks these things to us so that we might be inspired by His testimony toward us to believe these things as well.
God wants us to live as He sees us; not as we see ourselves. God believes in us and invites us to believe in Him so that together, our belief will bring God's vision of the future into reality.
Faith vs. Faithfulness in Tricky Bible Texts
This understanding helps clarify some of the tricky texts which seem to require "faithfulness" as a translation of pistis.
Such texts do not refer to allegiance or ongoing obedience, but to an ongoing and persistent belief.
And this belief can lead to other beliefs as well. For example, once we have believed in Jesus for eternal life, this does not mean that faith has no more place in the life of the believer. Just as we have received Jesus Christ, so also we must continue to walk with Him (Col 2:6). And how is it that we received Jesus? By faith. So we are to continue our life with Him by faith as well.
This is not only true because ongoing faith gives us the best life possible with Jesus, but also because other truths we can believe depend on continuing to believe previous truths.
Remember that all of our beliefs are interconnected like a vast Excel spreadsheet.
Many of the more advanced truths and ideas on this spreadsheet will not be discovered and cannot be believed unless we maintain our belief in some of the earlier, foundational truths.
In other words, future faith builds upon our former faith. Believing simple and elementary things allows us to later believe more difficult and hard things.
This is what Paul means when it talks about going from "faith to faith" (cf. Rom 1:17) and when he refers to faith as a fruit of the Spirit (Gal 5:22). As we walk with God in faith and by the Spirit, we grow in our faith and come to believe things that draw us closer to God and make us more like Jesus.
So regardless of which stage of faith we are talking about, faith does not involve ongoing obedience.
Faith does not begin with simple belief and then end with allegiance and loyalty.
There are no works in faith, for faith is the opposite of works. While faith can lead to works, the presence or absence of works do not necessarily indicate anything one way or another about a person's faith.
In all cases, faith is simply being persuaded and convinced about what we have been told.
When we believe in Jesus for eternal life, we are persuaded that Jesus, as the author and finisher of our faith, loves us, forgives us, and freely grants eternal life to us, not because of anything we have done but simply and only because of God's grace toward us.
No commitment to allegiance or ongoing obedience are required.
Therefore, the word pistis is not ever properly translated as "faithfulness."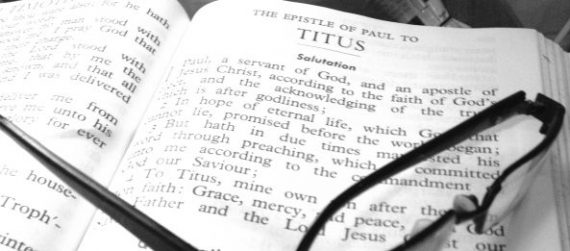 Faith vs. Faithfulness in Titus 2:10
Of the various passages that sometimes use the word "faithfulness." as a translation of pistis (Matt 23:23; Rom 3:3; Gal 5:22; Col 2:6; Titus 2:10), I have already briefly considered Romans 3:3, Colossians 2:6, and Galatians 5:22 above.
In Matthew 23:23, the NKJV properly translates the Greek as "faith," so let us consider the final text, Titus 2:10, here.
The first thing to note about Titus 2:10, is that it fits within the broader context of Titus 2. And Paul begins in Titus 2:1f by telling Titus to teach and encourage others to have sound doctrine and godly practices. In other words, Titus is to call others to proper beliefs and behavior.
And then Paul goes through various categories of people among whom Titus ministers. He gives instructions for older men (Titus 2:2), older women (Titus 2:3), young women (Titus 2:4-5), young men (Titus 2:6-8), and servants (Titus 2:9-10).
In each case, Paul encourages the various groups to watch their life and doctrine closely … that is, their beliefs and their behaviors. As for the beliefs, the older men are to be "sound in faith." The older women are to be "teachers of good things." The younger women are to be careful not to blaspheme the word of God. The younger men are to have integrity in their doctrine.
The bondservants are to have "good fidelity," which is the controversial phrase. I propose it should be translated as "good faith" (as in the NAS).
Three lines of argument from the context show that this should be translated as "good faith" instead of "good fidelity."
First, the word pistis is already used in the context. At the beginning of this section when he gives instructions to the older men, and most English Bibles translate this word as "faith." The use of the same word here at the end of this section creates a nice frame for the entire section. By using  pistis at both the beginning and end, Paul shows that he desires both proper beliefs and proper behaviors from all.
And since pistis is best translates as "faith" in Titus 2:2, then it seems that it should also be translated as "faith" in Titus 2:10.
Support for this idea is found in the next phrase of Titus 2:10, where Paul goes on to write about the doctrine of God our Savior. This is the second reason "faith" is the best translation for pistis in Titus 2:10. The following phrase refers to doctrine.
What are you to do with doctrine, or theology, other than believe it? Doctrine is taught so that it can be believed.
Thirdly and finally, then, we know that Paul does not mean "faithfulness" or "fidelity" with the word pistis in Titus 2:10, because he has been referring to beliefs and behaviors of all the various groups of people throughout this passage. If the reference to pistis in this verse also refers to allegiance, fidelity, or faithful obedience, then Paul's instructions to the servants is only about their behavior and not about their beliefs at all.
But shouldn't servants also have proper beliefs? Of course they should! And just as Paul encourages the previous four groups of people to have good beliefs and good behaviors, he gives similar instructions to this final group, the servants. The word pistis must refer to the beliefs of the servants, while all the preceding terms refer to their behaviors.
Conclusion
It is not helpful to translate pistis as "faithfulness, allegiance, or fidelity" in any passage in the Bible. When Scripture wants to use terms for obedience and dedicated allegiance, it has good words to use in those cases.
But pistis always refers to faith or belief, and includes no actions or obedience whatsoever.
Don't allow good works to sneak in the back door of the gospel by thinking that pistis can sometimes refer to faithfulness or ongoing obedience. Such a gospel is no gospel at all, for if we receive eternal life by ongoing, faithful obedience to God, then no person would ever receive eternal life, for no person can ever be "faithful" enough.
Thankfully, good works do not help us earn or keep the free gift of eternal life. It is freely given by God's grace to anyone who simply and only believes in Jesus for it.
Get my book, What is Faith? to learn more about faith.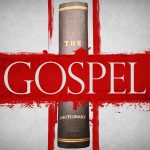 Understanding the Gospel requires us to properly understand the key words and terms of the Gospel. Take my course, "The Gospel Dictionary" to learn about the 52 key words of the Gospel, and hundreds of Bible passages that use these words.
This course costs $297, but when you join the Discipleship group, you can to take the entire course for free.