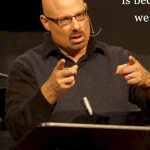 This is part of an ongoing series where I briefly interview a theologian, pastor, author, or Bible scholar that I highly respect, and ask them to tell us a bit about themselves, their most current teaching project, and the one most important truth (the hack) they wish every Christian could learn.
I call the series "Hack the Theologian." This doesn't mean I think these theologians are hacks. Far from it! It means that I am trying to find (and share with you) the one thing that makes them tick, the one insight that keeps them writing and teaching, the one truth they are most passionate about, the one idea that turned their life and theology upside down. You can read the other posts in the series right here.
(Do you know an author I can highlight in this series? Have them contact me!)
So Let's "Hack" Frank Viola
Frank Viola is the author of numerous books and heads up an online discipleship group called "The Deeper Christian Life." Here are Frank Viola's answers to my questions:
1. Can you tell us who you are and what you do in 40 words or less?

Just an Italian guy who is captivated by Jesus and shares the same name as the MLB pitcher. Ever since I've been a Christian, I've known in my heart that there must be more. So my spiritual journey has been that of discovering the "more" and sharing my discoveries with others.

2. Tell us something about yourself that few people know.

I used to pitch in high school, and I was also the lead singer of an incredible music band. (Sadly, I never made the Majors — without counting in my dreams. The other Frankie V. did.)

3. What is the best book you have read this past year? (It doesn't have to be theological!)

Shaped by Vision – the biography of T. Austin-Sparks (second time around).

4. You have a new book called There Must be More. Tell us a bit about it. What is the main point and what do you want people to learn or do?

We are calling this monstrosity my Titan. It's an oversized, 800-page, limited edition hardcover that contains over 380,000 words. It includes all of my published writings from 2008 – 2016, some of which were rejected by my publishers because they were too controversial. I (and others) regard the Titan to be more radical than Pagan Christianity, my 2008 book with George Barna. It's also a robust follow-up to Pagan Christianity.

Here is what it covers and who it's for:

Serious Reasons

It's for those who have read some (or all) of my other works and want some of my best writings that have never been printed, which go deeper into the themes.
It's for those who are part of a Christian community or plan to be in one. It includes my memoir about church and body life with dozens of lessons learned. It also addresses the dangers and the common problems, along with how to deal with them based on my experience in body life since 1988. It's more detailed in this regard than any of my other works.
It presents a fresh look at God's eternal purpose and driving passion through the sections on "Magnificent Obsession" and "Rethinking the Mission."
It's for any Christian who knows in their hearts, "There has to be more than this" (meaning, more than what they've been taught and what they've seen).
It's for those who are interested in a totally different take on the baptism of the Spirit and spiritual gifts than the Pentecostal view and the cessationist view.
It's for those who wish to have in print my critique of John MacArthur's Strange Fire.
It's for those who desire to get a fresh perspective on Christ and His kingdom that will warm the heart, edify the spirit, and inspire the soul.
It's for those who want all of my unpublished writings in one place. The Table of Contents gives readers an easy way to navigate the content.
It's for those who wish to contribute toward helping some of the poor and sick people we are trying to help.

Humorous Reasons

It's for those who are looking for an excuse to buy a new coffee table (there's a good chance that the Titan will break it immediately upon placement).
It's for those seeking a blunt force object for a time of need (who needs guns when you have a copy of the Titan on hand).
It's for those who are looking for a heavy, unmovable door stopper.
It's for those who own fireplaces and are looking for good kindling material that will burn for at least 8 hours (the 800 pages are constructed in such a way that they roast slowly).
It's for both my fans who desire to collect all my work. (My mother being one of them.)

5. Karl Barth was once asked to summarize his life's work in one sentence. He answered, "Jesus loves me, this I know, for the Bible tells me so." How would you summarize your life's work? To put this question another way, if you could get people to understand just one idea, what would it be?

Jesus Christ is ALL, everything else is commentary.
The Titan will only be printed once and never again. It's presently on discount until August 20th. Check it out and get your copy at ViolaTitan.com