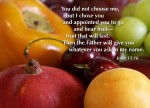 Have you ever heard that John 15:16 teaches unconditional election to salvation? Those who teach this can only do so by cutting Jesus off half way through His sentence.
Jesus does not say in John 15:16 that He chose His disciples to receive eternal life. He says he chose them so they would go and bear fruit.
Election is to vocation and service; not to eternal life.