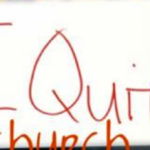 Of the 65 million adults who used to attend church, but no longer do, 30 million of them still identify as followers of Jesus. May their tribe increase!
But what about the remaining 35 million? Well, they claim to have abandoned God, Jesus, the Bible … all of it, and are either atheists or have joined another religion.
But I don't think they have abandoned God at all, but might actually be following Him, and simply need someone to tell them so.