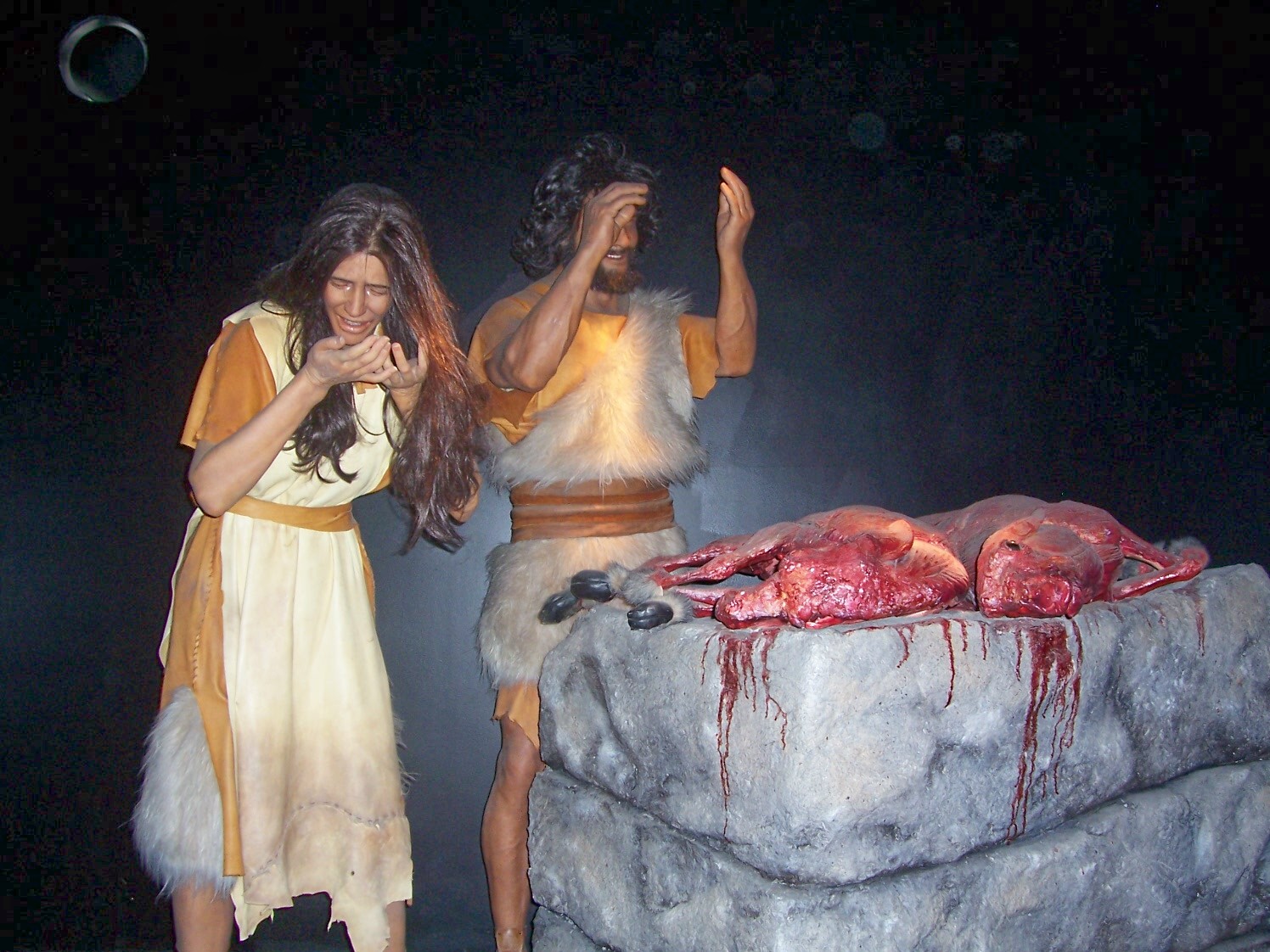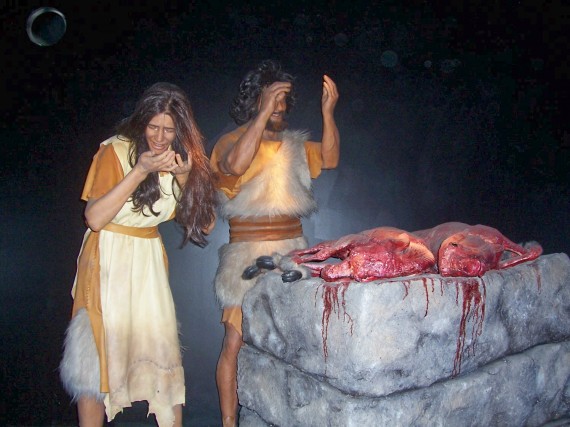 Many believe that the first sacrifice was carried out by God Himself in Genesis 3:21 which says that God made tunics of skin for Adam and Eve so that they could be clothed.
Did God Sacrifice an Animal in Genesis 3:21?
Although the text says nothing about a sacrifice, many believe that a sacrifice is implied.
It is often taught that after the first sin was committed, God wanted to show Adam and Eve that sin has consequences, and so He slew an animal in front of them, and made clothes for them from the hide of the dead animal.
Some have even speculated that the animal was a lamb, thereby presenting a prophetical picture of Jesus, the Lamb of God, slain from the foundation of the world (Revelation 5:6; 13:8).
Furthermore, some have argued that in this death of the animal, God was teaching Adam and Eve the theological principle of substitutionary atonement. He had told Adam that if they ate of the fruit they would surely die, and so after they ate of the fruit, God should have killed them, but instead He killed an animal in their place.
But Did God Really Perform the First Sacrifice?
But is any of this really true? Did God really practice the first animal sacrifice? Was it truly a lamb? Did God intend for Adam and Eve to learn about substitutionary atonement?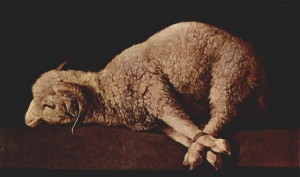 Frankly, this seems to be an awful lot to read into one single verse which says nothing other than that "God made tunics of skin, and clothed them."
The death of an animal is never mentioned.
A lamb is never mentioned.
Substitutionary atonement isn't even inferred.
So where did God get the skin in which he clothed Adam and Eve?
The text simply doesn't say.
Maybe he made it.
The word for "skin" that is used can refer to either human or animal skin.
There have been some streams of Judaism and Christianity which believed that prior to the event described in Genesis 3:21, humans did not have "skin" the way we see it today, but existed in some other form. They believed that we were "clothed in light" like God (Psalm 104:2) and that when Adam and Eve sinned, the light left them and they tried to replace the light with leaves (Genesis 3:7), which was an insufficient covering, and so God gave them skin instead.
This view is a little too mystical (or maybe even Gnostic) for most Christians, and yet it cannot be proven or disproven from the text any more than the traditional view that God killed an animal to make clothes for Adam and Eve.
Maybe it was snake skin.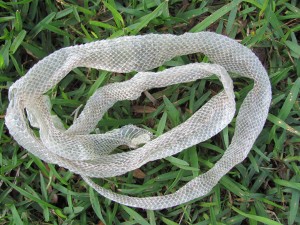 It is interesting to note, however, that one of the more common Jewish explanations of this text is that the skin which Adam and Eve were clothed with was snake skin. The Jewish Targum Pseudo-Jonathan says that the Lord made garments for Adam and Eve from the skin which the serpent in the garden had cast off. This seems pretty far-fetched if you have ever seen the papery skin shed by serpents.
A related view is that since God had said to the serpent, "he will crush your head and you will strike his heel" (Genesis 3:15 NIV), that Adam had taken it upon himself to kill the serpent by crushing its head with his heel, and from the skin of the dead serpent God made clothes for Adam and Eve.
This sounds far-fetched, but it is just as speculative as every other view.
We simply don't know where the skin came from, or what kind of skin it was.
The simple fact of the matter is that the text simply doesn't say how God made clothes for Adam and Eve. Therefore, we tread on dangerous ground if we claim that Genesis 3:21 contains the first sacrifice in Scripture, for it says nothing of the sort. All it says is that God gave them skin to wear.
We read substitutionary atonement and the sacrificial system into Genesis 3:21 at our own theological peril.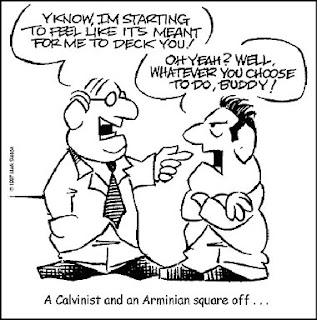 I have tried to avoid this question for a long time… But recently a reader wrote in asking what I believe about predestination, and since I have written about other difficult "-ation" questions (such as masturbation), I decided to answer this question about predestination as well.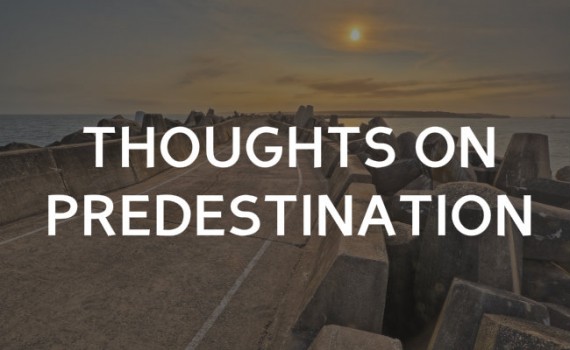 Here is the straightforward question on predestination that the reader submitted:
Whats your stand on predestination?
Whew!
I am hesitant to tackle this topic. Here's why:
My Previous Experience with Predestination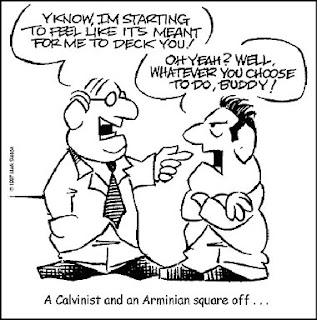 I once preached a sermon on predestination and election, and there was a Calvinistic man in the church who, right in the middle of my sermon, stood up, and loudly said to his family, "Come on. We're leaving!" He and his family filed out of their row, out the back of the church, and never returned. I later called him to find out why he left, and he accused me of being a heretic.
This seems to be a recurring theme in my life … and here … and here
Anyway, I sometimes hesitate to write about such controversial topics because I don't want to chase away readers.
But know this: I hold my view on predestination lightly. I hold it with an open hand. If you want to disagree, that's fine by me. I won't hold it against you. Of course, if you want to hold my view against me, well, I think that says something about your view …
Know this also: I used to be a strong 5-point hyper Calvinist. But I did not abandon Calvinism lightly. I got dragged out of it kicking and screaming. So don't think that the reason I am not a Calvinist is that I don't know the arguments or "haven't read the Bible." Sigh. I am aware of the arguments (I used to teach them myself). I am aware of the Bible passages used to defend Calvinism (I just understand them differently now).
All this is to say, if you want to disagree, that's fine. But please, be gracious. No name calling. No finger pointing. No heresy hunting. No long comments full of Bible quotations.
What I believe about Predestination
I'll be as blunt and straightforward as I know how: I do not believe that God predestines some people to go to heaven.
I definitely do not believe in double predestination, where God predestines some people to go to heaven and predestines others to go to hell. I used to believe this (that's part of the "hyper" in hyper Calvinism), but no longer.
While a complete study on the topic of predestination would also require a study of God's sovereignty, human free will, sin, and all the passages on election in the Bible, this is a blog post, and I cannot get into all that now (though a book is in the works!) In this short post, I just want to briefly present my views on predestination itself.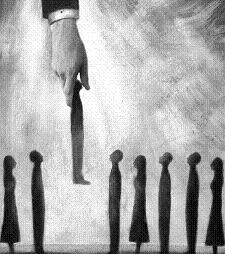 I believe that predestination does not refer to God's choice of which people get to go to heaven, but refers instead to God's determination to bring into glory all those who receive eternal life by faith in Jesus. In other words, predestination teaches us about who gets glorified, not who gets justified.
God's predetermined (this is a synonym for predestination) plan was that He would bring into glory everyone who believed in Jesus for eternal life, that is, for justification. All who are justified will be glorified. As such, there is absolutely nothing in predestination about God's choice of which people will get justified and which people will not. Predestination has nothing to do with that, and it is a categorical mistake to think it does.
To put it another way, predestination is about the destiny of believers (all will be glorified), not about the destiny of unbelievers (some will get justified and some will get damned).
Or to put it another way again, discussion about God's predestination should not fall under the category of justification, but under the categories of sanctification and glorification. Predestination is a discipleship issue; not an evangelism issue.
Passages about Predestination
Two of the key passages about predestination are Romans 8:29-30 and Ephesians 1:4-11. In both cases, Paul is pretty clear that predestination is about God bringing people to be conformed to the image of His Son (Romans 8:29), and that election and predestination are most properly understood in connection with being made holy and blameless before God (Ephesians 1:4-5).
God does not choose some to be in Christ while passing over the rest. No, God chooses, elects, predestines, predetermines, decides, foreordains, commits Himself to make sure that every person who believes in Jesus for eternal life, will finally and ultimately be glorified into the image and likeness of Jesus Christ.
Predestination of the saints is about God's commitment to the preservation of the saints.
This is why no one can snatch us out of the Father's hand (John 10:29), why nothing can separate us from the love of God (Romans 8:38-39), and why God has given us the Holy Spirit as a promise and guarantee of our inheritance (Ephesians 1:13-14).
Predestination is a controversial topic, but it need not be. The Bible teaches that predestination is about our glorification and sanctification; not about justification. Therefore, if we fight about predestination, we are not living according to what we were predestined for, namely, to be conformed to the image of Jesus Christ.
Now seriously, this isn't too controversial, is it? Nothing to walk out over, right? Well, let me know in the comments below!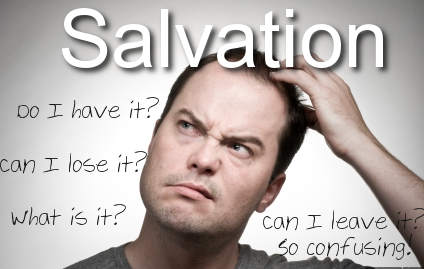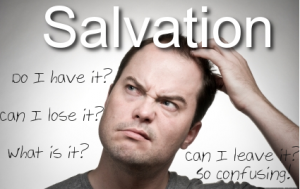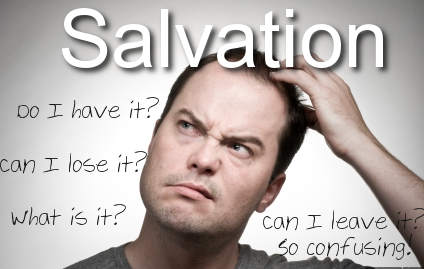 A reader recently sent in a question about whether or not she could lose her salvation. I searched my blog high and low for somewhere that I had answered this before, and much to my shock, could not find that I had previously written about this anywhere. I am certain I have written about it, but since I couldn't find it, decided to write about it anyway. Here is the question she sent in:
I m getting real confused on the subject of salvation as I am doing my bible study. I would be grateful if you could take out some time and clear my confusion.

Can a born again christian lose salvation? If yes, does that mean we can preserve our salvation by following some rules and doing good works? I personally dont believe in salvation by works but what confuses me is if we can lose salvation than we can protect it too which means we remain saved by works.

But if we can't lose salvation, then what happens if we keep on enjoying worldly pleasures like fornication, orgies, adultery, drunkenness etc? The bible tells us that "such will not inherit the kingdom of heaven."
This is a great question which millions of Christians around the world ask all the time. Can a Christian lose salvation?
Confusion about Losing Salvation
The reason there is so much confusion surrounding the question about whether or not Christians can lose salvation is mostly because of the word "salvation" itself.
As long as we think that the word "salvation" refers to forgiveness of sin, eternal life, escaping hell, and going to heaven when we die, we will always be confused about whether or not Christians can lose salvation.
Why? Because there are numerous texts in the Bible which talk about "saving" the soul from death, "saving" the life, being "saved" by works, faith alone doesn't "save," and so on throughout the Bible. If we read these passages thinking they are talking about how to receive eternal life, we will get very confused.
This is why I wrote an article a while back about the word "saved" in the Bible. Before you read further, you should go read that post, because I am not going to restate here what I wrote there. The bottom line idea, however, is that the "salvation" word family rarely refers to receiving eternal life. When the Bible wants to talk about eternal life, it uses terms like "eternal life" or "everlasting life."
It would be wise for us to do the same …
Confusion about the Kingdom of God/Heaven
The second area of confusion that causes people to think they can lose their "salvation" is when they equate the Kingdom of God or Kingdom of Heaven with "heaven" or with eternal life. Just as with "salvation," the Kingdom of God/Heaven are not the same thing as eternal life. The Kingdom of God/Heaven refers to the rule and reign of God in our lives. As we learn to follow Jesus, His rule and reign expands in our lives, and we exhibit the values and goals of His kingdom through our words and actions.
The same goes for inheriting the Kingdom, or even "inheriting" eternal life. Inheriting is different than receiving. Inheritance is something given to those who are "in the family" and so the only way to receive God's inheritance is if you are already in God's family, which happens by faith alone in Jesus Christ. Again, I have written about this here: The role of faith and works.
So Can a Christian Lose Salvation?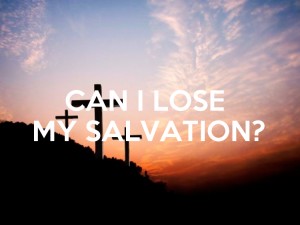 Well, if you are asking, "Can a Christian lose eternal life?" the answer is no. If everlasting life can be lost, it has the wrong name. Besides, Jesus promises everlasting life to all who simply and only believe in Him for it (John 3:16; 5:24; 6:47), and if we believe that everlasting life is not everlasting, then we are doubting the words and promises of Jesus.
But if a Christian cannot lose eternal life, then why should we not just go sin all we want? Because although we cannot lose eternal life, there is much to lose by sinning!
For example, we can lose our experience of the rule and reign of God in our lives (that is, lose our experience of the Kingdom of God). We can lose our fellowship with God (1 John). Since sin is so destructive, we can lose our health, wealth, and emotional well-being. We can lose our spouses, our children, and our jobs. We can lose contentment, joy, and satisfaction in life. We can lose peace.
So while there are all sorts of things a Christian can lose by sinning, eternal life is not one of them.
Here is another post which might help as well: Once Saved, Always Saved?
By the way, if you want to read more on this topic, I strongly recommend these books: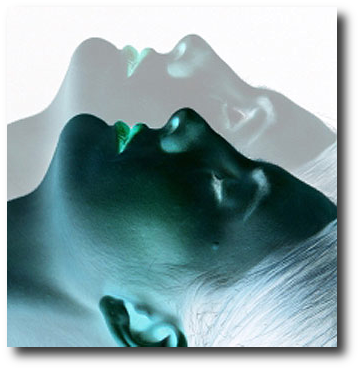 Several readers have recently submitted questions about "soul sleep." I have probably received 5 or 6 such questions in the span of two weeks. I am not sure why, since I have never received this question before on this blog. I wonder if maybe there was a prominent radio or television pastor who spoke about it recently, and so that is why I all of a sudden got so many questions about soul sleep, or maybe it was just pure coincidence.
Anyway, here is one example of the questions which have been submitted regarding what the Bible says about soul sleep:
Preachers teach when we die, we go to heaven. I was told my mother was in heaven. Yet the bible says she is asleep and waiting for Christ to return (1 Thessalonians 4:13-18).
Here is my response:
The Basic Teaching about Soul Sleep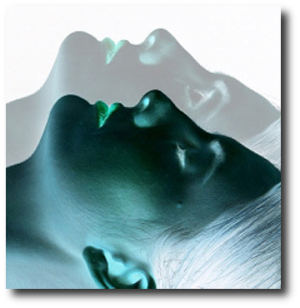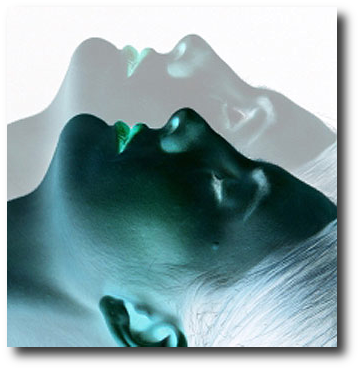 The basic idea behind soul sleep is that when a person dies, they do not immediately go to heaven to be with God, but enter into a state of unconscious limbo. They are no longer alive, but they are not in heaven either. They are not conscious of being dead, but they have not ceased to exist. Instead, they are "asleep."
In other words, it is believed that after death but before the resurrection, all people who have died are in a state of waiting for the final resurrection and the judgments that follow. They are not conscious of waiting, but are "sleeping." When they are resurrected, it will seem as if they had just died mere moments ago, when it reality, it may have been thousands of years since their death.
One of the primary Scripture passages used to defend the idea of soul sleep is 1 Thessalonians 4:13-18, where Paul uses the term "asleep" to describe those who have died. Another text used to defend soul sleep is Ecclesiastes 9:5, which says that the dead do not know anything.
Is Soul Sleep Biblical?
I do not believe the Bible teaches soul sleep.
First, Ecclesiastes 9:5 should not be taken as a reference to whether or not the dead are "conscious." Ecclesiastes is written for those who are "under the sun," that is, for those who are alive (Eccl 1:1-3). As such, Ecclesiastes 9:5 is telling those who are alive that it is vanity and folly to seek help from the dead, for we will get no answers or help from them.
Secondly, though Paul does use the word "asleep" in 1 Thessalonians 4:13-18, this is not a reference to "soul sleep" but simply pictures how a dead person appears to one who is living. To someone who is alive, a dead person looks like they are "asleep." This imagery is used elsewhere in Paul's writings to describe death (cf. 1 Cor 11:30). So again, the term says nothing whatsoever about the consciousness (or lack of consciousness) of the dead.
Thirdly, we see various places in the Bible where people talk about what happens after death, and there does not seem to be any "unconscious waiting period" of soul sleep at all. When the thief on the cross asks Jesus to remember Him when He enters into glory, Jesus says, "Today you will be with me in paradise" (Luke 23:43). Can it really be imagined that Jesus actually meant, "Today you will die, and then enter into a state of soul sleep, so that thousands of years from now when you are resurrected from the dead, you will be with me in paradise"? I don't think so.
Then there is the Mount of Transfiguration in Matthew 17:1-8 where Moses and Elijah appear and talk with Jesus. If they are talking to Jesus, they certainly are not in some sort of unconscious soul sleep.
And of course, we mustn't forget 2 Corinthians 5:8 where Paul says that to be absent from the body is to be present with the Lord. This once again seems to teach that as soon as our spirit departs from our body, it is immediately present with God.
There are a few other texts as well (feel free to include them in the comments below), but I think you get the point: Soul sleep is not taught in the Bible.
Here is (in my understanding) what happens after death
After a person dies, I believe their soul/spirit goes to the place where they will spend eternity. People who have believed in Jesus go to heaven. They are conscious and awake, but they do not have physical bodies.
At some point in the future there will be a physical resurrection of all people, at which point, everybody will receive incorruptible bodies. After this there will be a final judgment, and then an eternal existence with our new bodies.
I know, I know … I left out a lot of details. I left the question of hell unanswered. I left out almost everything the End Times and the various judgments that are talked about in the Bible. I left all that out because for the purpose of discussing soul sleep, none of that matters.
Bottom line: I do not believe in soul sleep. I believe that after a believer dies, they are immediately with God in heaven, and are conscious of it, and are conscious of other people there as well. They do not yet have bodies, but will receive them at the future resurrection.