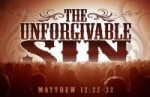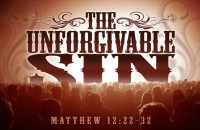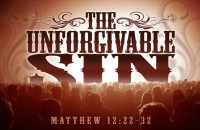 Since the controversy in Matthew 12 involves Jesus defending His claim to be the Messiah to the religious and national leaders of Israel, some Bible scholars and teachers believe that the unforgivable sin is Israel's national rejection of Jesus as the Messiah.
The strength of this view is that it does not simply look at what is said and done in the text of Matthew 12:31-32, but looks at the surrounding context of Matthew 12 and the Gospel of Matthew as a whole, and sees that Jesus is trying to show the people of Israel that He is their promised and prophesied Messiah, but no matter what He says or what miracles He performs, they keep rejecting the truth and denying the clear evidence in the signs that He performs.
It is also argued that Matthew 12 is somewhat the turning point in the Gospel of Matthew. From this point on, Jesus begins to minister more toward Gentiles than to Jews (cf. Matt 13–15). Those who hold this view believe that while Jesus came primarily to the Messiah for the Jewish people, after they rejected Him, He refocused His mission toward being the Savior of the world. Matthew 12 is seen as a key text for this transition.
Those who hold this view point out that after the Pharisees claim that Jesus is performing miracles by the power of Satan (Matt 12:24), Jesus calls them an "evil generation" which deserves condemnation for rejecting the Messiah (Matt 12:39-42). After this, Jesus makes several predictions about how God will turn to a people who will not reject Him, and how Jerusalem and the Temple will be destroyed (cf. Matt 13:41-43; 16:1-4; 21:18-19, 42-46; 22:1-14; 24:1-2).
Nobody Can Commit the Unforgivable Sin Today?
Note that if this theory is correct, then nobody is able to commit this sin except for the Jewish people living at the time of Jesus Christ. In other words, since we are not Jewish and we are not living at the time of Jesus, we cannot commit this sin.
According to this view, the unforgivable sin was a particular sin which only Jewish people could commit who were alive during the ministry of Jesus and who saw the signs He was performing and should have recognized Him as their Messiah, but rejected Him instead.
This view is comforting since it makes the unforgivable sin impossible to commit today.
Weaknesses with this View on the Unforgivable Sin
However, the idea that this sin cannot be committed today is also the major weakness of the view. While Scripture does at times include descriptions of unique sins that cannot be committed by future generations—such as God's instruction to Adam to not eat fruit from the Tree of the Knowledge of Good and Evil—it does not seem that this particular sin falls into that category.
It seems that Matthew included this instruction from Jesus not simply to explain what happened to the Jewish people, but also because he believed that the possibility of committing this sin was a real danger for future generations as well.
At the time of writing, Matthew was warning his readers about this sin, and people today must receive this warning as well.
Furthermore, the very words of Jesus indicate a warning for all future generations. He applies the warning to "anyone" and not just to the Jewish people who were alive in His day.
Jesus also says that anyone who speaks against the Son of Man will be forgiven, but this view about Israel's rejection of Jesus seems to say the opposite, that Jewish people who rejected Jesus by speaking against Him would not be forgiven.
So for these reasons, we can say that the unforgivable sin is not Israel's national rejection of Jesus as the Messiah.
There is definitely a warning for all people who read this passage in Matthew about the unforgivable sin, and we must not simply say that because we do not live in the days of Jesus that people today cannot commit the unforgivable sin. People probably can commit this sin, but we must not too quickly assume that people have. Instead, we must discern the nature of the unforgivable sin, and then help counsel and love people who fear they have committed a sin which is unforgivable. Most likely they haven't.
Do you fear that you have committed the Unforgivable Sin?
Fear not! You are forgiven. You are loved.
Fill out the form below to receive several emails from me which explains how you can know that you are loved and forgiven by God.