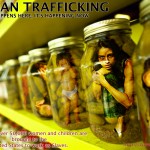 Today is Global Human Trafficking Awareness Day. Below, I suggest one simple step for you to get involved in stopping human trafficking. Please read on to find out what it is.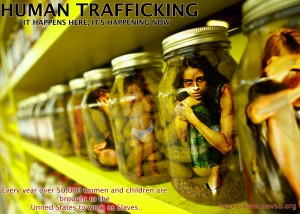 Worldwide, there are an estimated 31 million people trafficked as sex slaves every single year. Of that number, at least 3 million are children. Many of these children will be raped 30, 40, even 50 times per day. And yes, this happens right here in the United States. It happens in big cities and small towns. It probably happens within a few blocks of where you live.
How can we sit back and not be concerned?
Oh, I know. I've heard the excuses. I used them myself. The most common excuse is this: "The problem is so big, and it's been going on forever. We can't do anything to stop it."
So does this mean we just let it happen? No! We must do something, however small. But what?
As I wrote this post, I looked down at a cardboard Starbucks coffee cup on my desk. On the side, in bold, green letters, it said, "Every cup can make a difference." Starbucks is challenging us to recycle. But really, does recycling one cardboard cup make any difference in all the trash and lack of recycling worldwide? Of course not.
But over a lifetime, one person recycling does make a difference. And if a thousand people do it, even better. If a million…well, you get the picture.
The same goes for stopping human sex slavery. Maybe it's true that we will never eradicate human trafficking. But with a few steps, you can help rescue one or two girls, and I guarantee that your efforts will matter to her.
But few of us are ready to actually go rescue a girl, and even if we wanted to, we don't know how. So if you want to do something, you can start with something real simple: raise your awareness of the issue. That's how my wife and I started. And here is what you can do: buy and read one or two of the following books.
Priceless by Tom Davis
Scared by Tom Davis
Renting Lacy by Linda Smith
More than Rice by Pamala Kennedy Chestnut
I have already posted a review of Priceless, and will posting reviews of Renting Lacy, and More than Rice in the near future. Reading a book is not much–about on the scale of recycling one cardboard cup–but it's a start.
To learn more about Human Trafficking and sex slavery, check out some of these posts:
Human Trafficking Posts
---