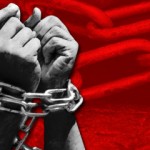 My wife and I are slowly trying to learn how to help girls enslaved in human trafficking as sex slaves. So occasionally, I will post updates about what we are learning. Martin Scott over at the Perspectives blog alerted me to the following news:
Sex-Slave Ring Busted in Mallorca, Canary Islands, and Madrid
Here is a quote from the article (This is a Google translation from Spanish, so forgive the oddities):
The organization captured a good-looking young Nigerian and scarce resources to those subjected to a "voodoo ritual" in their country of origin, which were committed to an oath to repay a debt of between 30,000 and 70,000 euros.

Were transferred by boat to Spain via Morocco or in plane clandestinely and with false documents, under the promise that the organization would seek a job to start a new life in Europe and not knowing that his fate was to be exercised prostitution.

Once in Spain, women living in captivity and were forced into prostitution under threats of black magic rituals, as well as by physical violence, rape and death threats to the girls themselves and their families in Nigeria. Several were forced to abort.
And remember, this isn't just a problem in Spain or Africa. It's happening right here in the United States. It's going on in your town.
To learn more about Human Trafficking and sex slavery, check out some of these posts:
Human Trafficking Posts
---