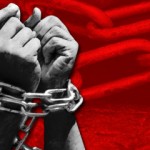 As you watch the Big Game this Sunday, please remember the other game going on in the streets and hotels of the Dallas-Ft. Worth area, and think about what you can do to stop it.
Start by watching this video:
A few points from the video:
Sex trafficking is the fastest growing illegal trade in the country, and is expected to surpass drug trafficking in the next two years.
The average lifespan of these girls is only 7 years from the time they are first trafficked.
Dallas is the leading hub for sex trafficking.
To learn more about Human Trafficking and sex slavery, check out some of these posts:
Human Trafficking Posts
---