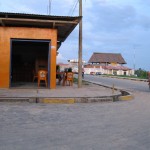 One of the human trafficking ministries I follow is "Make Way Partners" out of Birmingham, AL.
Here is an excerpt from an email newsletter I received from them today:
From Peru, Jack asks your specific prayers for Shantel. He writes, "I walked into a shop which boasted a large sign reading, 'Se Necesita Senoritas' (You need a girl?)

A girl came to the table where I was drinking an Inka Cola (The most popular and favorite soda here in Peru, like the Coca Cola in the U.S.).

She asked me if I was a cop, because if I was not, I'd have to pay for a sexual service. Cops can have all the chibolas (little girls) they want for free.

Since I was not a cop, I'd have to pay 50 nuevos soles even for her company around the table to talk. She was so happy I just wanted to talk with her that she shared much of her story with me.

Shantal is from Lagunas, a community near Yurimaguas. She was captured in their community by a lady named Rosa who promised her work in Lima. Rosa also tricked four other girls (Alexis, Luana, Iris and Jennifer.)

They traveled by boat to Yurimaguas; from there were moved by land to Nueva Cajamarca. Rosa told the girls that Mr. Jacinto, owner of "Restaurant of Lima", had another restaurant in New Cajamarca, and they had to make a stop in this city before continuing the trip to Lima.

Shantal and the other girls were horrified when they saw that the alleged "restaurant" turned out to be a bar where liquor and "something else" are sold, but it was too late for them.

At first, they were kept in a locked room and could not even go to the bathroom alone. A "guard" watched them 24 hours per day.

After a few months in New Cajamarca the other girls were taken to Lima; Shantal had to stay because she was pregnant. When she gave birth to a beautiful baby girl, they took her newborn child from her before she could even nurse her. The bar owner told Shantal it was against the rules to have a baby because that meant less money for him.

Shantal has tried to escape this place, but cannot because they are constantly monitored, and the police protect the owner of this bar. Once a girl tried to escape and was beaten to death by security men at the bar.

Before I left, Shantal told me, 'I do not know what will become of me, I do not know if I could endure this whole nightmare any longer, I do not know if I'll ever get to see my daughter or my parents again.'

Shantal, like thousands of girls here, live day to day, looking for an opportunity to change their history…and challenge what feels like their fate. Please continue to pray for me as I seek God's specific plan for fighting this evil along the Amazon.
To learn more about Human Trafficking and sex slavery, check out some of these posts:
Human Trafficking Posts
---