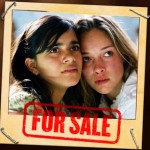 On Christmas morning, there are very few joys that are as great as seeing your loved ones open that very special Christmas present that they have been hoping for, that one that makes them smile from head to toe.
Wouldn't it be great if that smile lasted a lifetime because the gift was that great?
That smile is what you can provide for a young Russian girl this Christmas. You can give her a gift that won't break or fade away.
I'm asking you to become part of a huge campaign that will do more than provide food for a child for a month, or give clothes and presents to a child who has none. While those are excellent things to be involved in, this campaign will save a girl forever.
Every day, young girls around the world are stolen from their homes and forced into acts of sex that would make your skin crawl. These girls are someone's daughter, granddaughter, niece, sister, or friend. One day they are playing dolls, and the next they are the sex-slave of a brutal man to be used at his whim.
The money that is raised helps rescue girls in these situations. After they are rescued, they are put into a safe home, provided with counseling, taught a trade, and given an education, so that by God's grace, they can continue to live, and hopefully, learn to smile again.
This Christmas, as you shop for the latest technological gadget, video game, or article of clothing, could you also offer a significant gift of $20, $50, or $100 to literally change a girl's future for the better?
To learn more about Human Trafficking and sex slavery, check out some of these posts:
Human Trafficking Posts
---