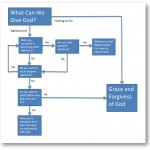 You know what God wants from you? Not your holiness. Not your perfection. Not your righteousness. All these things He gives to you as a result of faith in Jesus. They are not things we give to Him.
Even our love, obedience, and worship are tainted and twisted with selfishness and pride. All our righteous acts are like menstrual cloths (Isa 64:6). Yes, that is what the verse says.
So what can we give God? The only things we have: our crap.
The pain, anger, suffering, frustration, disappointment, and fears we face in life. God wants that.
He also wants the addictions, the failures, the mistakes, and the sin.
We often think that God wants us to stop sinning, but what He really wants is for us to give our sin to Him. We will not and cannot stop sinning until we do so.
Here is how it works: