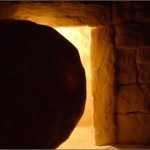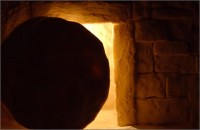 Many people believe that the resurrection of Jesus proves that Jesus was God. There is one main problem with this view and it is this: the resurrection of Jesus does not prove He was God.
At least, not directly.
Eventually you can get to the divinity of Jesus from the resurrection of Jesus, but it is a little less straightforward than most suppose.
No one would conclude—not then or now—that someone was God simply because they had been raised from the dead. If I came to you and said, "I died in a car accident yesterday, but now I have come back to life," you might think I was crazy, but even if you believed me, you would not conclude that I was God. One does not logically lead to the other.
So does the Resurrection of Jesus prove He is God?
Well, it is not so much the resurrection of Jesus that proved He was God, but what Jesus said and did before the resurrection which was then verified by the resurrection of Jesus.
I'm not talking about His claims to be God. Critics say He never made such claims. While I believe Jesus did explicitly claim to be God, for the sake of argument, let us just concede the point and move on.
The means by which Jesus implicitly made His claims to be God incarnate was through His actions of replacing the Temple and fulfilling the Torah. In Judaism, the Temple was the closest thing to incarnation that they had. It was where heaven and earth came together as one, where God could meet with man, where sins could be forgiven.
Jesus Replaced the Temple and the Torah
Jesus, through many words and actions indicated that the Temple ministry—including the priesthood and sacrifices—was being relocated in Himself. In forgiving sins, pronouncing lepers clean, and announcing judgment upon the Temple, Jesus was showing that He was the replacement for the Temple.
The same thing happened with the Torah. While many Jewish teachers used tradition and consensus to determine what the Torah meant and how to live it, Jesus simply declared on His own authority what it meant and how to apply it. Furthermore, in many of His teachings, He went beyond the Torah, and offered new commandments and further instructions. In such a way, He not only made the claim of being an infallible interpreter of the Law, but the actual Lawgiver Himself.
Again, some critics will want to deny that Jesus ever said or did such things. But with their constant denials of anything and everything that Jesus did, they very soon leave themselves in a an impossible situation: they are left with a Jesus who does and teaches some nice things, but which would barely get noticed by the populace, much less crucified. Eventually, these critics must give up their denials, or come up with a believable scenario for why Jesus was crucified.
In other words, Jesus had to have said and done something to get people angry enough at Him to crucify Him. If He never claimed to be God, either implicitly or explicitly, and never challenged traditional Jewish thinking or theology, then what possible scenario is there which would have led to His crucifixion?
The Crucifixion of Jesus
I agree with what NT Wright has written. The primary reason for the crucifixion was that "Judaism had two great incarnational symbols: Temple and Torah, [and] Jesus seems to have believed it was His vocation to upstage the one and outflank the other" (NT Wright, Challenge of Jesus, p. 120).
For the early believers, the resurrection of Jesus vindicated these claims of Jesus. For Jesus to make such outlandish claims about God's Temple and God's Torah and then to die is not surprising (if He was wrong). That is the just judgment of God.
But for Jesus to make such outlandish claims, and then not only to die, but also to rise from the dead, proves once and for all that God was in what Jesus said and did, and therefore, Jesus was the embodiment, the manifestation, the incarnation of the one God of Israel.
So the resurrection of Jesus by itself does not mean that Jesus was God, but the resurrection of Jesus is one link in the chain that gets us there.
For more on this, read The Challenge of Jesus by NT Wright – Chapter 5. See a fuller treatment in Jesus and the Victory of God.
The cross of Jesus is CENTRAL to everything!
Transform your life and theology by focusing on the crucifixion and resurrection of Jesus:
Fill out the form below to receive several emails from me about the death and resurrection of Jesus.