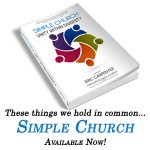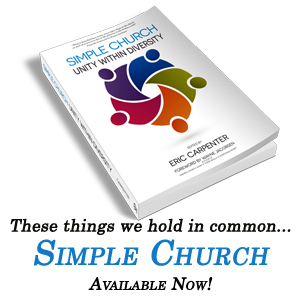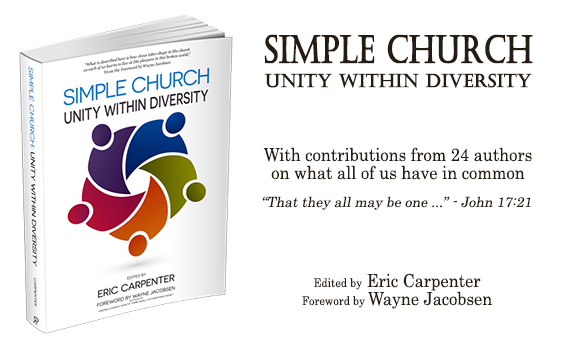 I contributed two chapters to this book and am really thrilled to see it finally in print.
Far too often, those who are no longer part of the "Institutional Church" are only known for what they are against. Simple Church contains 26 thing we are FOR.
Simple Church is about what we all have in common
But it is not just what simple church practitioners have in common (in fact, we may not all even identify with that title), but what every form of church has in common with each other.
In my opinion, this is a ground-breaking book which will help build unity to all forms of Christ's church upon the world. I am thrilled to be part of this project.
Here is the list of contributors, many of whom you might recognize. Nearly all of them are bloggers or authors.
And of course, there is a Foreword by Wayne Jacobsen.
If you are part of a traditional church and have wondered how to grow in unity, or if you just want to know what church unity is all about, or if you are part of a house church, missional church, simple church, or something that doesn't look like church at all but is still connected to Jesus, then this book will invite you to grow in unity with other brothers and sisters who might follow Jesus a bit differently than you.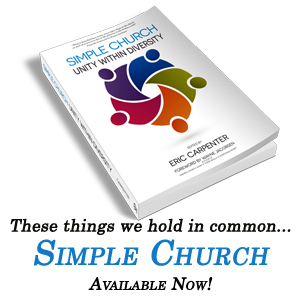 Here is what some people are already saying about Simple Church: Unity Within Diversity:
From Miguel Labrador:
I tend not to like compilation books, but this one is very different. Granted, I am one of the authors, but after reading it I was shaken to find a unity within it that exceeded my expectations. It flowed well. I am on my second pass through the book and I was thinking that to mistake this book for another house church, simple church, or even organic church book would be A MISTAKE. There's much more to this collaborative canon than meets the eye.
From Chuck McKnight:
I just skimmed through the contributor bios in the back of Simple Church. Looks like almost half of us are either foreign missionaries or missionary kids (myself included in the latter).
The book is available now on Amazon. Go order a copy today and let me know how it changes your interaction with other believers.